YEAR 2
2017 - 2018
MRS POWELL
Welcome to our Year 2 class page. Our class teacher is Mrs Powell and our teacher assistant is Mrs Cookson.
Our PE days are Wednesday (indoor) and Friday (outdoor).
Reading books will be changed every Wednesday. Pease ensure that your child has read their book and their reading journal has been signed.
Homework: Each week homework will be given to the children as well as 10 weekly spellings. Homework will be given out on a Wednesday and should be returned the following Monday in time for it be marked and for new homework to be set in the children's books. If homework is handed in late then there may be a delay in the distribution of dojo points. Each time your child returns their completed homework dojo's will be given.
This term our topic is: "Who do you think you are?"
In Year 2 we always . . .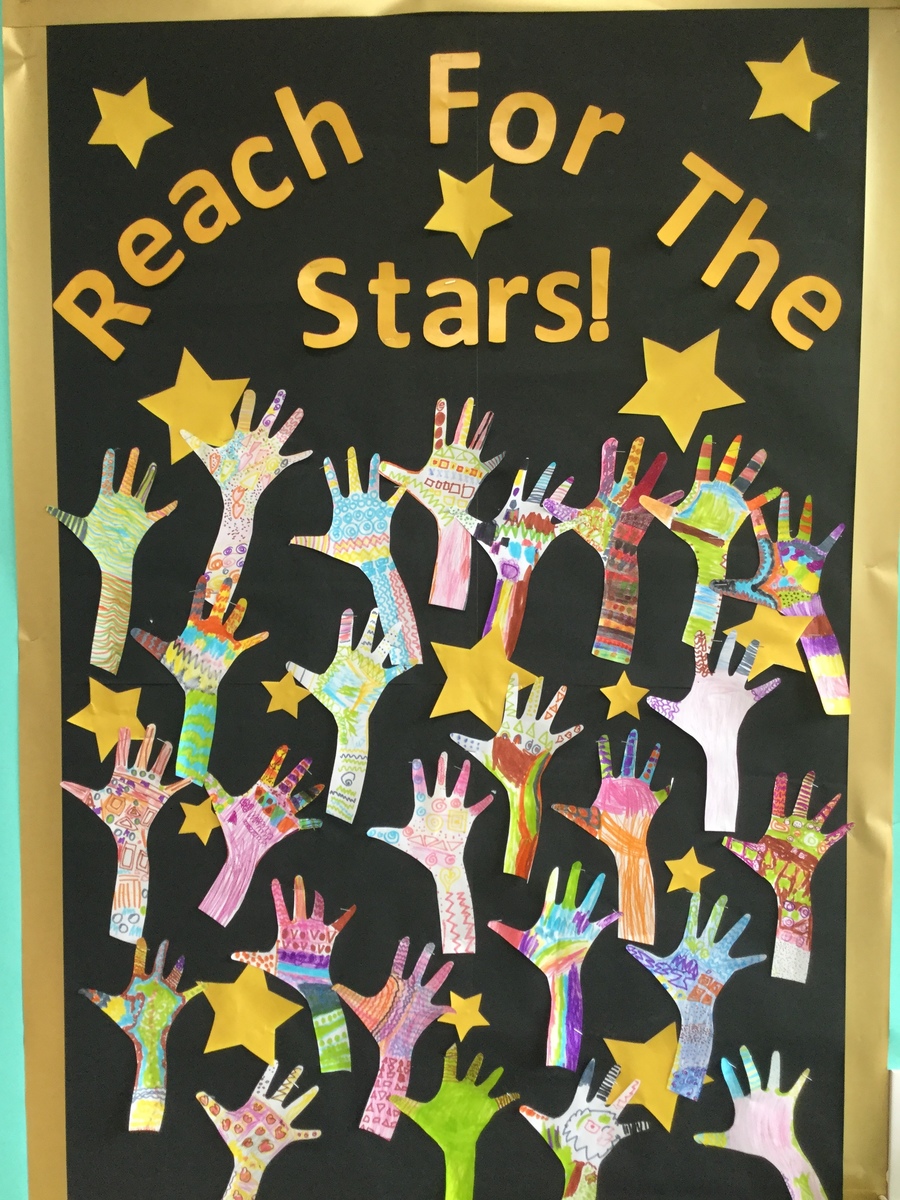 16.10.17
This week we have been looking at the properties of 2D and 3D shapes. One of our challenges was:
"Year 2 are using straws to make 3D shapes. Each child is given 12 straws to make a cuboid. Is this the right amount? Explain how you know."
We investigated the question using straws and came to the conclusion that you needed 12 straws to make a cuboid as a cuboid has 12 edges. However we also realised that we had to cut some of the straws so that each face wasn't the same size. We needed to make sure the cuboid had 2 square faces and 4 rectangular faces. Take a look at one of our final products!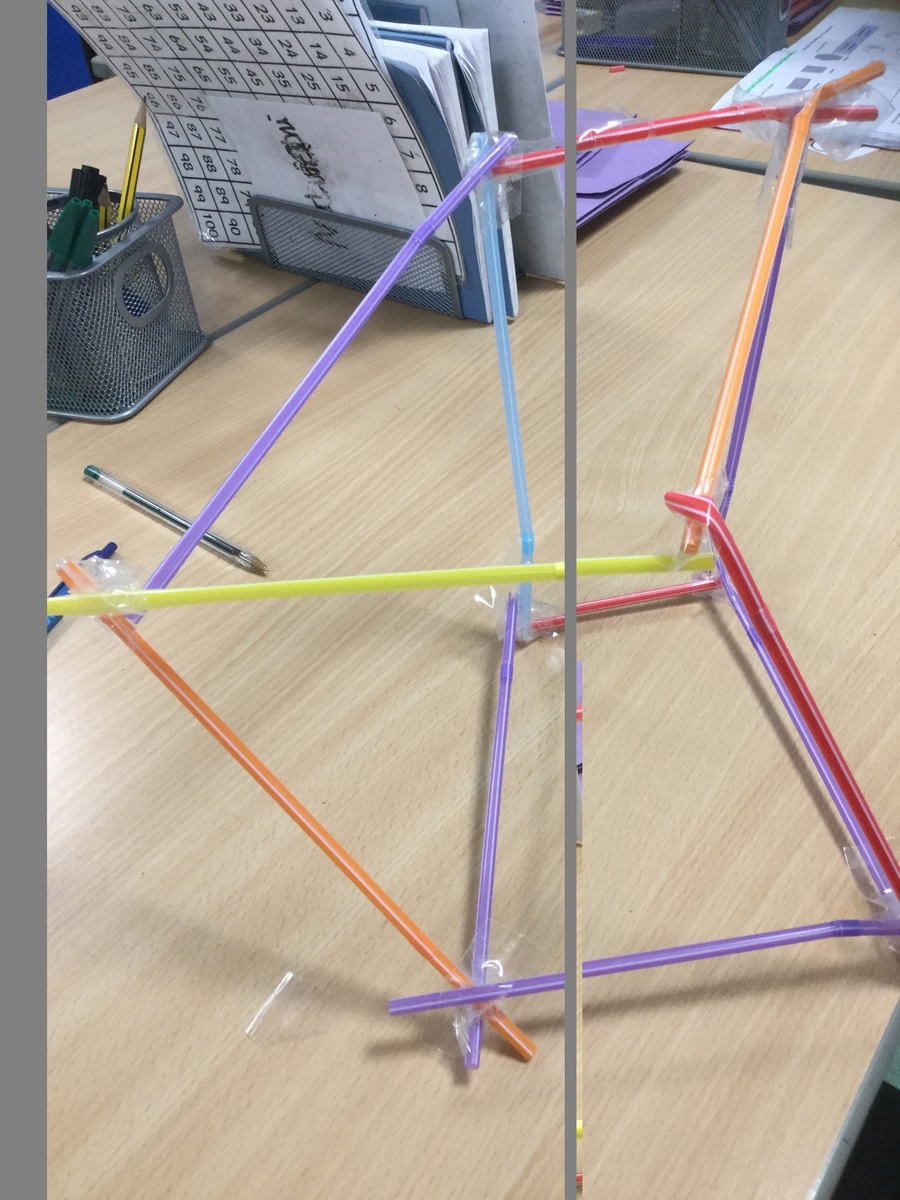 04.10.17
In PE this week the class has been learning to put together a dance routine. They have been using an 8 step beat to perform different movements in time to music. They enjoyed creating a short dance sequence using travel, turn, jump, gesture, pause and fall, within safe practise. They had a lot of fun being creative and active whilst working together learning the routine.
Over the next few weeks we will be learning some circus and disco dance routines which I am sure they will love to show you. They are all budding dancers with some great grooves. Take a look at the photos below.
26.09.17
This week the children are writing their own adventure stories inspired by our class book "The Tunnel". Mrs Powell is amazed with the quality of writing that all the children are producing. Here is a sneak peak at the beginning of Amelia's story. Take a look at the fantastic choice of words she has used as well as her punctuation and conjunctions! We can't wait to see the final pieces at the end of the week.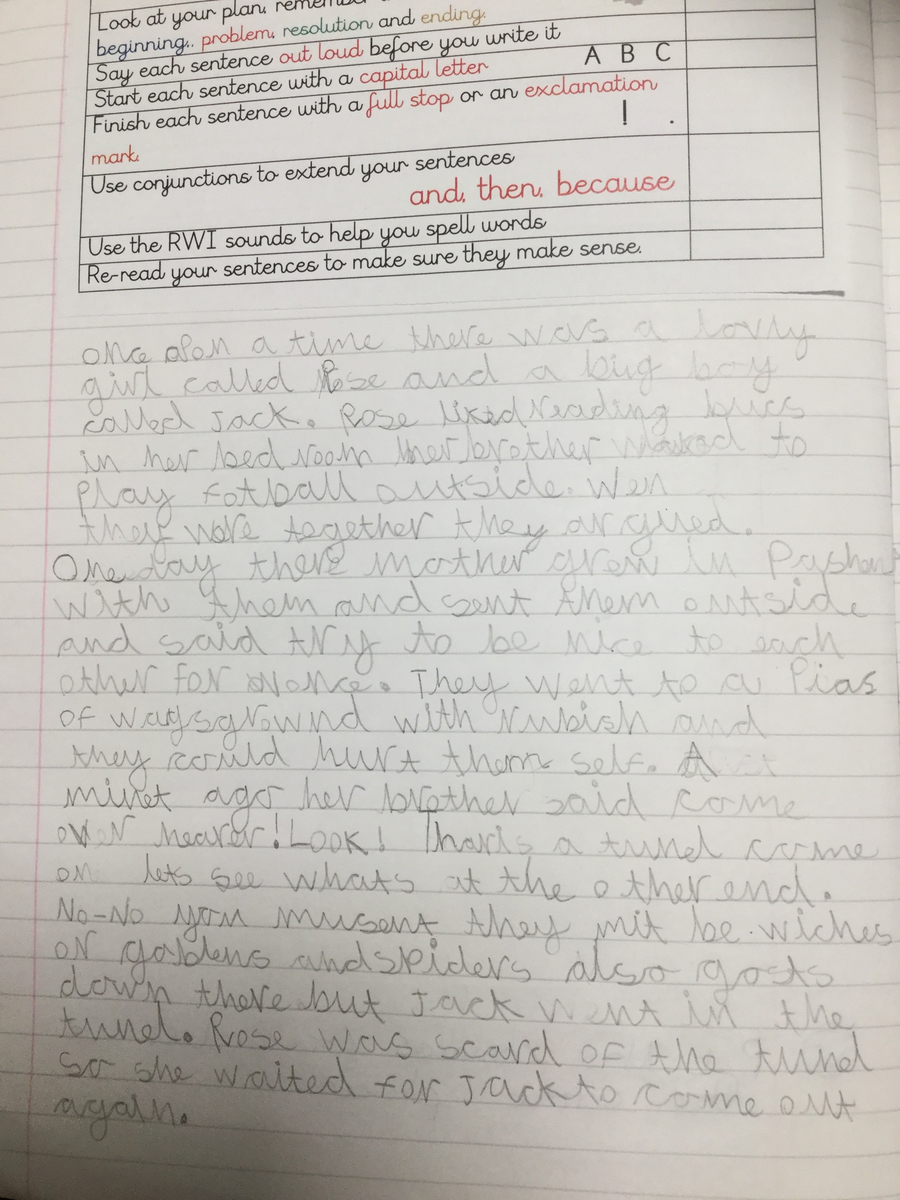 18.09.17
In our English lessons we have been looking at the story "The Tunnel". The story is about a brother and sister called Jack and Rose who were complete opposites and constantly fought and argued. One day they discovered a tunnel. Jack went through the tunnel after Rose had told him that it could be dangerous and not to. When Jack doesn't return Rose has to pluck up the courage to go through the tunnel too. She finds Jack in a mysterious forest where he has been turned to stone. Today we read up to the part where Jack had been turned into stone and created freeze frames to show what could have happened to Jack. Some of the ideas included:
A witch flying on her broom stick and turning Jack into stone using her magic stone wand because he had been eating all her sweets from her house.

A stone monster turning Jack into stone so he could use him as a lovely new statue in his house.

Jack being turned into stone by all the creatures hiding in the mysterious forest to teach him a lesson about being kind and considerate to others.
We acted out our ideas through freeze frames then turned our ideas into complete, clear sentences. We will be writing our very own adventure stories next week!
11.09.17
This week is School Fitness Week! Joe Wicks who is a fitness coach is running 5 days of live workouts all week which we have and will continue to take part in! The aim is to get all children active and feeling the benefits of exercise in a fun and exciting way. Take a look at some of our exercises that we took part in this morning. We had lots of fun and even learnt some new warm ups
06.09.17
This morning the children were very eager to share all the exciting things they did in their summer holidays. The children have clearly been very busy but came to school as enthusiastic as always ready to start a fresh new year. Their excitement continued into the afternoon where they explored all of our new areas in our classroom. All of our areas link to our new topic "Who do you think you are?" The topic will involve looking at how humans grow and develop, where we live, the world we live in and what we need to do to stay fit and healthy. We even have a real life skeleton in our Doctors Surgery to help us understand the human structure!
Enter text...
YEAR 2
2016 - 2017
Mrs ellis / mrs crossfield
24th March 2017: COMIC RELIEF
All the children looked fantastic in their red clothes today. I also loved all their jokes...here are a few of my favourites:
What is a red nose's favourite wizard?
Harry Snotter!
What do you call a pig doing karate?
Pork chop!
What flies in the air wobbling?
A jelly-copter!
What do you call a fairy who hasn't taken a bath for a few weeks?
Stinkerbell!
7th March 2017
Here are two of our children who have been working incredibly hard at perfecting their presentation.
Well done - your books look beautiful!
WORLD BOOK DAY
We have had a fabulous day in Year 2 creating pop-up books which we are going to share with the children in FS1.
The students worked extremely hard to create some stunning work!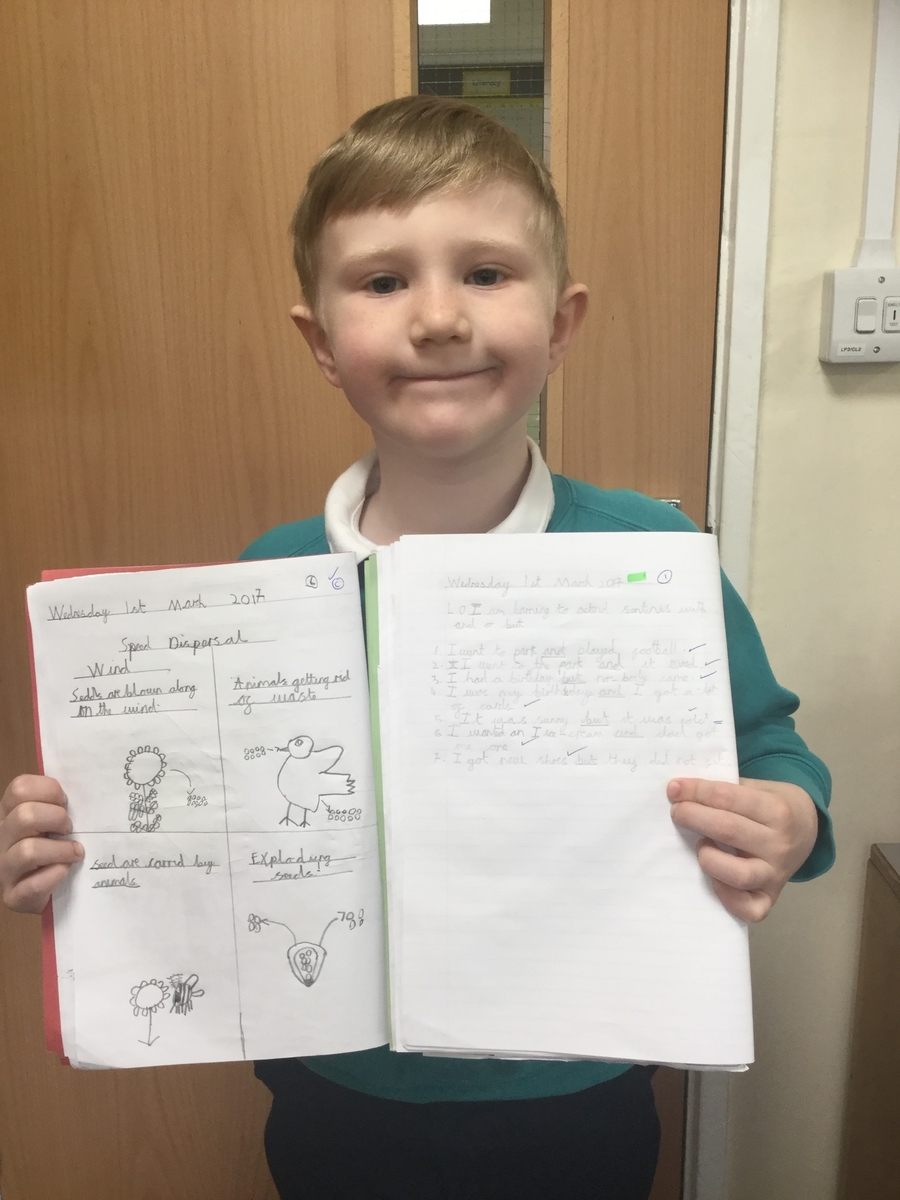 In Year 2 we are currently having a big focus in taking pride in our presentation. This young man has worked so hard today to ensure that his work looks AMAZING! A massive well done!
Tuesday 14th February
We have been learning about mass and how we weigh things in grams (g) and kilograms (kg). We made delicious Rocky Road slices as there were so many ingredients to weigh out.
They were really yummy!
Monday 6th February 2017
Well done to our Pupil of the Month for an awesome January!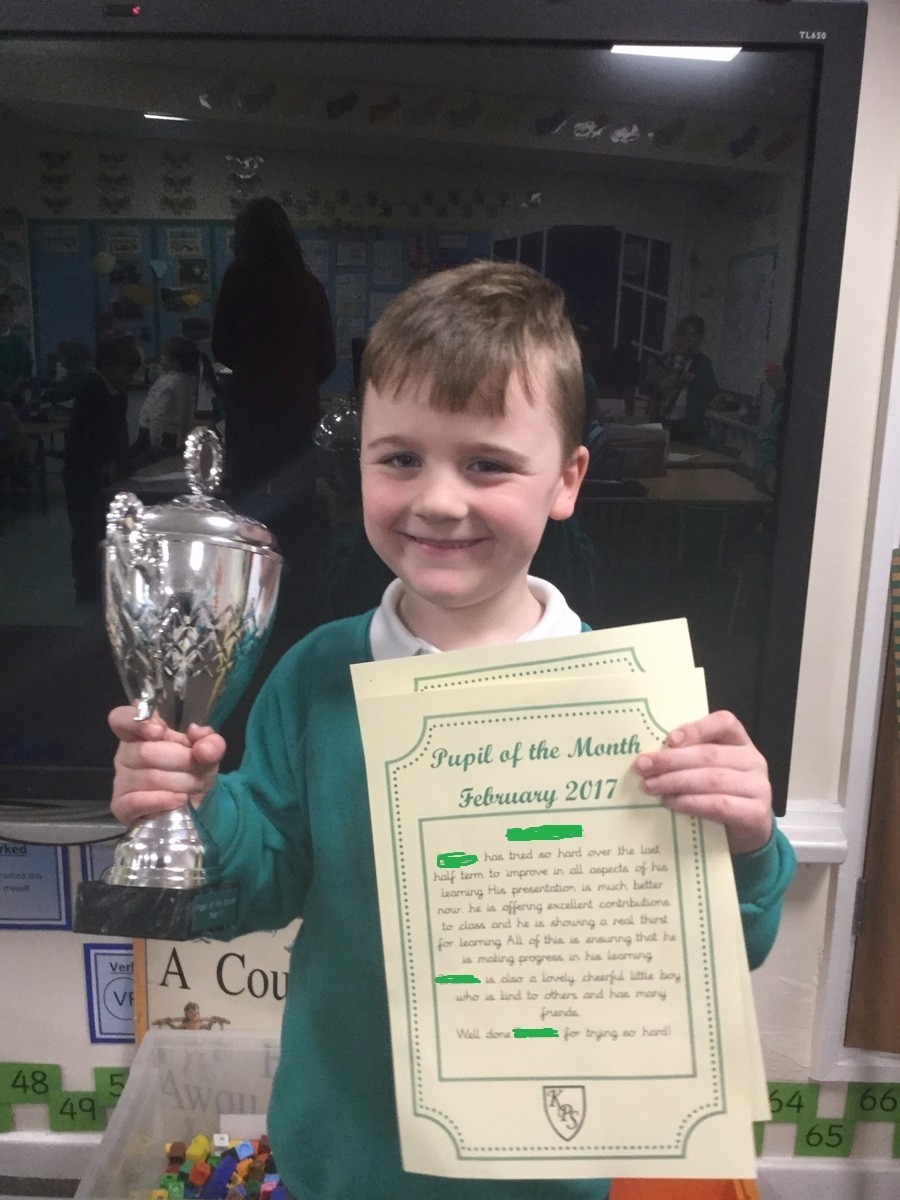 Friday 3rd February 2017
We had a fantastic time at Honeywell competing in the team relays. All the children behaved impeccably and we were delighted to come away with First and Runners Up places!
Well done Team KPS!!
Tuesday 31st January 2017
This week we are learning all about 2D and 3D shapes.
Can you recognise the 2D shapes in the photographs and name some of their properties?
Friday 26th January 2017
We have been learning to tell the time in Year Two. Nearly everyone has learned o'clock, half past, quarter past and quarter to times, and some us have even moved on to telling the time to the nearest five minutes!
Aren't we clever?