YEAR 2
2018 - 2019
MRS POWELL
Welcome to our Year 2 class page. Our class teacher is Mrs Powell and our teacher assistant is Mrs Cookson.
Our PE days are Wednesday (indoor) and Friday (outdoor).
Reading books will be changed every Friday. Pease ensure that your child has read their book and their reading journal has been signed.
Homework: Each week homework will be given to the children as well as 10 weekly spellings. Homework will be given out on a Thursday and should be returned the following Tuesday in time for it be marked and for new homework to be set in the children's books. If homework is handed in late then there may be a delay in the distribution of dojo points. Each time your child returns their completed homework dojo's will be given.
This term our topic is: Amazing Animals and Perfect Plants
In Year 2 we always . . .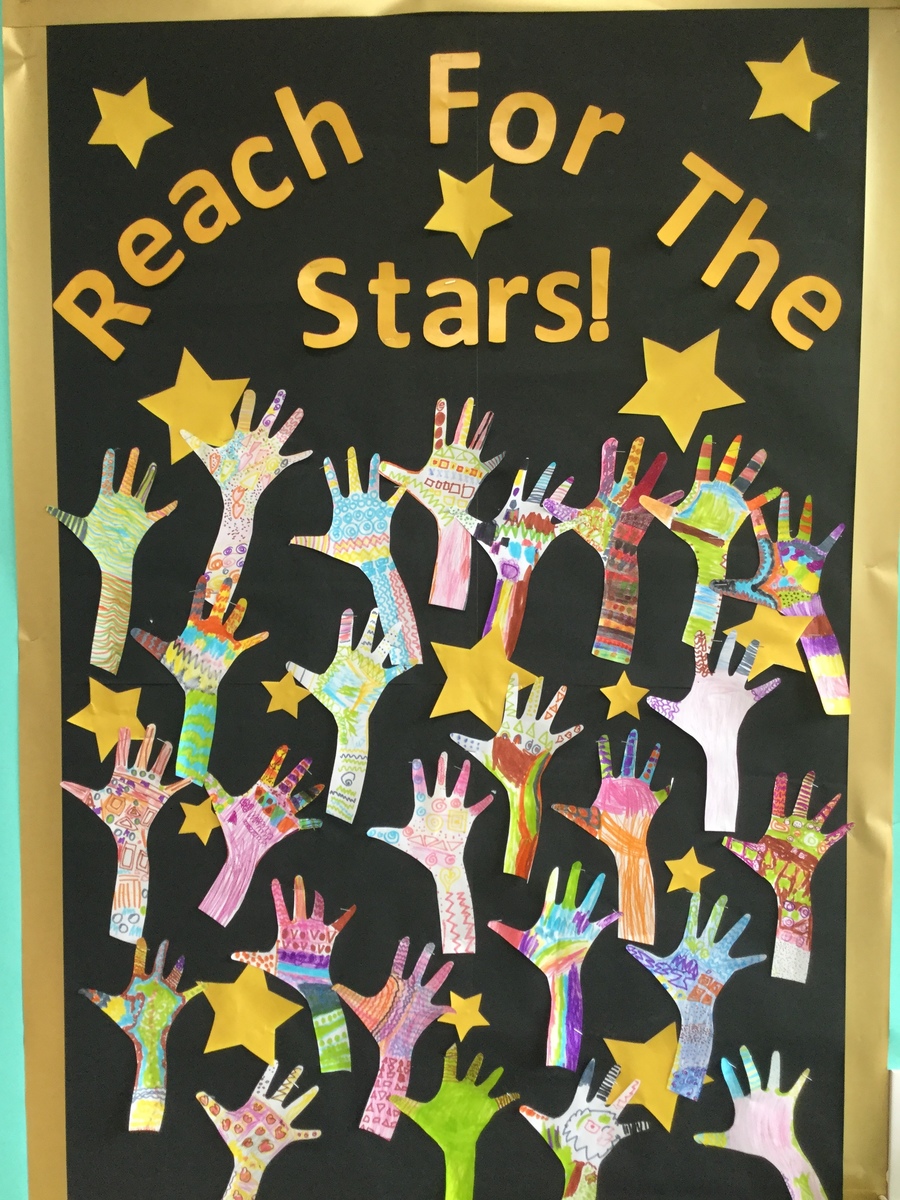 W/B 24.06.19
This week we wrote recounts of our visit to Whirlow Farm. Mrs Powell explained briefly what we did in the last post on our class page but our recount of events of the day are much better! Take a look at our amazing writing. Mrs Powell is so impressed with how much progress we have all made in our writing this year.
18.06.19
Whirlow Farm
Today we visited Whirlow Farm in Sheffield, we had the best time! We visited the Farm and were taken on a special Farm tour by one of the Farmers. We learnt about the different animals there and even stroked and held some. The most amazing fact we learnt was that a Turkey's waddle gets redder and redder when they get more and more mad. We had to take s step back at one point! We also met some 14 piglets that were only 3 days old, we all thought the mum pig looked very, very tired. As well as the Farm tour we also learnt about other animals and their habitats as we took part in a few workshops. First we pretended to be bees and collected honey for the Queen bee. We then made badger footprints out of clay and went on a bird detective walk which ended in us using all the natural materials to make a birds nest. We all had a great day but were very tired at the end, some of us even took a little nap on the way home. Here are some of the photos of our visit.
11.06.19
Today we have been learning about why and how we can keep ourselves clean. First we completed a handwashing experiment and made predictions. We covered three children's hands with oil, flour and cinnamon to represent the germs that are on our hands. Each child then washed their hands for 10 seconds, we discussed that the time had to be the same for each child so that it was a fair test. One child washed their hands in cold water, another in warm and water and the final child in warm water with soap. We found from our results that warm water and soap was most definitely the best option to wash our hands in.
We then completed another experiment but this time with all the children in the class. This time we sprinkled oil and glitter onto each child's hand. The glitter represented the germs. We discussed that most germs were harmless but some could make us ill. We talked about what would happen if we didn't wash our hands before eating our dinner, the children were able to explain that the germs would transfer to their food and into their mouths which could make them poorly. We investigated what would get the germs (glitter) off of our hands. We tried rubbing the glitter off with a paper towel, then with cold water and finally with warm water and soap. Again the result were the same. We then wrote up our experiment and learnt our hand washing song.
This week we have been looking at creating a picture linking to our Animals and Plants topic using the pointillist technique. We used cotton buds to create the technique using different coloured paints. Mrs Powell could hear a pin drop in the classroom, we were very focussed on our art work which resulted in some amazing finished masterpieces!
03.06.19
In our topic work we have been looking at how humans change as they grow. To help us understand this further we set up a test to find out if children are faster when they get older. We worked in groups to discuss how we could investigate this.
We completed a comparative test by using stopwatches to measure the amount of time it takes for five Year 5 children and five Year 2 children to run the length of the playground. We then all recorded our results in a table. When we concluded our results we found that all the children in Year 5 were quicker than the children in Year 2; however Archie in Year 2 did give the Year 5's a run for their money! We discussed that the Year 5's were overall quicker as they had longer legs and that when you get older you get quicker and stronger.
At the end of the test the children said "Mrs Cookson has the longest legs will she be quicker than the Year 5's?" We all made our predictions and Mrs Cookson took to the challenge to race the Year 5's. The Year 5 children did win Mrs Cookson. We had a discussion about the results and concluded that you don't always have to have the longest legs to be faster. This led us to discuss that as you get older your heart beats slower and your muscles become weaker.
24.05.19
It's the end of half term and the children have worked incredibly hard over the past four weeks in their Year 2 SATs Papers. I am so proud of how they have conducted themselves and the resilience and determination they have demonstrated. We celebrated with Mrs Cookson's and Leah's homemade, yummy buns. We also played games and had a fun, active PE lesson with Mr Rodgers.
W/B 13.05.19
This half term we have been looking at repeating patterns and printing in our Art lessons. We have been on nature walks to collect natural materials and then have used these to create rubbings, repeating patterns and art using printing. Take a look at some of our printing techniques!
W/B 06.05.19
We have been comparing books that have a similar theme in our Guided Reading sessions. We read the classic Fairy tale story Cinderella then the story Prince Cinders. Prince Cinders is a story about a young man who leads a very hard life. He is bullied by his three hairy brothers about his less-than-perfect looks, he spends all his time cleaning and tidying up after them. One Saturday night Prince Cinders' luck changes as a small, dirty fairy falls down the chimney and promises that his wishes shall come true. However the twist is that not all the fairy's spells turn out as planned. After we had read the stories we compared them using a Venn diagram (Hoops and Post IT notes) so that we could really see the similarities and differences between the stories. Take a look at what we found.
April 2019
Nature Sculptures
This term we have been learning about Nature Sculptures. The children have been given lots of opportunities to learn about different kinds of nature sculptures and to explore the work of Andy Goldsworthy and other environmental artists. Each lesson has focused on a different technique using natural materials; model making, observational drawing (of the natural materials that we found in our schools woodland area), ephemeral land art and group sculpture building. You can see photos of each of these lessons below. We ended our work on nature sculptures by creating a multimedia collage to bring together and celebrate the children's work.
March 2019
Florence Nightingale
We have been learning about significant people from the past. One of these people was a special lady named Florence Nightingale. Look at all of the facts we now know:
Florence was born on the 12th May 1820 into a rich and upper-class British family.
She was named Florence after the city in Italy where she was born.
Florence worked hard to become a nurse, even though her family didn't want her to.
Between 1854 and 1856, Florence took some other nurses to Turkey to care for the wounded soldiers fighting in the Crimean War.
Florence was known as 'The Lady with the Lamp' because when she was checking her patients during the night she held a lamp in her hand.
Florence found the conditions in the hospital quite poor. They were overcrowded and unclean. Soldiers weren't properly cared for and many died from infection, rather than their actual wounds.
Florence decided to make conditions better. She bought basic things such as bandages, clothes, blankets and better food.
Florence also asked the government for supplies.
Florence established nursing as a respectable profession for women.
In 1860 the Nightingale School for Nurses opened in London. This was the first school set up to train nurses to work in hospitals.
Florence campaigned to improve health standards and wrote over 200 books and pamphlets on hospital planning. Some of their ideas helped influence practices which are still in existence today.
W/B 07.01.19
Today we were introduced to clay. We looked at the different techniques we could use whilst handling clay. We also practised using a variety of tools (cotton wool bud, pencils and carving tools). Look at the photos of us in action!
W/B 05.11.18
This week we have been learning about WW1 and how Remembrance Day marks the end of WW1 100 years ago on 11 November 1918. To help us remember we have done lots of activities throughout the week, these have included making Christmas tins, writing acrostic poems, reading the story "Stubby" and making our very own poppies. The children particularly enjoyed learning about the trenches, no mans land and the conditions that the soldiers fought in. Here is a video clip we watched as well as some of the work and fabulous homework that we have completed throughout the week.
W/B 08.01.18
Welcome back! The children arrived at school on Monday morning very excited to tell us about their Christmas holiday. It sounds as though Santa has certainly read all of the letters that we sent to him.
This half term our topic is 'The Great Fire of London'. We will focus on:
Some of the ways in which London has changed.

Some of the ways in which how we live now is different and similar to how people lived in 1666.

How the Great Fire started and spread across London.

How we know about the Great Fire of London.

How London was rebuilt after the Great Fire.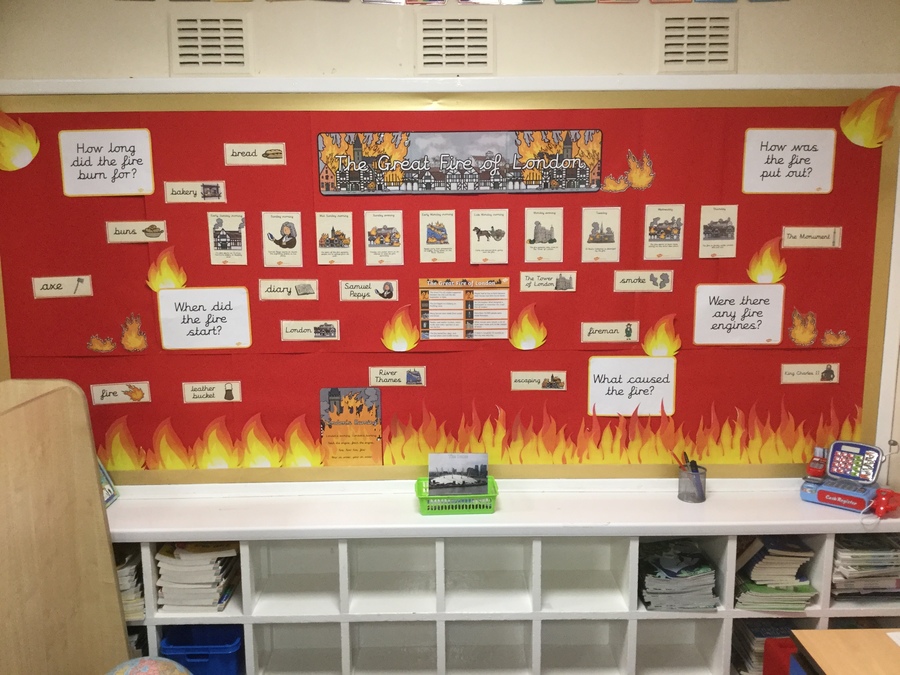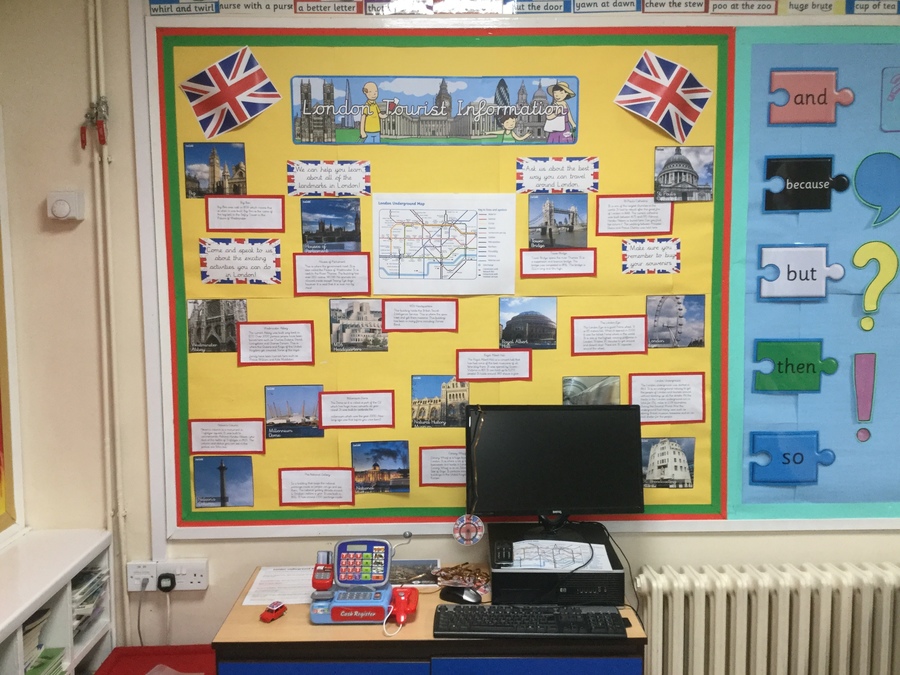 22.12.17
This afternoon we had our Christmas party with Year 1. We had lots of fun playing musical statues, corners and pass the parcel! We even had a competition where the children showed off their awesome dance moves. We certainly have some dancing stars in the making. Take a look at some of the Christmas party photos below.
All is left to say is that we hope you have a wonderful Christmas and we will see you all next year!!!
Over the next two weeks we will be completing lots of Christmas work in our English lessons to help us build up to writing a letter to Santa!!! So far we have learnt how to use commas for the very long list of presents we would like Santa to bring us, the possessive apostrophe to describe other children's Christmas toys, conjunctions to extend our sentences and the use of exclamation sentences to add excitement! Today we discussed the questions we would like to ask Santa. One of our children very bravely and confidently took on the hot seat of Santa and answered all of our questions. The children were in stitches as well as the teachers and we all came up with some fantastic questions!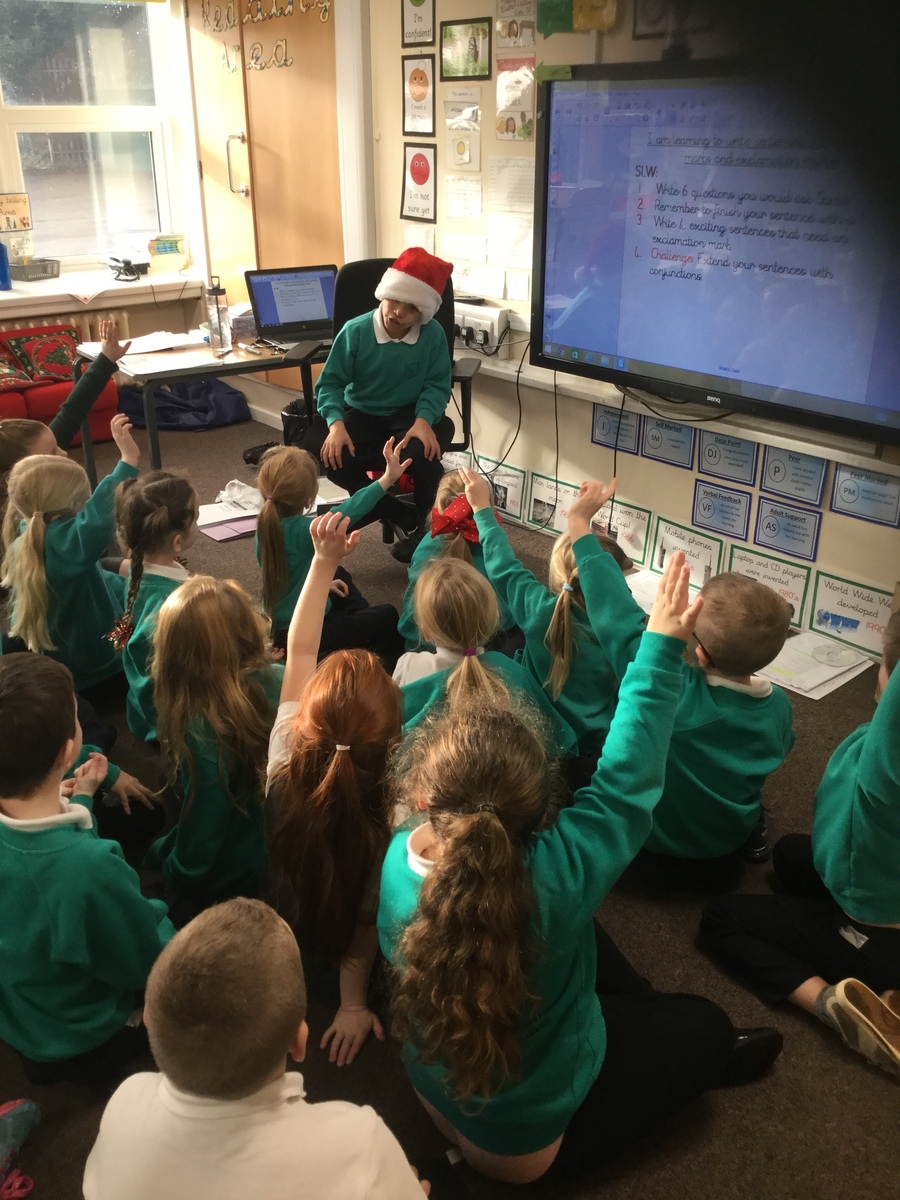 We have been learning about the seasons and the changes that take place throughout the year. We then linked this to some creative art work using lots of different art techniques. As you can see we used toothbrushes to create stroke effects, paint in different shades of green, glue, glitter, Pom poms and metallic leaves. We will turn their masterpieces into beautiful calendars that can be admired all year long. We will leave the final product as a surprise for you all.
W/B 13.11.17
This week is anti-bullying week and the theme this year is 'All Different, All Equal'. The idea is to help the children celebrate what makes them, and others, unique and help them understand why it's important that every child feels included in school and is able to be themselves without the fear of bullying. Therefore, to celebrate Anti-bullying week, we have been celebrating what makes us different and celebrating these differences. We have also completed some work on what makes a 'great classmate' as well as creating 'helping hands'. We each drew around our hand and on each finger wrote the name of a person who we can ask to help if we feel sad or are feeling bullied. To end our anti-bullying afternoon we played a "Who wants to be a millionaire" game and managed to win the jackpot of 1,000,000!
W/B 06.11.17
Before the half term holiday we were learning about the importance of washing our hands and how germs can spread. First Mrs Powell put a piece of bread in a bag with her hands that had been washed. With the second piece of bread we passed it around the class then put it in the bag. After the half term holiday we could see how disgusting the piece of bread looked and smelt when we had passed around!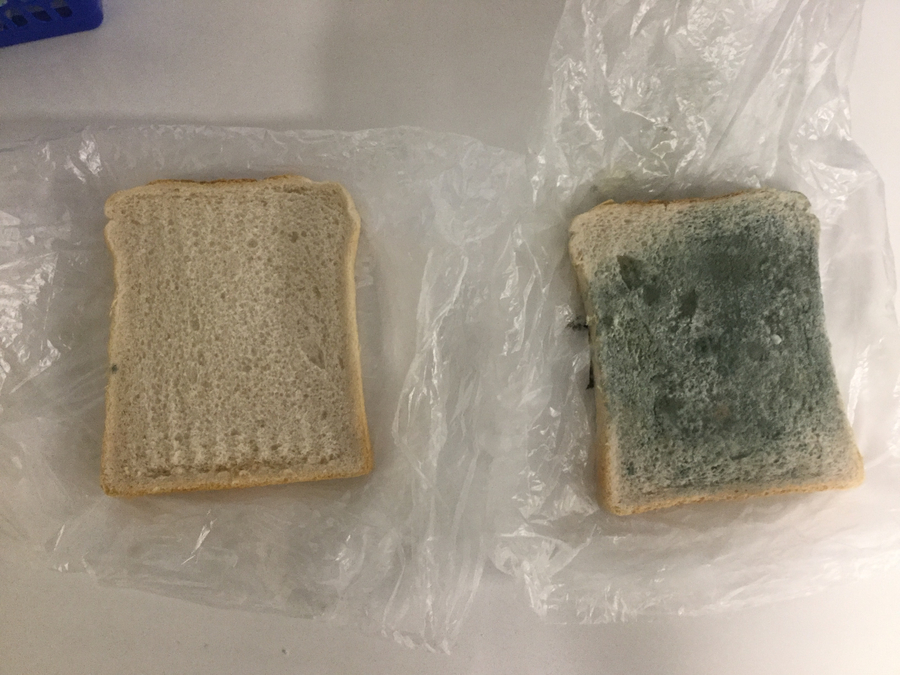 W/B 23.10.17
This week we have been creating pictures inspired by the artist Kerry Darlington and the season Autumn. Take a look at how we created our designs then our final pieces of work that have been proudly displayed outside of the year 2 classroom.
W/B 16.10.17
On Thursday we took part in an experiment to test "which is the best way to wash your hands?" Three lucky children volunteered to have their hands covered with oil, flour and cinnamon which simulated dirty hands.
The experiment looked at washing hands with cold water, warm water and warm water with soap. The children made their predictions before testing. Our volunteers each washed their hands for 15 seconds to see how much "dirt" would come off. Through visual observation the class came up with the conclusion that warm water and soap was the best way to wash their hands. We then wrote up our science investigation to explain the results.
The effort the children put into their work was fantastic and they really got stuck in with the experiment. At break when they went to wash their hands they could each be heard counting to 15!
16.10.17
This week we have been looking at the properties of 2D and 3D shapes. One of our challenges was:
"Year 2 are using straws to make 3D shapes. Each child is given 12 straws to make a cuboid. Is this the right amount? Explain how you know."
We investigated the question using straws and came to the conclusion that you needed 12 straws to make a cuboid as a cuboid has 12 edges. However we also realised that we had to cut some of the straws so that each face wasn't the same size. We needed to make sure the cuboid had 2 square faces and 4 rectangular faces. Take a look at one of our final products!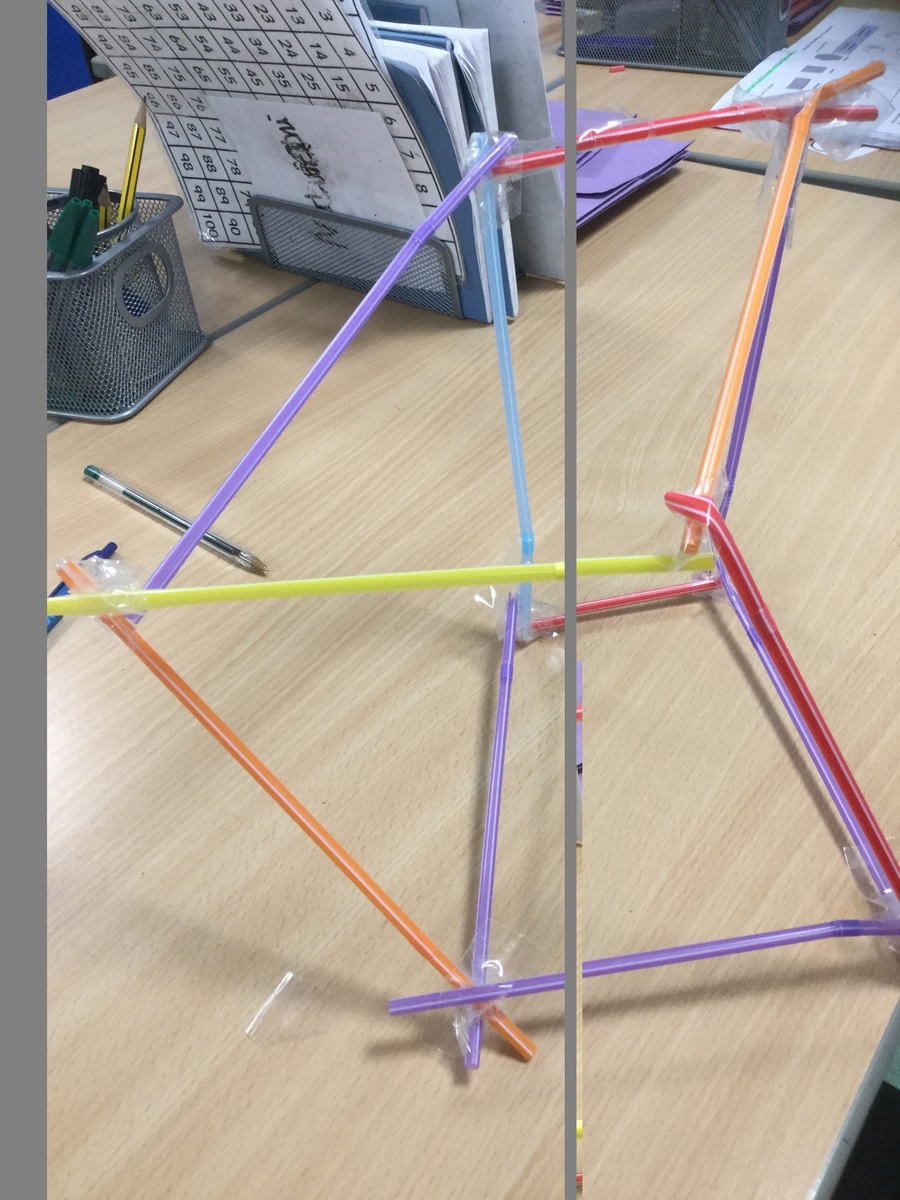 04.10.17
In PE this week the class has been learning to put together a dance routine. They have been using an 8 step beat to perform different movements in time to music. They enjoyed creating a short dance sequence using travel, turn, jump, gesture, pause and fall, within safe practise. They had a lot of fun being creative and active whilst working together learning the routine.
Over the next few weeks we will be learning some circus and disco dance routines which I am sure they will love to show you. They are all budding dancers with some great grooves. Take a look at the photos below.
26.09.17
This week the children are writing their own adventure stories inspired by our class book "The Tunnel". Mrs Powell is amazed with the quality of writing that all the children are producing. Here is a sneak peak at the beginning of Amelia's story. Take a look at the fantastic choice of words she has used as well as her punctuation and conjunctions! We can't wait to see the final pieces at the end of the week.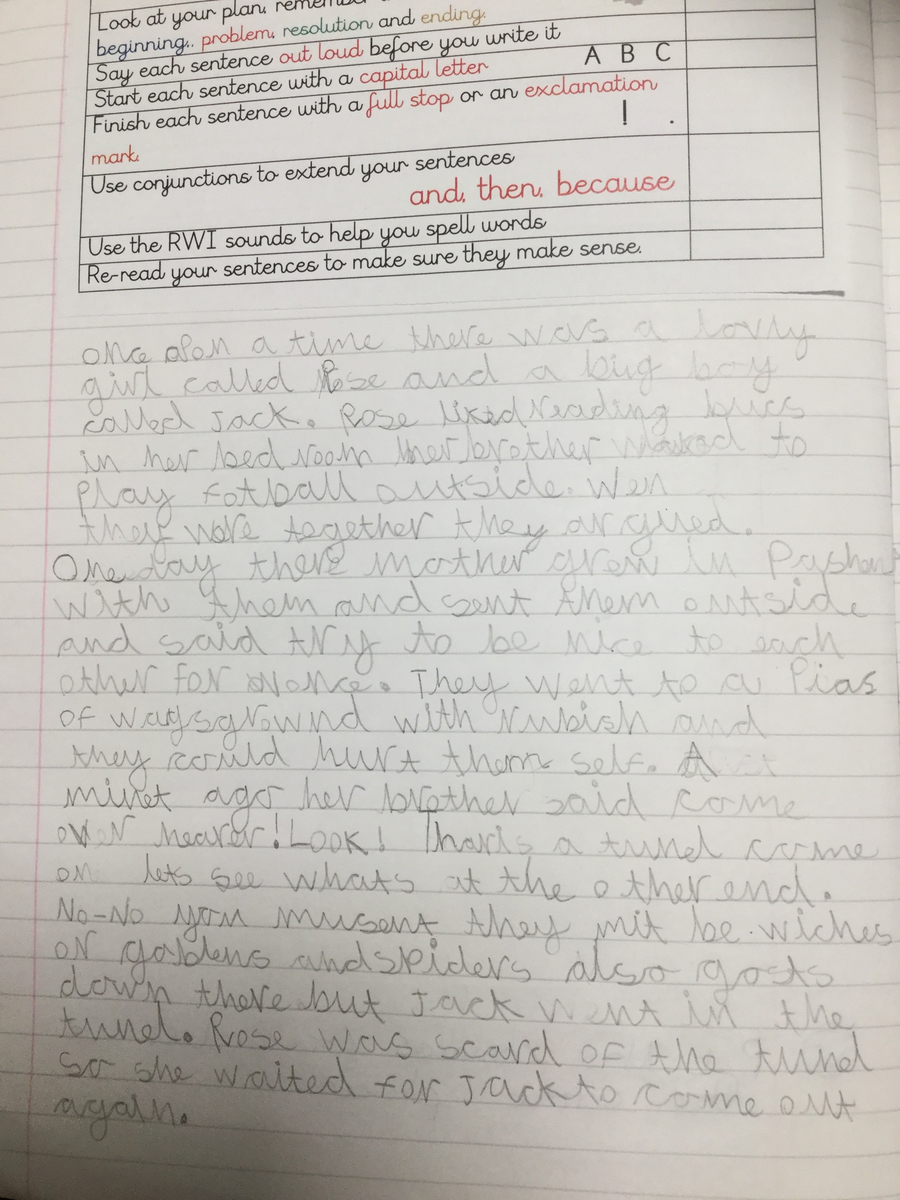 18.09.17
In our English lessons we have been looking at the story "The Tunnel". The story is about a brother and sister called Jack and Rose who were complete opposites and constantly fought and argued. One day they discovered a tunnel. Jack went through the tunnel after Rose had told him that it could be dangerous and not to. When Jack doesn't return Rose has to pluck up the courage to go through the tunnel too. She finds Jack in a mysterious forest where he has been turned to stone. Today we read up to the part where Jack had been turned into stone and created freeze frames to show what could have happened to Jack. Some of the ideas included:
A witch flying on her broom stick and turning Jack into stone using her magic stone wand because he had been eating all her sweets from her house.

A stone monster turning Jack into stone so he could use him as a lovely new statue in his house.

Jack being turned into stone by all the creatures hiding in the mysterious forest to teach him a lesson about being kind and considerate to others.
We acted out our ideas through freeze frames then turned our ideas into complete, clear sentences. We will be writing our very own adventure stories next week!
11.09.17
This week is School Fitness Week! Joe Wicks who is a fitness coach is running 5 days of live workouts all week which we have and will continue to take part in! The aim is to get all children active and feeling the benefits of exercise in a fun and exciting way. Take a look at some of our exercises that we took part in this morning. We had lots of fun and even learnt some new warm ups
06.09.17
This morning the children were very eager to share all the exciting things they did in their summer holidays. The children have clearly been very busy but came to school as enthusiastic as always ready to start a fresh new year. Their excitement continued into the afternoon where they explored all of our new areas in our classroom. All of our areas link to our new topic "Who do you think you are?" The topic will involve looking at how humans grow and develop, where we live, the world we live in and what we need to do to stay fit and healthy. We even have a real life skeleton in our Doctors Surgery to help us understand the human structure!
Enter text...
YEAR 2
2016 - 2017
Mrs ellis / mrs crossfield
24th March 2017: COMIC RELIEF
All the children looked fantastic in their red clothes today. I also loved all their jokes...here are a few of my favourites:
What is a red nose's favourite wizard?
Harry Snotter!
What do you call a pig doing karate?
Pork chop!
What flies in the air wobbling?
A jelly-copter!
What do you call a fairy who hasn't taken a bath for a few weeks?
Stinkerbell!
7th March 2017
Here are two of our children who have been working incredibly hard at perfecting their presentation.
Well done - your books look beautiful!
WORLD BOOK DAY
We have had a fabulous day in Year 2 creating pop-up books which we are going to share with the children in FS1.
The students worked extremely hard to create some stunning work!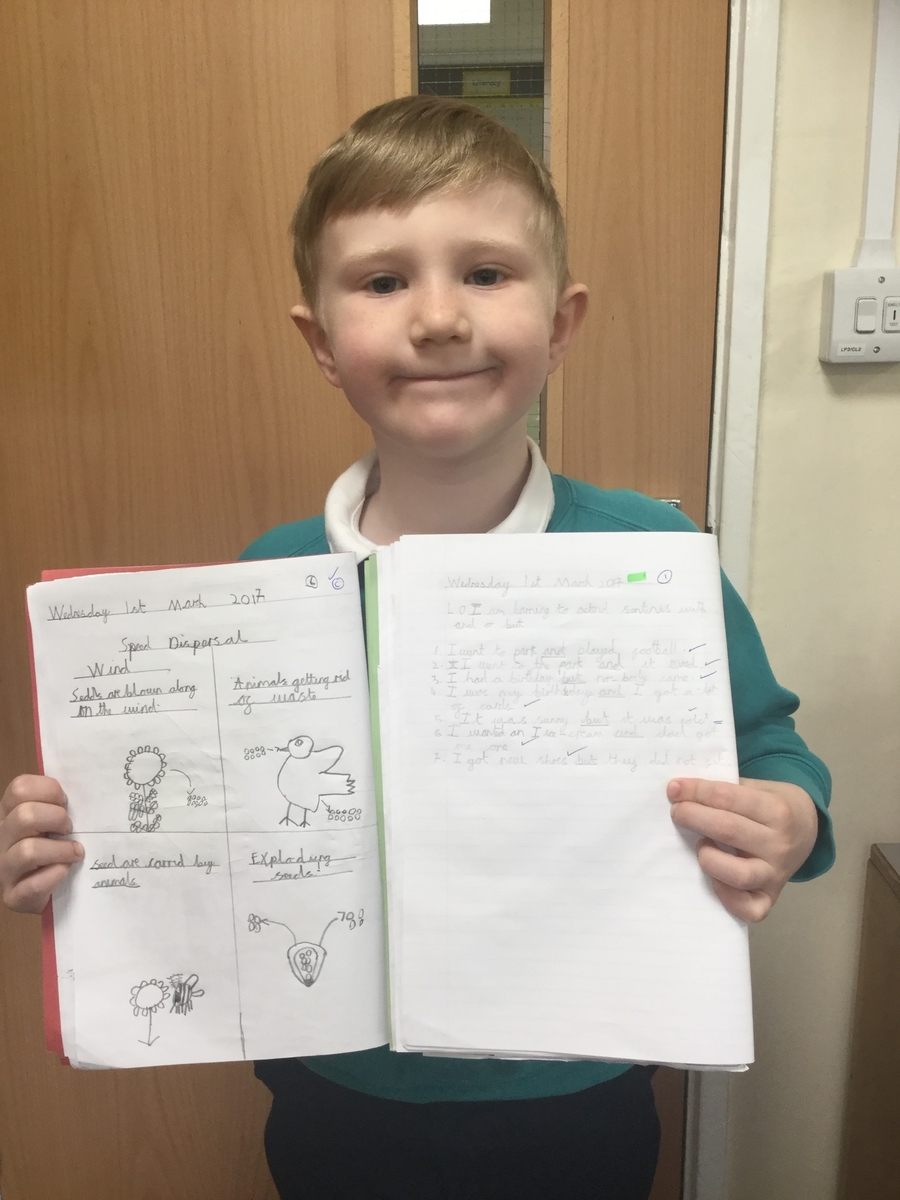 In Year 2 we are currently having a big focus in taking pride in our presentation. This young man has worked so hard today to ensure that his work looks AMAZING! A massive well done!
Tuesday 14th February
We have been learning about mass and how we weigh things in grams (g) and kilograms (kg). We made delicious Rocky Road slices as there were so many ingredients to weigh out.
They were really yummy!
Monday 6th February 2017
Well done to our Pupil of the Month for an awesome January!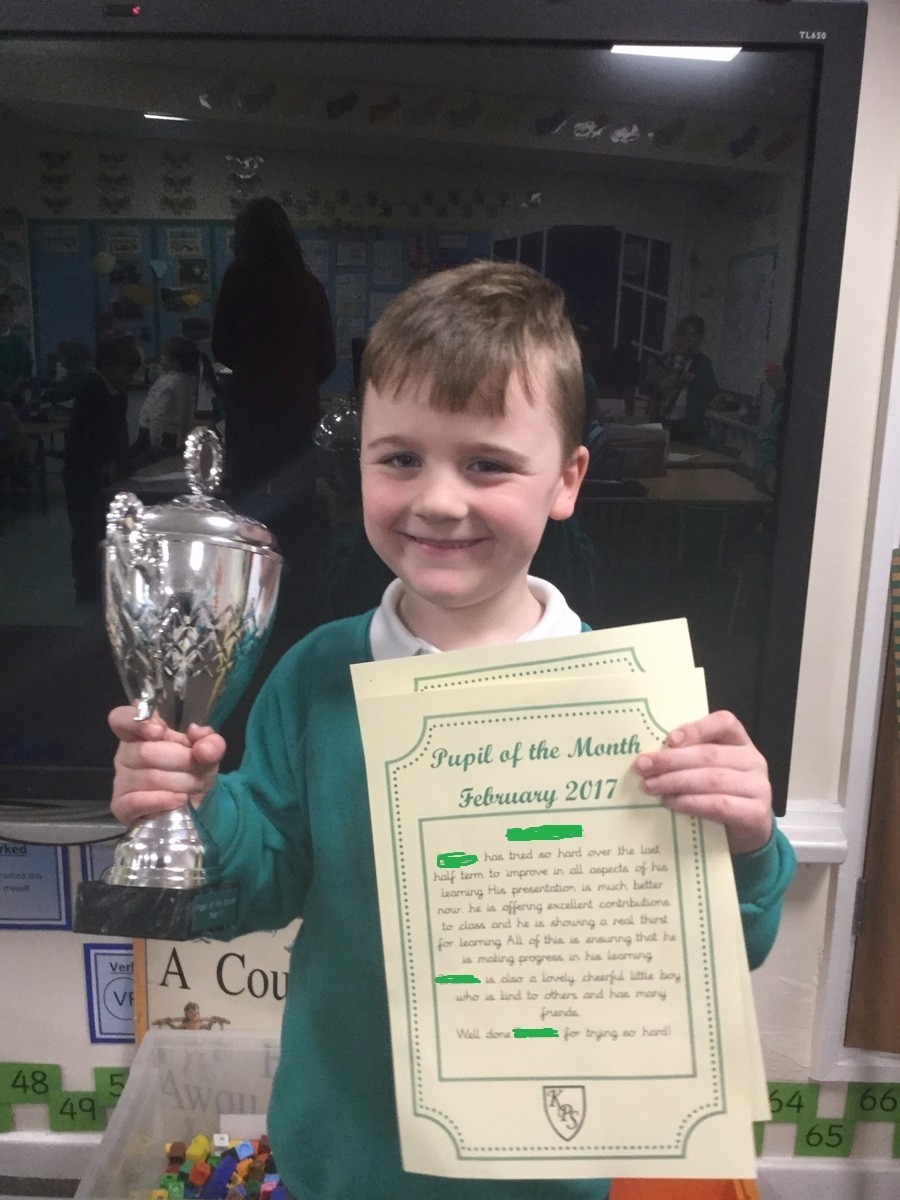 Friday 3rd February 2017
We had a fantastic time at Honeywell competing in the team relays. All the children behaved impeccably and we were delighted to come away with First and Runners Up places!
Well done Team KPS!!
Tuesday 31st January 2017
This week we are learning all about 2D and 3D shapes.
Can you recognise the 2D shapes in the photographs and name some of their properties?
Friday 26th January 2017
We have been learning to tell the time in Year Two. Nearly everyone has learned o'clock, half past, quarter past and quarter to times, and some us have even moved on to telling the time to the nearest five minutes!
Aren't we clever?