YEAR 3
2018-2019
mrs hEBRON
Welcome to our Year 3 class page. Our class teacher is Mrs Hebron and our teacher assistant is Mrs Hodgson.
Our PE days are Wednesday (outdoor) and Thursday (indoor). It is quite warm at the moment but please ensure your child has suitable outdoor kit for the changeable weather.
Reading books will be changed every Friday. Pease ensure that your child has read their book and their reading journal has been signed.
Homework: Each week homework will be given to the children as well as 5 weekly spellings. Homework will be given out on a Thursday and should be returned by the following Wednesday in time for it be marked and for new homework to be set in the children's books. Spelling test will be whole class and will be on a Wednesday.
This term our topic is: The Stone Age
Top Trumps with 3D shapes!
Today we had fun in Maths using our knowledge of properties to play top trumps with 3D shapes. We filled in the cards with numbered properties and then used them in the game. Here are some pictures of our activity.
Stonehenge Art!
This week we looked at the Art technique collaging and used it to create some Stonehenge Art work. Firstly, we used a variation of shades in coloured paint to create the sky behind Stonehenge. We talked about the reflection of the sun behind the rocks. Then, we used collaging to add the shapes and create a Stonehenge effect. The finished results are very effective! Here is some of the finished artwork.
Finding out more about the Stone Age
In class, we used primary and secondary sources of evidence and found out more about the Stone Age. We were able to work as a team to figure out whether a source was primary or secondary too!
YEAR 3
2016 - 2017
MR Brocksom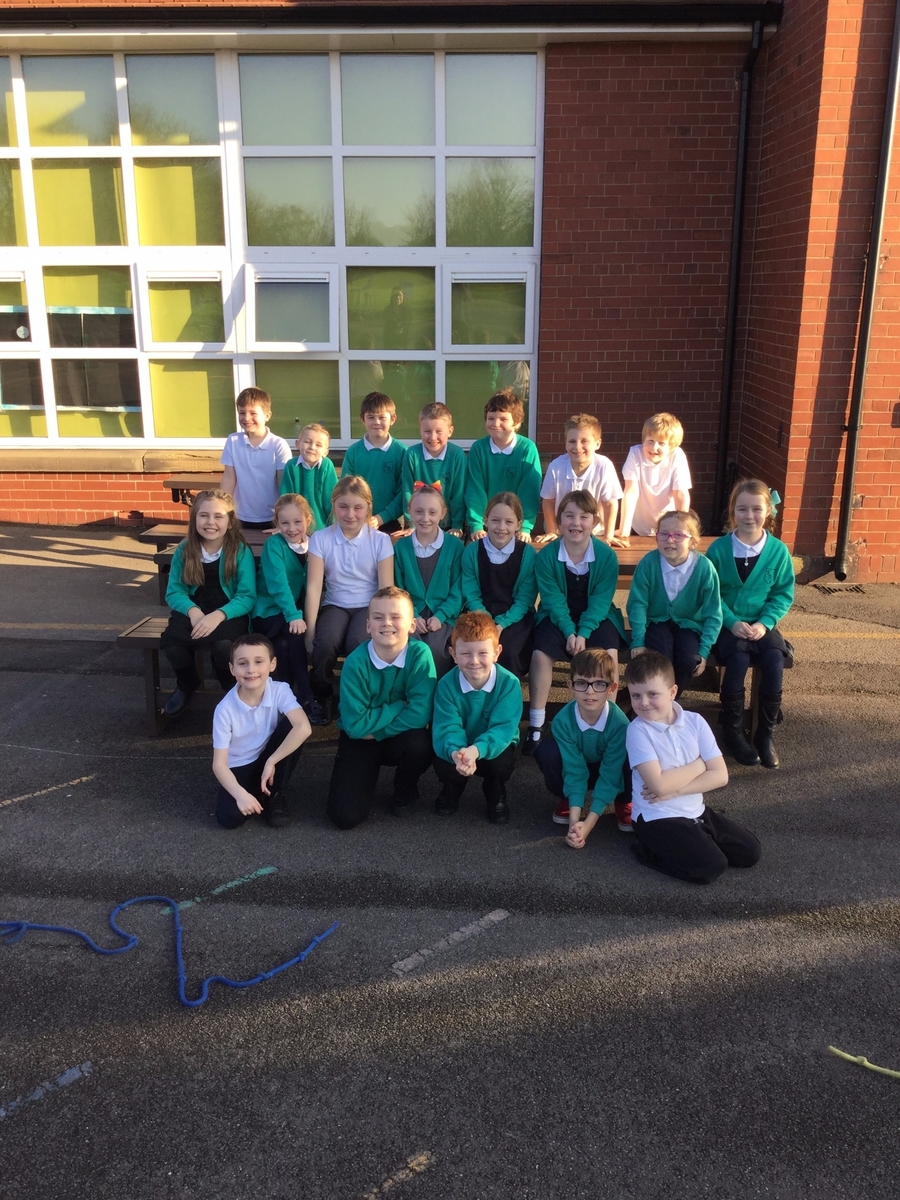 Year 3
Welcome to Year 3! Our class teacher is called Mr Brocksom and we are supported by Miss Shillito and Mrs Richardson. In Year 3, we aim to not just achieve expectations set for us but to demolish them! We always push ourselves and aim to challenge ourselves in all aspects of the curriculum.
PE Days
Our PE days are Tuesdays and Thursdays. As it is currently quite cold, please bring outdoor clothing to help brave the elements. As long as it is safe to do so, we will aim to complete our lesson outdoor as much as possible. With Mr Brocksom, we are learning the skills of tag-rugby and basketball.
Homework
Homework is usually set on a Thursday/ Friday and is expected in by the following Tuesday unless stated otherwise. Throughout the year, there will be spelling tests and tables test which children will be able to obtain GEMs and dojos.
These are some of the events/ learning activities that our class has recently been taking part in.
Spectacular Stonehenge
Below are some fantastic pictures of sculptures that our Year 3 class have created for homework. They have created their own Stonehenge for our topic. Thank you very much! They are super!
Our Tremendous Trip To Brimham Rocks and Stump Cross Caverns
Yesterday, we went on a trip to Brimham Rocks and Stump Cross Caverns. We arrived early at school and we were able to set off at 8:30 to avoid the traffic. We arrived at Brimham Rocks at 10:00 and we went exploring straight away. We split up into groups and started to wonder around the magnificent landscape. Some of us climbed up the smaller rocks and the rest were able to see all of the different rock types. One group even learnt all of the names to all of the different rocks. After we finished walking, we were able to eat our packed lunch. Even though it was raining, we still enjoyed our lunches. Mr Brocksom was very surprised with the amount of food some people had received.
After we ate our dinner, we travelled to Stump Cross Caverns. We arrived about 12:30 and we immediately watched an interesting video about cave formation. Finally, it was time to go down into the cavern and we put on our hard hats and explored all of the different areas in the cave. It was amazing to see real life stalactites and stalagmites. On the way home, most people were tired and some even took the opportunity to have a little snooze.
Eloise says, "Brimham Rocks was really fun!"
Lauren says, "I think it was really exciting to go there for my first time. I was really tired by the time i got on the coach!"
Oliver says, "Stump Cross Caverns was so scary because it was so small. I really enjoyed all of the different areas to explore!"
Simon says, "It was really fun to climb the rocks at Brimham Rocks!"
Who was the best predictor?
In maths, we all thought of questions for the rest of our group. For example, what is your favourite colour, what is your favourite takeaway and who is your favourite Harry Potter character? We had to state the possible answers and then predict what the top answer would be ensuring that we explained why we thought it. We collated our results and found out if we were correct. I predicted that the favourite colour in my group would be blue as there were more boys in the group and blue is normally the favourite colour for boys. I was correct!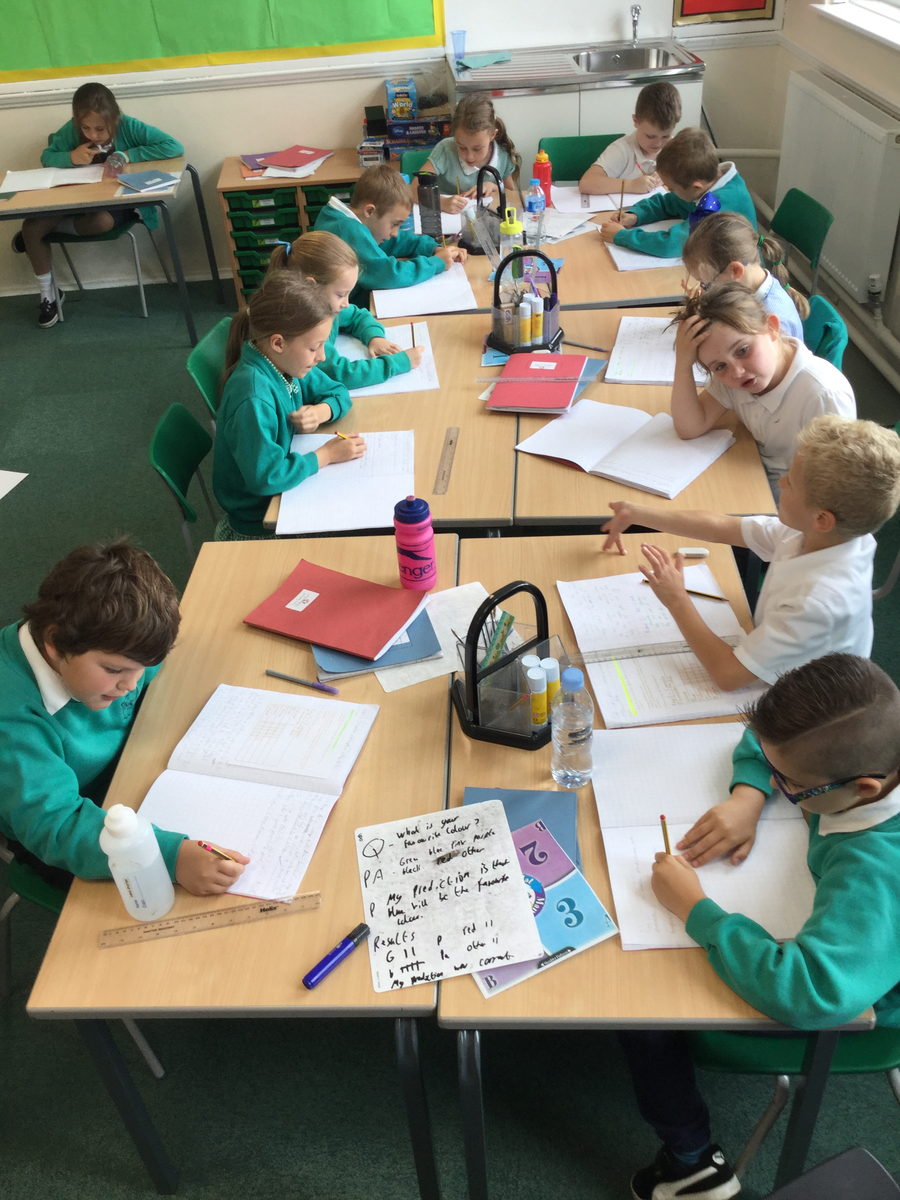 A dictionary in maths?????????????
Below is a picture of one of our children completing his maths work today. However, he is not using a ruler or a protractor, he is actually using a dictionary. This was because he had to create his own word problems about a set of data that he had generated. We had the same expectations as we do in English and he ensured that his words were spelled correctly.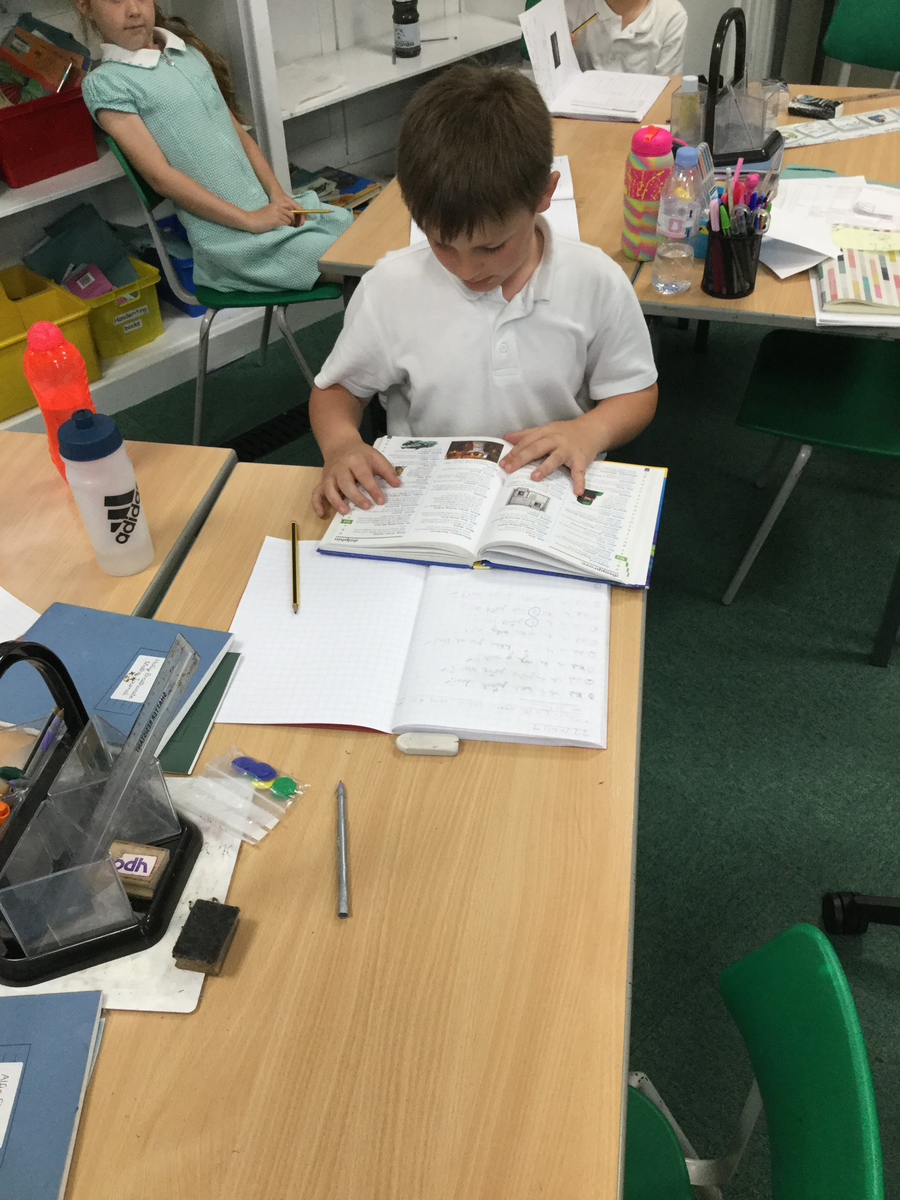 Sumo Paint
For the past few weeks, we have been looking at Sumo Paint in our ICT Lessons. We have bee looking at taking photographs and how to take a decent photograph. We have also been looking at the editing tools on sumo paint including cropping and the different filters. The children have really enjoyed using the filters and you can see some examples below. I have been having some troubles uploading some of the images so there are only 2 at the minute but hopefully I will be able to sort this problem. You should open with paint when it asks.
Subject Specific and Technical Vocabulary
Today, we have been working in groups looking at technical and subject specific vocabulary. We are writing a non-chronological report about the Stone Age and we want to use a variety of impressive words. We examined Mr Brocksom's report and we also used our own knowledge and a thesaurus to find really good examples.
Student Council
The children in the picture below are the Year 3 student council. I have never seen 2 children take their role more seriously. They both stay in at break times and dinner times and write questions for the class to get student feedback. They hold weekly meetings with the class to let them know what is going on. Their confidence is amazing and they mostly listen to what the class say. Watch out Theresa May!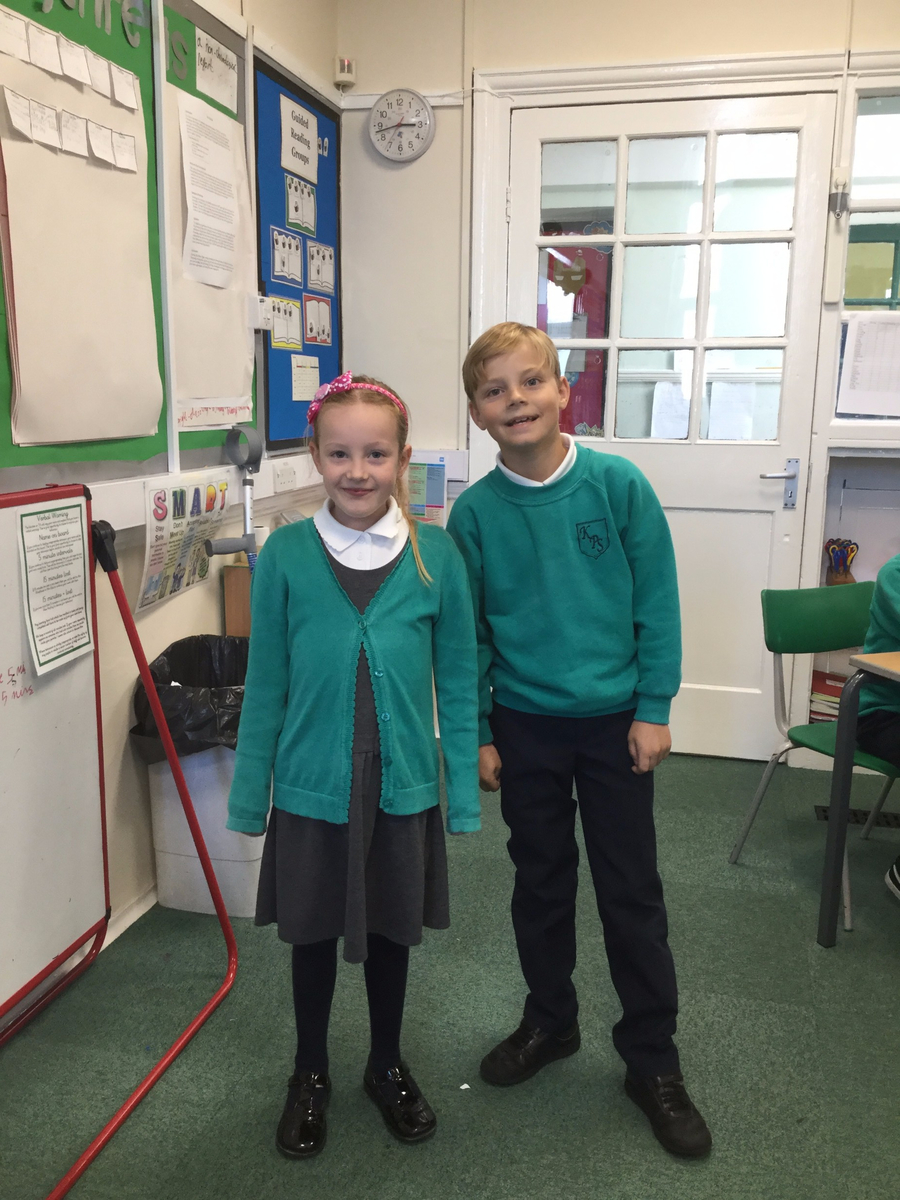 Angles
The children below are not learning a new dance, they are completing a practical activity on angles that are greater than and less than 90 degrees.
SQUIRT Time
All of our children have been participating in SQUIRT time. SQUIRT stands for Sustained, Quiet, Uninterrupted, Independent, Reading Time. We complete this event every Monday for half an hour and can choose any book from the library (as long as we can read it.) It is a great chance to get lost in a book and will also help our fluency and our writing skills.
Poetry
Over the past 2 weeks, we have been creating our own "Sound Collector" poems. The poem was originally written by Roger McGough but we have adapted it slightly for the sounds that could be collected in school. It has been very challenging adapting to this new style of writing, however, after 2 weeks of hard work, we have finally got there! We have been mostly enjoying working in groups and it has been really beneficial to be to discuss our ideas. We have been able to learn about: rhythm, rhyme, syllables, tone, the structure/ layout of a poem, volume and intonation.
Today, we have been to see Gangsta Granny at "The Grand Theatre" in Leeds. It was really funny. A moment that we enjoyed was when "The Queen" showed the after effects of cabbage soup. Another moment was when they did their own version of "Strictly" and Ben did his "dance." Even though it was sad at the end, it was still a very enjoyable day. Mr Brocksom really enjoyed seeing Raj again as it reminded him of Mr Stink. Below are some pictures of the day.
Charlotte says, "I would love to go and see Gansta Granny again because it was that funny!"
Bronwyn says "I loved it when Ben's mum let me wear her head band when she sat next to me!"
Alfie says, "It nearly made me burst out in laughter!"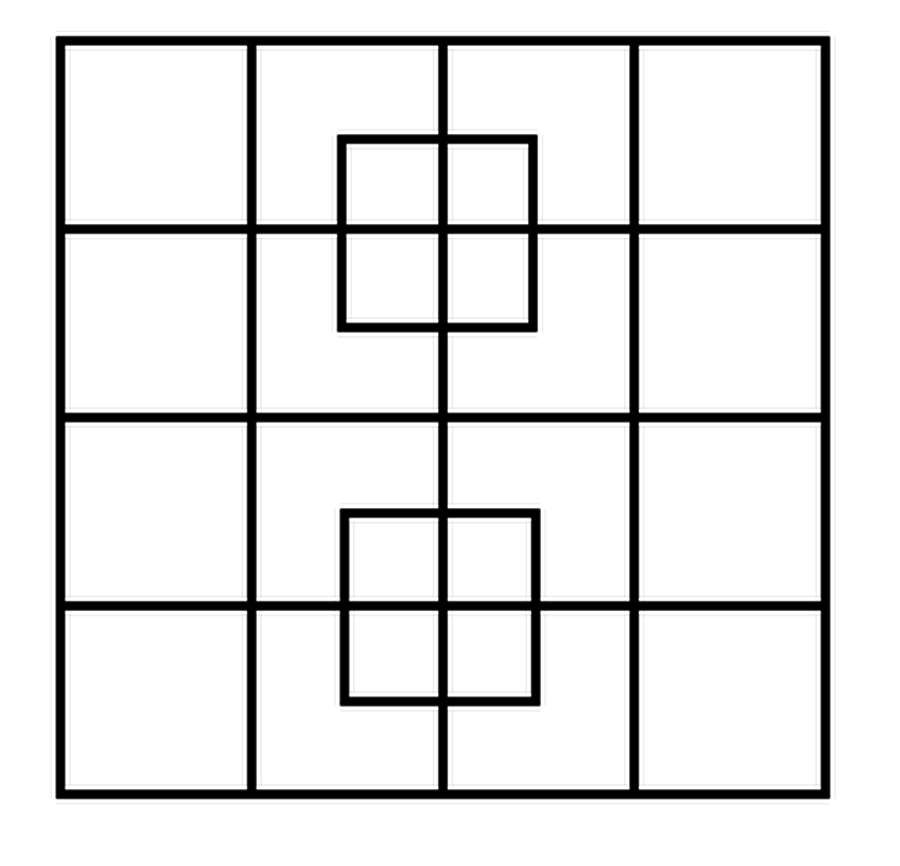 You can vote more than once!
Who lives in a house like this?
Recently, strange events have been happening around the Key Stage 2 building. There have been strange noises and small items disappearing including books, memory sticks and red noses. In guided reading, we have been reading "The Borrowers" and interestingly they would borrow things from the "people upstairs." We think something similar might be happening here. Today, we went searching for answers and found the doors below which seem like they have been signed by the Borrowers. Since we found them, one of them has actually vanished and we think they may have emigrated. We will have another search on Monday to investigate further. There have been noises heard in Mrs Woodhead's room and Miss Field's room. We will let you know more on Monday!
Don't forget your homework! Search for a borrower!
Tell your friends to vote!
A note from Mr Brocksom
I would just like to thank the Year 3 class for being absolutely fantastic. They are a pleasure to teach and the behaviour is amazing. All children try really hard to impress and want to be their very best. I am really proud of all of you and hope this can continue for the rest of the year! Honestly, I mean it!
Mummification Instructions
In our English lessons, for the past three weeks, we have been learning to write a set of instructions to tell people how to mummify a body. We have been looking at: using fronted adverbials in our work, using bullet points, using a thesaurus to up level the verbs in our writing and checking our spellings using a dictionary.
We then used our masterpiece writing to copy this up onto the computer.
Owen says, "I have enjoyed learning the new words like sawdust, natron and resin."
Timothy says, "I now know how to mummify a body!"
Emily says, "I liked it when two of the tables wrapped children in bandages!"
Take a look at some of our work below!
| Name | |
| --- | --- |
| How to mummify a body Aiden and Lauren.docx | Download |
| How to mummify a body Alfie and Owen.docx | Download |
| How to mummify a body Archie and Lilly- Ann.docx | Download |
| How to mummify a body Eloise and Riley.docx | Download |
| How to mummify a body Emily and Jay.docx | Download |
| How to mummify a body Gabriel and Timothy.docx | Download |
| How to mummify a body Lewis and Norah.docx | Download |
| How to mummify a body Max and AMelia.docx | Download |
| How to mummify a body Mckenzie.docx | Download |
| How to mummify a body Simon and H.docx | Download |
Showing 1-10 of 10
Superb Silhouettes
In art this week, we have been learning the skills of using water colours and mixing them to get different shades. We have created tonal sequences and designed our own Egyptian landscape. In the foreground, we have cut out some pyramids from black card.
Brilliant Bookmarks
As we have recently been privileged enough to gain access to the new library, we have decided to design and create our own bookmarks. We have not just completed ordinary bookmarks but instead have created topic themed Egyptian bookmarks. We studied hieroglyphics and learnt how to spell our own name. We then transferred them onto our own bookmark. Below are some examples.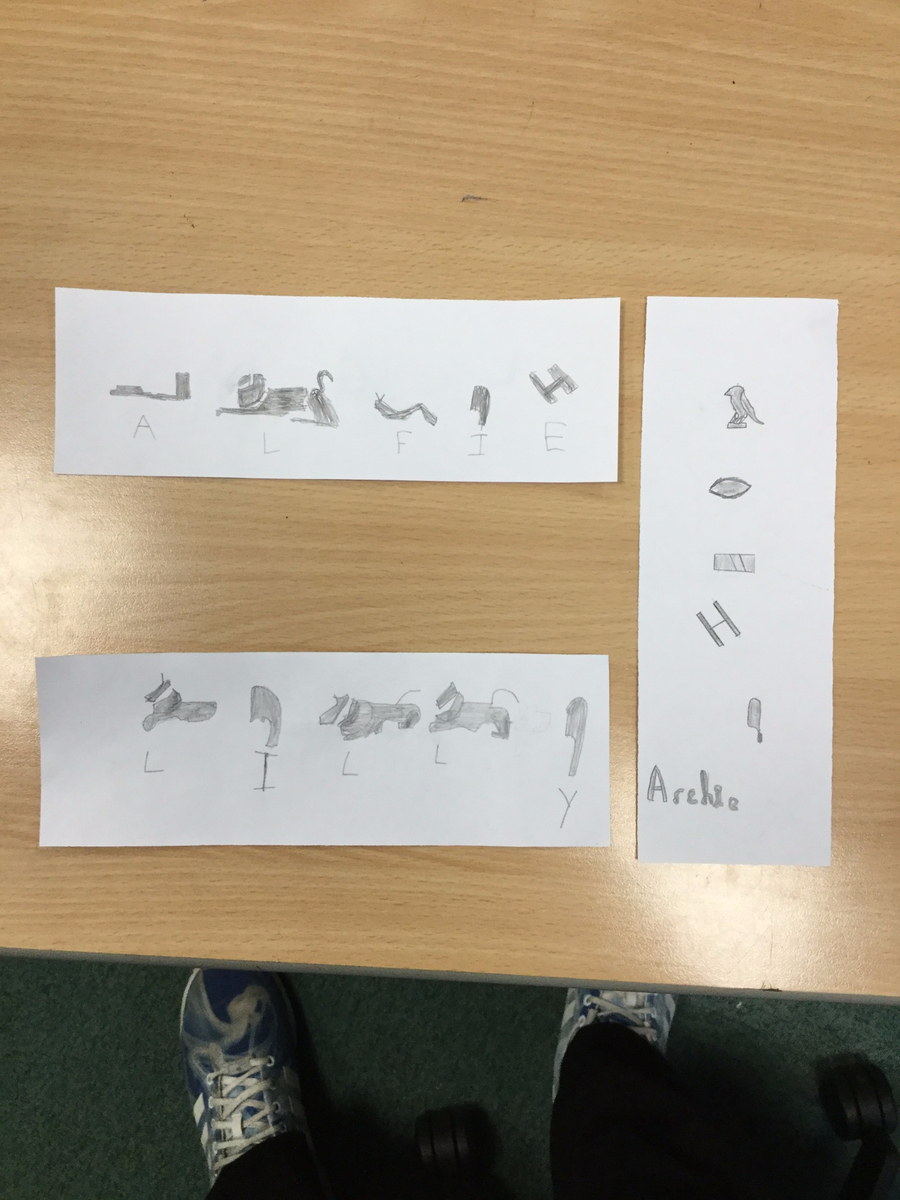 Proud to be from Kexborough Primary School
In Year 3, we have been thinking a lot about taking pride in ourselves. This could be the way we present our self, the work that we produce or the way we treat other people. We have also talked a lot about what we are proud of. All of us are proud to be from Kexborough Primary School and these are some of the reasons why. ( I must apologise for the quality of video. The children are much taller in person)
World Book Day Finished Stories
Below is a list of the finished stories that the Year 3 children have planned, wrote, improved and then finally typed up. We hope that you enjoy them!
| Name | |
| --- | --- |
| Horrid Henry and the basketball match.docx | Download |
| Horrid Henry and the haunted house challenge.docx | Download |
| Horrid Henry and the Jumping Disaster.docx | Download |
| Horrid Henry and the Jumping Mischief.docx | Download |
| Horrid Henry and the Stink Bomb.docx | Download |
| Horrid Henry and the Swimming Gala.docx | Download |
| Horrid Henry and the terrifying tiger.docx | Download |
Showing 1-7 of 7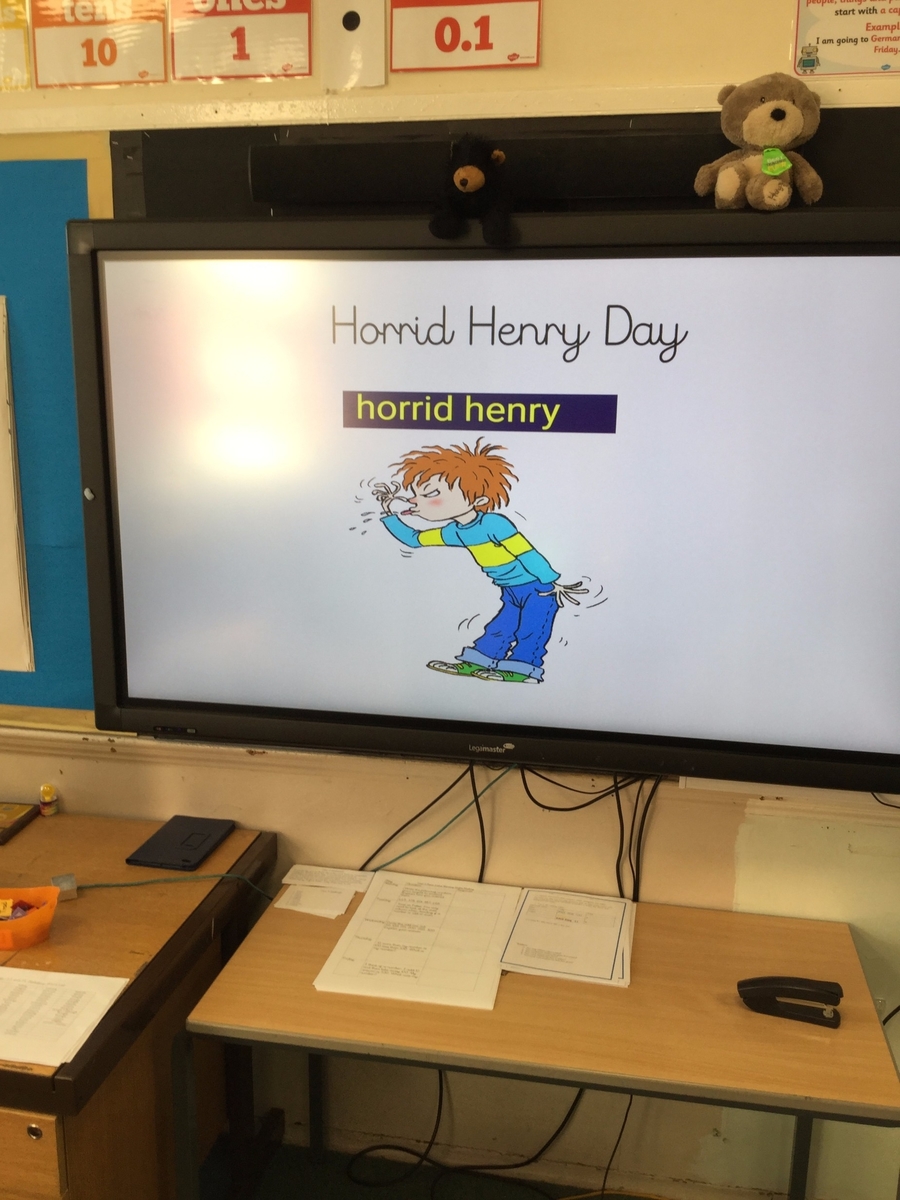 As part of World Book Day, Year 3 had their very own Horrid Henry Day. The day consisted of reading a Horrid Henry book, creating and acting out their Horrid Henry Story and finally writing up their story to create a class Horrid Henry book.
Reading Time
The Children really enjoyed reading a Horrid Henry book in partners. They were able to understand the characters and some of the interesting plot ideas that took place.
Creating our characters
As part of our Horrid Henry day, we had to create characters for our own Horrid Henry story. All of the characters in the Horrid Henry books have alliteration in their name. Examples of this include: Horrid Henry, Moody Margret and Perfect Peter. Below are pictures of us creating our own characters including: names, age, characteristics and appearances. We used a thesaurus to help us improve some of our vocabulary.
Creating our Story
In our table groups, we had to think of a plot for our Horrid Henry story. We thought back to the work that we completed on story mountains and used that as a format to follow. Each group thought of their own unique plot including one group that had Horrid Henry skipping school to go to the cinema! That certainly is horrid!
Drama Time
After we completed the plots to our story, we had the chance to act them out. This was a great way to be able to help remember our story and also a fantastic speaking and listening opportunity. As we had a member of our class not in today, Mr Brocksom had to participate and became Jumping Josh! Most of the productions were fantastic and I think that we have some real performers in our class. Watch out Broadway!
Writing up our story
In the afternoon, we began to write up our stories. We used our planning and drama to help us structure our writing and followed the story mountain structure to create our 5 paragraphs. Mr Brocksom modelled examples on the board to show us how to set out our work. Just like earlier, we used a thesaurus to up-level our vocabulary. We really did include some fantastic vocabulary. Hopefully, Mr Brocksom will try to upload the finished pieces of work on the blog if he finds out how to do it.
Library Time
As part of World Book Day, Kexborough Primary School was proud to open their brand new improved library. There has been a lot of hard work put in by numerous members of staff, most of which took place in their own time. A massive thank you is coming your way from all of us in Year 3! I was really happy to see that 11 people chose a Horrid Henry book which shows how much the children enjoyed the Horrid Henry day. There was a huge selection so this was a tremendous achievement. I hope that you all enjoy your books!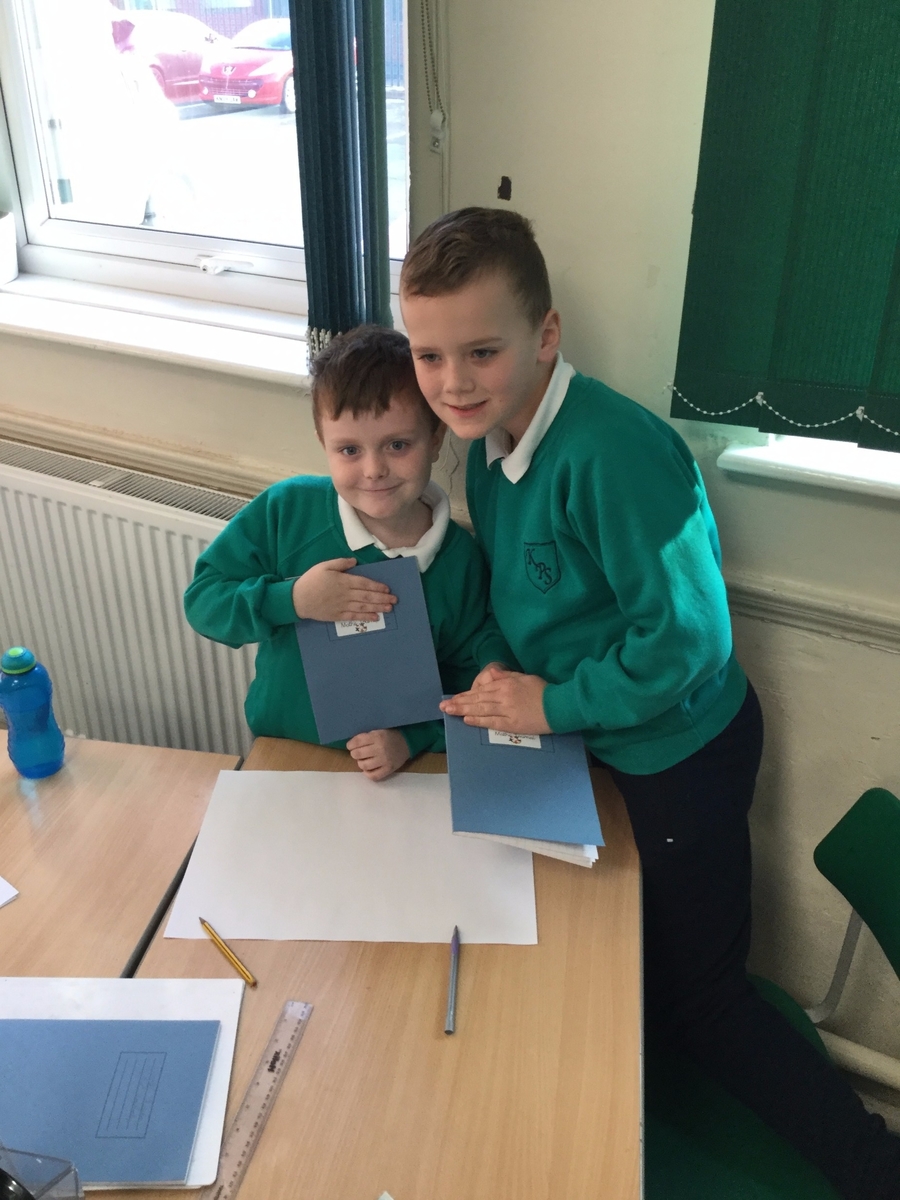 These two children plus a third - who is not on the photograph - have won top table today. They have worked really hard in '5 a day' and all children obtained the maximum score. In topic, they were able to complete all 8 questions about ancient Egypt and worked really well as a team. They were always smart and well behaved in everything they did.
Terrific New Tables
As it is a new month, I think it is time for a change around of the classroom. As of Monday, the children will be sitting in their new places. The big question is, "Which is going to be the TOP TABLE?" Below are pictures of the new teams. Each member of the table is able to bring something different! I am going to be looking out for the tidiest, most well-mannered, most silent, hardest working, top quiz winners, neatest table. I will keep you updated on here to how the tables are doing.
Who is going to rise to the top?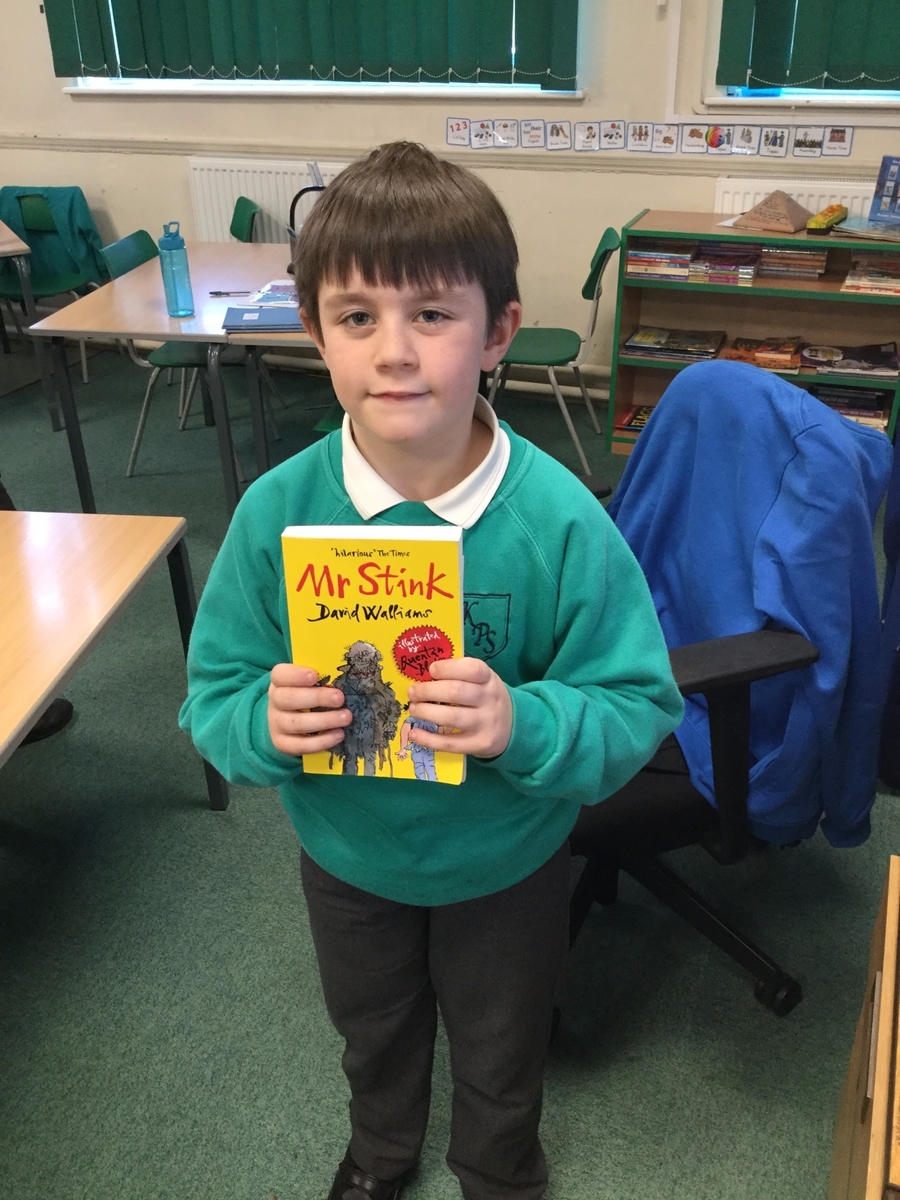 In Guided Reading, we have been completing a class novel called Mr Stink. Mr Stink was written by David Walliams who is a very funny man. Some of our favourite moments are when they had to, "Abandon Starbucks," when Raj tried to sell his "Teenage Mutant Ninja Turtle stationary set," and when Chloe's father "Passed water," in the toilet. We have completed a lot of work on this book including finding out what new words mean, making predictions and answering questions about what we have read.
Riley says, "I think that the book is awesome!"
Norah says, "I think it is hilarious at times!"
Jay says, "The book is really funny!"
It's Drama Time
Today, we completed some drama work about the discovery of Tutankhamun (King Tut) We acted out the scenes from when Howard Carter asked Lord Carnarvon for some money to finance his dig and went all the way to the dramatic discovery of the ancient tomb. Below are some pictures of the fun learning that we completed.
McKenzie CW says, "I loved doing the drama! I was a team member!"
Bronwyn says, "I thought our drama was perfect!"
Oliver says, "I enjoyed being an actor!"
We have been learning about Egypt so our teacher (Mr Brocksom) set us the challenge to design and create our own pyramids. We would like to share them with you.
Do you think that you could do better than us?
Owen says, "I really liked building these pyramids because it has let me experience using different materials whilst making them!"
Amelia says, "I loved creating the pyramids because they were messy!"
Gabriel says, "There were some brilliant pyramids!"