Year 4
2018-2019
Mr Brocksom
"If you are different then that's okay as long as you are nice on the inside." - Oscar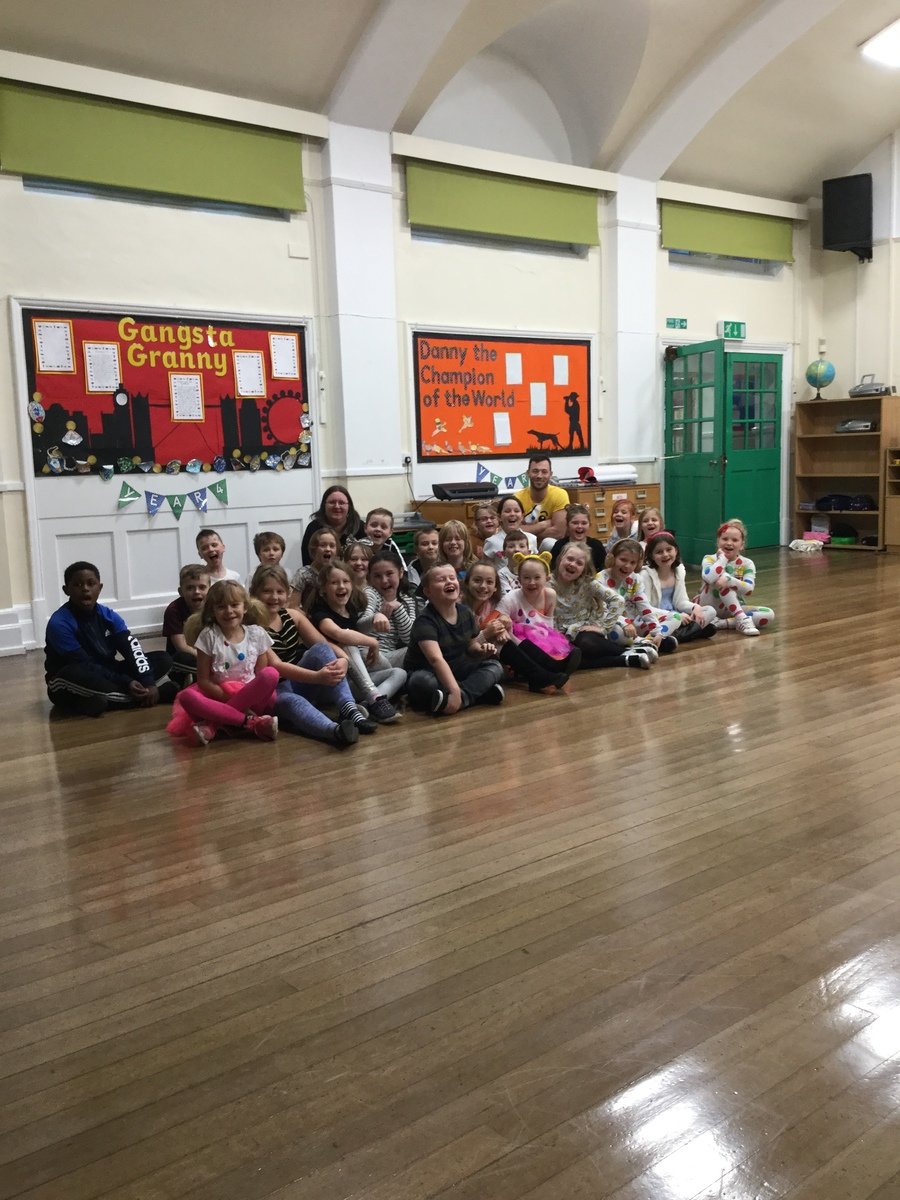 Teaching Staff
The Year 4 teacher for this year will be Mr Brocksom and he will be assisted by Miss Shillito.
Homework
We set homework, weekly, on a Friday and expect in on a Tuesday. We have a weekly spelling test which will be on a Friday afternoon alongside a multiplication/ division test. Please ensure that homework is completed in pencil as part of the expectations set at school If you are drawing straight lines, you should use a ruler. Keep it neat and set yourself high expectations.
PE Days
The Year 4 PE days are Wednesday and Friday. This half term, we are learning the skills needed to play football. Also, as part of our indoor sessions, we are looking at a range of multi-skills and having an in-depth look at agility, balance and coordination. We will link this in to a variety of games including bench ball, dodgeball and quidditch.
In Year 4, we will shoot for the moon but if we miss, we will still land amongst the stars.
Maths Tests
This week, we have been completing some end of year maths tests. We completed an arithmetic paper and 2 reasoning and problem solving papers. The children have done really well with these and have shown how much they have improved this year. Special acknowledgements go to Georgee, Sam, Oscar, Bradley and Kasey who all managed to get GDS on this set of tests. More praise needs to go to Freya and Tyler who have move from WTS to EXS in this set of tests. The arithmetic abilities of the children in this class are fantastic and this has really helped them throughout the tests. Currently, we are awaiting the scores of our Multiplication Check and we are hoping that we show just how much practise that we have all put in.
Roman Soldiers
As part of our topic on Ancient Rome, we have been learning about Roman soldiers. We have looked at how they used to dress and the weapons that they held. We linked this to art and designed our very own soldier with all of the parts of the armour and body labelled. We practised by sketching individual parts of the soldier and then put it all together. Below are some of our pictures.
2 New Arrivals
Year 4 would like to welcome the two girls below. They have been a welcomed addition and have settled in well so far. They are able to play with children from our class including: Ashleigh, Leah and many more. I have been impressed so far with their writing as it is at a very good standard. Welcome girls, we hope you enjoy our school.
Greek Theatre Masks - Part 2
We have finally finished our theatre masks! We have worked really hard to: research, design ,evaluate our designs, create and then evaluate again. If you would like to look in our Art books, speak to Mr Brocksom and he will show you. Some are not the perfect outcome but the process has been perfect so they should be proud of their weeks of work. All children have been able to evaluate their final piece of work and state WWW and EBI. (The children will tell you what this means.)
Greek Theatre Masks
In Topic, we have been learning about Ancient Greece. We have been completing loads of written work about Sparta and Athens. Recently, we have begun our art work which relates to Ancient Greek theatre masks. We have been building our skills up by creating different facial features using papermache. Over the next 2 weeks, we will be designing, creating and evaluating our own theatre mask. For the pictures, please visit the Facebook page.
Children in Need
This year, we all dressed up in non-uniform in order to raise money for children in need. We raised over £200 as a school and here are some pictures of our children. Who do you think looks the best?
Poems (23/10/18)
For the past 2 weeks, we have been creating "Sound Collector," poems in English. We have been working in groups and learning about rhyme, syllables and rhythm. We have a few action shots from today's lesson. Hopefully, on Friday, we will perform these and upload the videos onto the website.
Jokes
Thanks to one individual child in our class, not mentioning any names, we have now got a new leader on, 'What should be on our blog?'
So here goes,
Knock Knock
Who's there?
The interrupting cow
The interrupting c- MOOOOOOOOOOOOOOOOOOOOOOOO
Photographs
As previously stated, we are going to be increasing the amount of photographs that go up on our blog. Sorry for the wait. We have taken some photographs of us completing our multiplication grids, editing and improving our work and shooting in football. Hope you enjoy them.
Thanks for Voting
Thank you for voting in our recent poll. With 4 votes, photographs was the winner. Next week, we will be adding a variety of photographs of us learning and having fun at school. Keep posted for more great photographs like this.
YEAR 4
2017 - 2018
mrs hebron
Hello and a warm welcome to our Year 4 class page. Our class teacher is Mrs Hebron and our teaching assistants are Mrs Richardson and Miss Mills.
Our PE days are Monday and Wednesday.
We change our books on a Wednesday. Please ensure that your child has read their book and their journal has been signed.
Homework:
Homework will be given on a Thursday including spellings to learn for a test on Wednesday. Homework should be handed in the following Monday in time for it to be marked and rewarded in class.
Monday 2nd July 2018
Habitats Day
Today, we have had a great Habitats Day! We started by researching how animals survived in their chosen habitat and used this research to create our own animals. Then we wrote a fact file all about our animals and created a labelled picture to show what it looked like.
This afternoon, we have had so many different activities to do. We have tried exotic fruits, gone pond dipping, had our faces painted and created an animal mask to take home.
Here are a few pictures from today although we didn't take lots because we were all too busy having fun!
Tuesday 26th June 2018
Habitats trip
Today year 4 went the RSPB nature reserve at Dearne Valley Old Moor. Despite it being a hot day, this didn't stop the children learning lots about creatures that live in different habitats around the reserve. Here are some pictures from our day.
Friday 11th May 2018
Habitat Boxes
This week, we have been creating our very own habitat boxes in class. The results are fantastic and I would love to share them with you here.
Well done year 4!
Monday 23rd April 2018
Refereeing in Football
Today, the children in year 4 were treated to a real life referee coming in to do a workshop, Darren England himself!
The workshop began with a talk from Darren England and him showing all his referee kit and equipment. The children were amazed at the amount a referee has to have during the matches.
Then, the children took part in a 'Dragon Den' activity where they created or improved equipment that a referee uses to help them. The ideas the children created were excellent and Darren said he would definitely be taking some of them back to his bosses!
Thank you Darren for such a fun and interesting afternoon.
Wednesday 18th April 2018
Gangsta Granny
Last term, our novel study was the brilliantly fun story written by David Walliams, Gangsta Granny. The children loved reading this book and we are still enjoying the final few chapters.
During English lessons, the class wrote their own story where granny stole another jewel for her ever growing collection! Their writing was fantastic and very imaginative. Also, the children decorated their own dazzling jewels during the snow week last term. Their work was so fantastic we had to display some of it.
Below is a picture of our Gangsta Granny display in the KS2 hall. There is still lots of work to go up on our Wonderful Writing display in class too!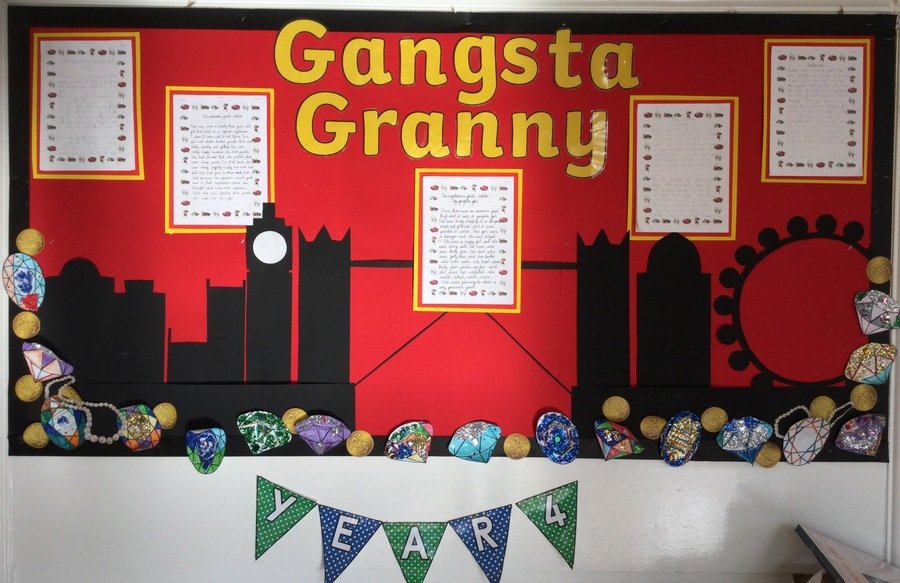 Monday 16th April 2018
Habitats Topic
Last week, we began our new topic in year 4- habitats! The children were really excited to start learning about this topic, especially after our two history based ones this year. We started with lots of class discussion about what a habitat was and what animals belonged to each habitat. After collecting their ideas for our working wall, I was amazed at all the interesting facts and information they already knew! As the week went on, we build up our wonderwall which is now full of excellent questions to answer this term. I can't wait to see how year 4 do over the full term, they are sure to become habitat experts!
Have a look at some of the questions on our wonderwall below...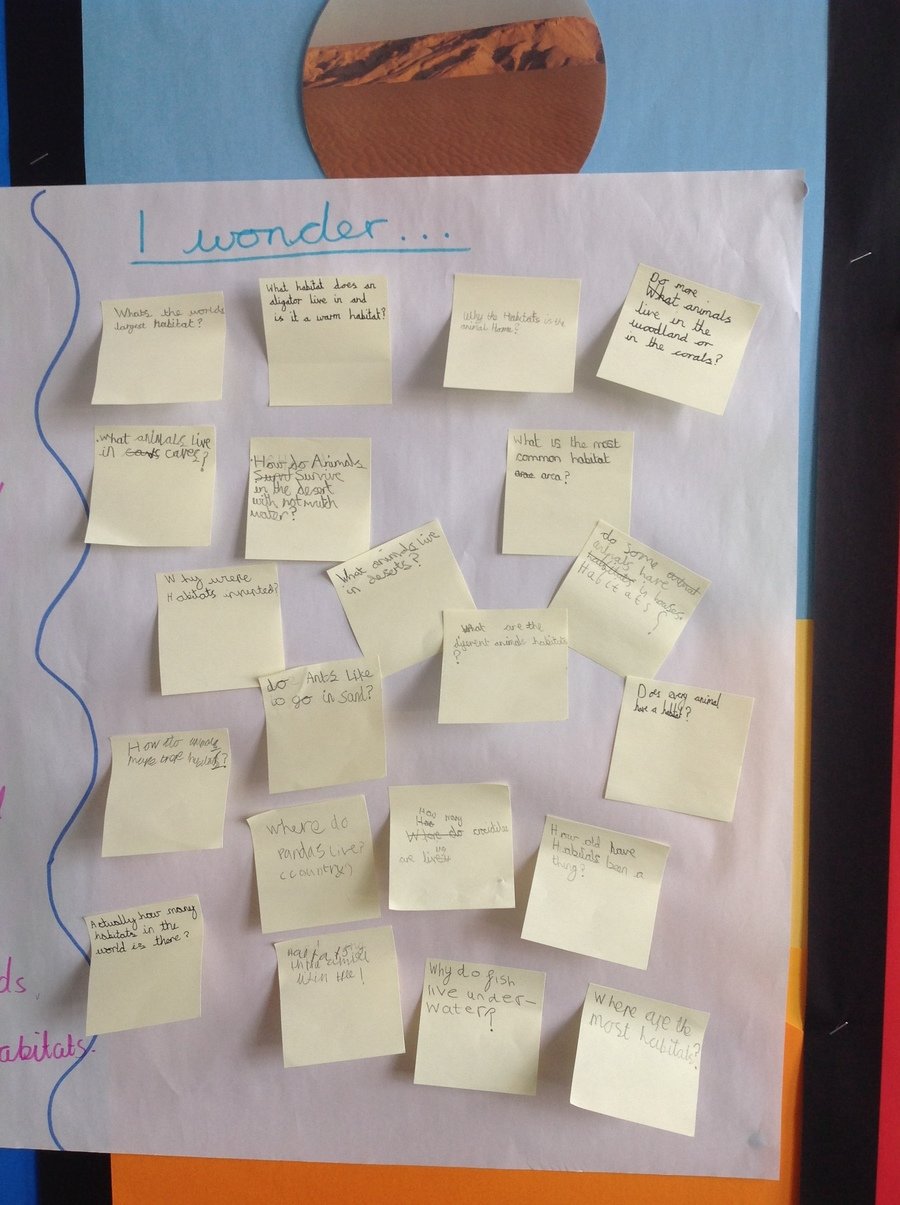 Monday 19th March 2018
World Book Day Winners!
A big well done to the TWO winners in year 4 for the wooden spoon competition. Your excellent designs and hard work paid off! A big well done to all children who took part, you really did produce some excellent characters.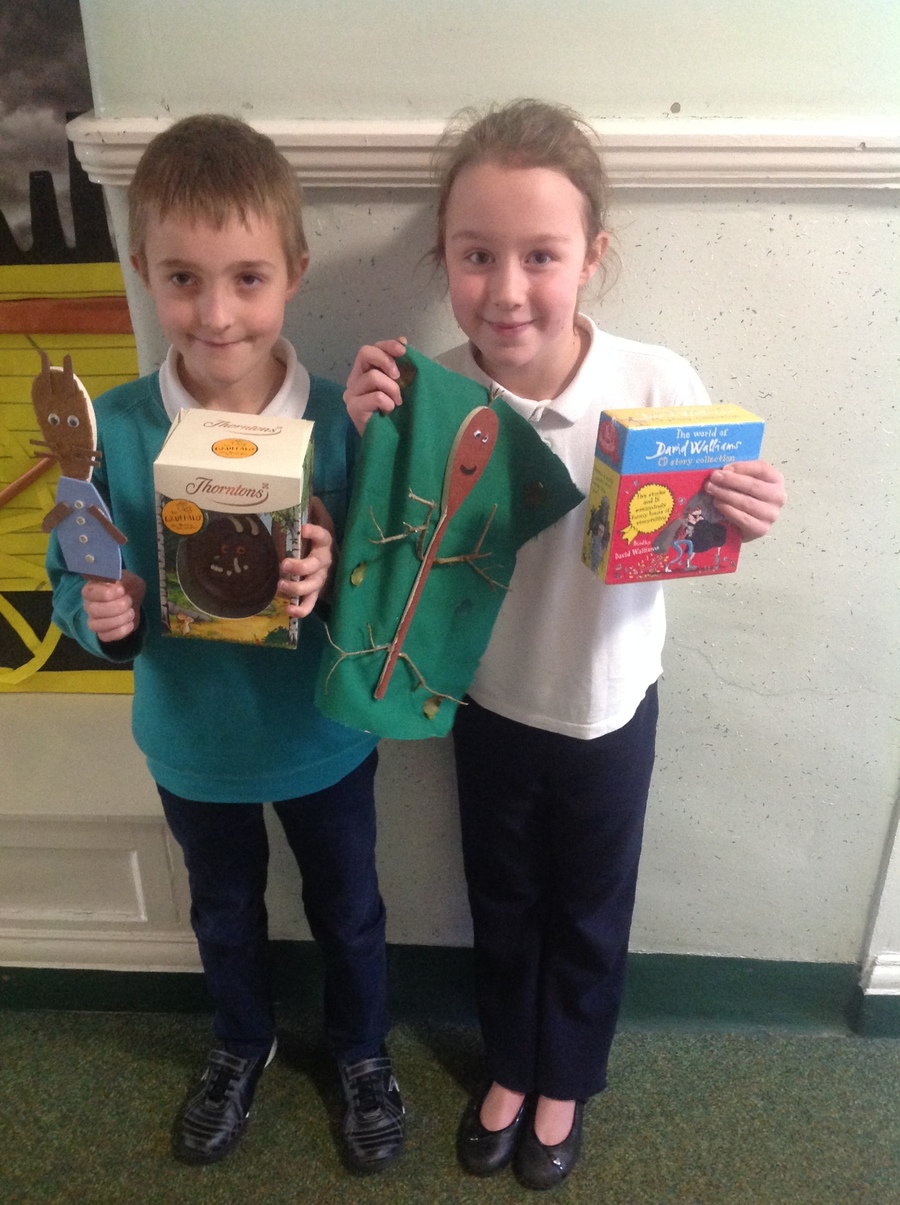 Wednesday 28th February 2018
Gangsta Granny
This half term our novel study is Gangsta Granny. The children have enjoyed reading this new book and will be completing a piece of writing next week. Some pieces of work will be going on display. To help make our display even better, the class have designed and created some jewels to go around the outside of the display. Watch this space to see the completed display!
Here are some photos of the activity.
Monday 5th February 2018
Internet Safety
During this half term, internet safety has been our focus in ICT. The children have considered different scenarios faced on the Internet and how to solve them safely. Also, they have completed quizzes and games linked to internet safety as well as researching what they can do to keep themselves safe online. Last week, they used all their learning to produce a poster where they talked about E-safety. Below are a few of the presentations made in class.
Thursday 1st February 2018
Boudicca's Rebellion
Today in topic we learnt about the rebellion led by Boudicca and the Iceni tribe. The children then got into role as different characters that were effected by the rebellion. Below are some videos of them in character, answering questions about what different aspects of the rebellion did to them.
Wednesday 17th January 2018
The Romans
Our new topic for the Spring term is the Romans. Already, we have learnt a lot about who the Romans were and what they did. Year 4 have also made their own Roman shields! The children would like to tell you what they have been learning.
See some of their comments below:
Bronwyn said, "Their shields give Roman soldiers power and makes them feel stronger!"
Charlotte said, "The shields are made by very special artists called craftsmen."
Norah said, "Very rich people had mosaics in their homes to show their wealth."
Mckenzie CW said, "We have learnt that the Romans took over Britain but it took them three attempts!"
Emily said, "The Romans fought the Celtic tribes that lived in Britain."
We look forward to learning more about the Romans!
Thursday 11th January 2018
New Year's Resolutions
This week the class spent a few minutes thinking about their goals for this year. We started by talking about goals outside school and these including everything from achieving a new belt in karate to eating healthier foods. Then, we discussed resolutions for learning and what the children would like to achieve at school. Below are videos of these resolutions.
Wednesday 13th December 2017
What are we learning?
We have been really busy in year 4 the last couple of weeks and have been getting everything ready for the Christmas Craft fair, we hope you liked our crafts! Whilst we have been busy performing in the carol concerts, we have also been busy with our learning.
In English, we have begun reading the Christmasaurus and have completed lots of interesting pieces of writing linking to this fantastic book. At the moment, we have been practicing our rhyming skills in preparation to write our own rhymes- just like the North Pole Elves. Next week, we will be writing a description of our own Christmas Dinosaur.
In Maths, we have been learning how to tell the time and how to convert analogue time to digital time. Later in the week, we will be converting 12 hour time into 24 hour time. The children are keen to improve their skills with time and some have talked about starting to wear a watch so they can practice telling the time more often.
Tuesday 28th November 2017
Magna
Today we visited the Magna Science Adventure Centre and it was brilliant! The children had lots of fun discovering the different activities within the four pavilions- earth, water, fire and air. Then, we all took part in a volcanoes and rocks workshop which developed understanding regarding eruptions of volcanoes and classifying rocks. Behaviour was excellent as always. Below are some pictures that we took throughout the day.
Thursday 16th November 2017
Anti Bullying Week
In year 4 we have been doing lots of different things to help improve our understanding of what bullying is and what we can do to make sure it doesn't happen. Children worked in groups to look at different bullying scenarios and talked about why the bullying was happening and what we could do to stop it. Then, we talked about what personality attributes we looked for in a good friend before making a recipe to create a good friend. The children included respect, honestly, resilience, loyalty, trust and kindness in their list of ingredients.
I asked the children what they had learnt about bullying during the lesson and they said:
Norah said, "Bullying is both verbal and physical."
Eloise said, "It's when someone is unkind continuously to somebody else."
Amelia said, "It's when unkind behaviour is planned."
Alfie said, "When people purposely go out of their way to hurt someone everyday."
Tuesday 7th November 2017
Volcano Music
Today we began our new topic- 'Volcanoes and Mountains'. To kick start our new topic we watched a short video of a real life volcanic eruption and created a piece of music in small groups to represent this event. The children used their knowledge of rhythm and layering from previous lessons to build up the sounds. Below is the result. Fantastic teamwork skills year 4!
Wednesday 25th October 2017
Monster Dancing
At the beginning of our dance unit I posted a video of our chorus. Since then, year 4 have continued to build on their routine as a team and have created a dance that really fits with the lyrics of the song. Their idea was to create a dance where monsters woke up and then at the end went back to sleep. Below is the finished product, we hope you enjoy it!
Monday 16th October 2017
Weston Park- Offerings for Athena
Today, year 4 went on a trip to Weston Park Museum and as you can see in the pictures below, we had a fantastic time! Everyone really enjoyed the interactive activities within the museum and had great fun building our own Parthenon during the workshop in the afternoon. The children really impressed staff at the museum with their knowledge of Ancient Greece and the class were exceptionally behaved all day.
Friday 13th October 2017
James and the Giant Peach
This half term our novel study has been James and the Giant Peach. Today the children made birds to add to our new display in the KS2 hall. Here are some pictures of children taking part. Watch this space for pictures of the completed display.
Friday 6th October 2017
Hercules
This week we have been learning about the Greek Myth 'Hercules'. We watched the Disney adaptation and then read the written version. Next week we are going to be investigating the similarities and differences between the two versions and using this to write a comparison text.
Tuesday 26th September 2017
Novel Study
Today we began our new novel study in Guided Reading- James and the Giant Peach. The children found the first few chapters very funny, especially the parts about Aunt Sponge and Aunt Spiker. Here are the children during some partner reading.
Wednesday 20th September 2017
Monster dancing!
This week we started dance in PE. Over the next few weeks the children will help to create their own choreography to the song 'Monster' by the Automatics. This lesson, the children worked in groups to make a 5 move routine for the chorus. Then, we put ideas from each group together to finalise our moves for the chorus and even included some monster freestyle! Have a look at what the children created.
Thursday 14th September 2017
This week in Maths we have been improving our rounding and counting skills. To help we have been using number songs in class to make counting up in 6s, 7s and 9s fun. The videos are posted below so that you can practice at home.
Friday 8th September 2017
This week we have begun our Fiction unit in English. Over the next three weeks we will be learning all about myths, the structure used to write them and the language features that we need to include. Today we focussed on the structure of a myth during a role play activity.
First, we looked at the myth 'Theseus and the Minotaur'. The children worked out what information belonged to which section. Was it the introduction, build up, problem, resolution or ending?
Then, the children worked in a group to role play a section of the myth. This was year 4's first attempt at role playing and working together in this way and I was really impressed with the team work and discussions going on in class. Below are the videos of each group's role play.
YEAR 4
2016 - 2017
Miss field