YEAR 5
2018-2019
MRS WOODHEAD / MRS ELLIS
Christmas Craft Fair
At three o'clock in the afternoon, there will be a Christmas craft fair. Children can bring money to enter some little games or buy different things. There will be a tombola with good toys donated by children and staff. If people will want some refreshments, they will be available in the KS2 hall. There will be games with prizes which will include: sweets, toys, books and games. The parents can come and buy different things after school with their children. The children will be making Christmas crafts in school and they will have a period of time to buy the things they made during the school day.
Please donate prizes for the Christmas craft fair!
In Science today the children have been investigating soluble and insoluble materials. They made predictions, based upon their existing knowledge, discussing the reasons for their predictions. The children then conducted their experiment, making careful observations, before drawing a conclusion about which of the solids dissolved in water.
The children were introduced to lots of new vocabulary as well, including
soluble
insoluble
solution
saturated
solute
There will be repeated vocabulary checks over the next couple of weeks to see if the children can remember these new terms.
In Year 5, we have been split up into two classes. We have one class with Mrs Woodhead as the teacher and one with Mr Brocksom. We are supported by Mrs Hodgson and Mrs Richardson. This year we have the privilege of having a student teacher from Sheffield Hallam called Mr Edwards.
In Year 5, we want to smash our goals like a wrecking ball and reach for the stars.
PE Days
The Year 5 PE days are Tuesday and Friday. This half term, we are learning the skills needed to play football. Also, as part of our indoor sessions, we are looking at a range of multi-skills and having an in-depth look at agility, balance and coordination. We will link this in to a variety of games including bench ball, dodgeball and quidditch (Yes i said quidditch).
Homework
We set homework, weekly, on a Thursday/ Friday and expect in on a Tuesday. We have a weekly spelling test which will be on a Friday afternoon alongside a multiplication/ division test. Please ensure that homework is completed in pencil as part of the expectations set at school If you are drawing straight lines, you should use a ruler. Keep it neat and set yourself high expectations.
Leicester Space Museum
We have recently visited Leicester Space Museum. It was an amazing trip and the children were able to learn a variety of interesting facts and also show the knowledge that they have gained throughout their school lessons. I was so impressed within the question and answer section and I was proud of every child and the contributions that they all made within this. The day was fantastic and i hope they told you all about it.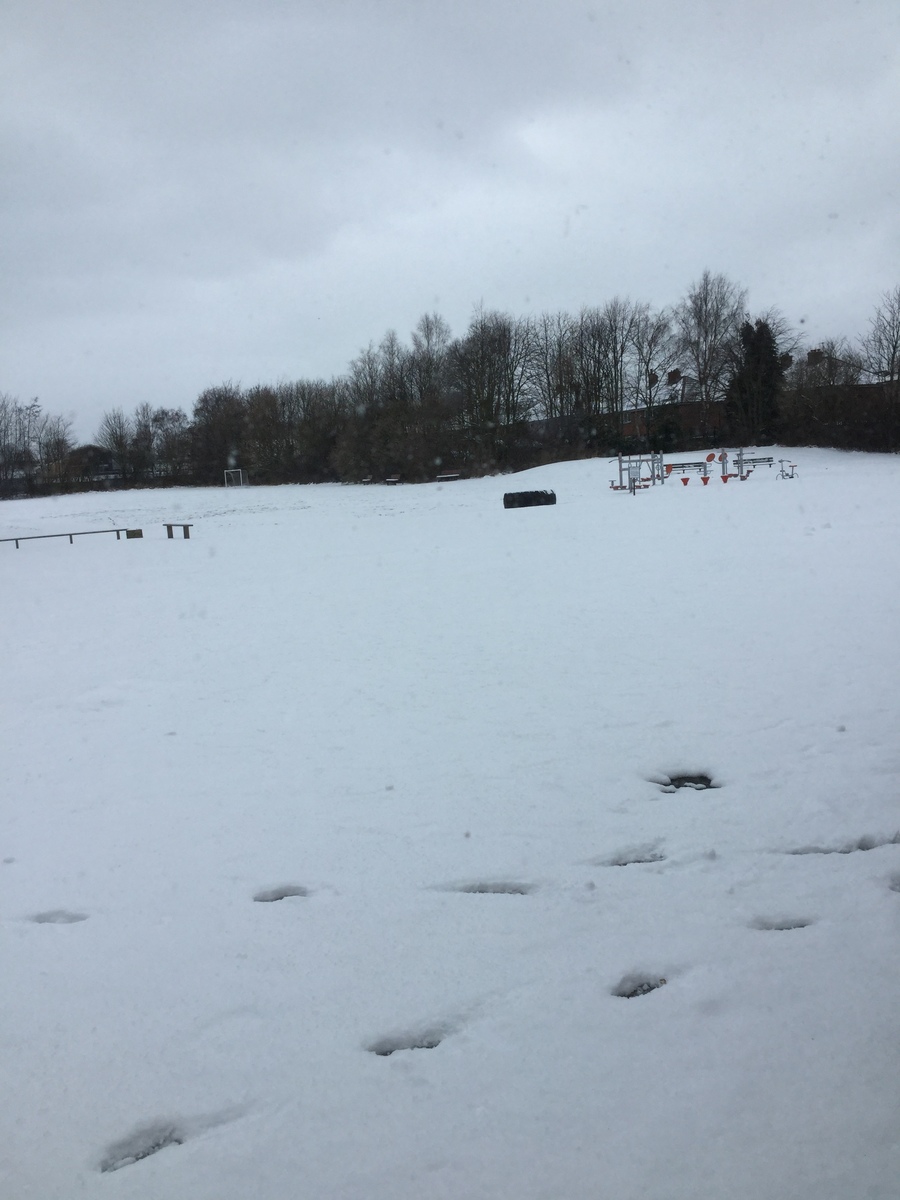 Despite the severe weather conditions, we have had a a large number of children attending school in Year 5. I must say well done to all of the children that have braved the conditions. I do understand why some children were unable to attend especially those children that do live far away. We have had an enjoyable time in school partaking in lessons and also having some extra fun whilst still learning. On Wednesday, we completed a variety of maths investigations that tested our determination. On Thursday, we got the multi-link out and completed some more practical investigations. In English, we were able to complete a setting description about our own school playground which was a fantastic source of inspiration. We were able to type them up and include a range of fonts/ pictures and other features. In the afternoons, we have completed more work on Space and the length of days. We have also had a hoopball round-robin competition.
5B verses 5W
We are one week away from finding out who is the champion class. We have been working really hard for the past 14 weeks and with 1 week to go, competition is rife. Currently, Mr Brocksom's class has got 222 points and Mrs Woodhead's class has got 198. There is still 1 week to go. Hopefully, Mrs Woodhead's class can start to catch up and make it an interesting last couple of days.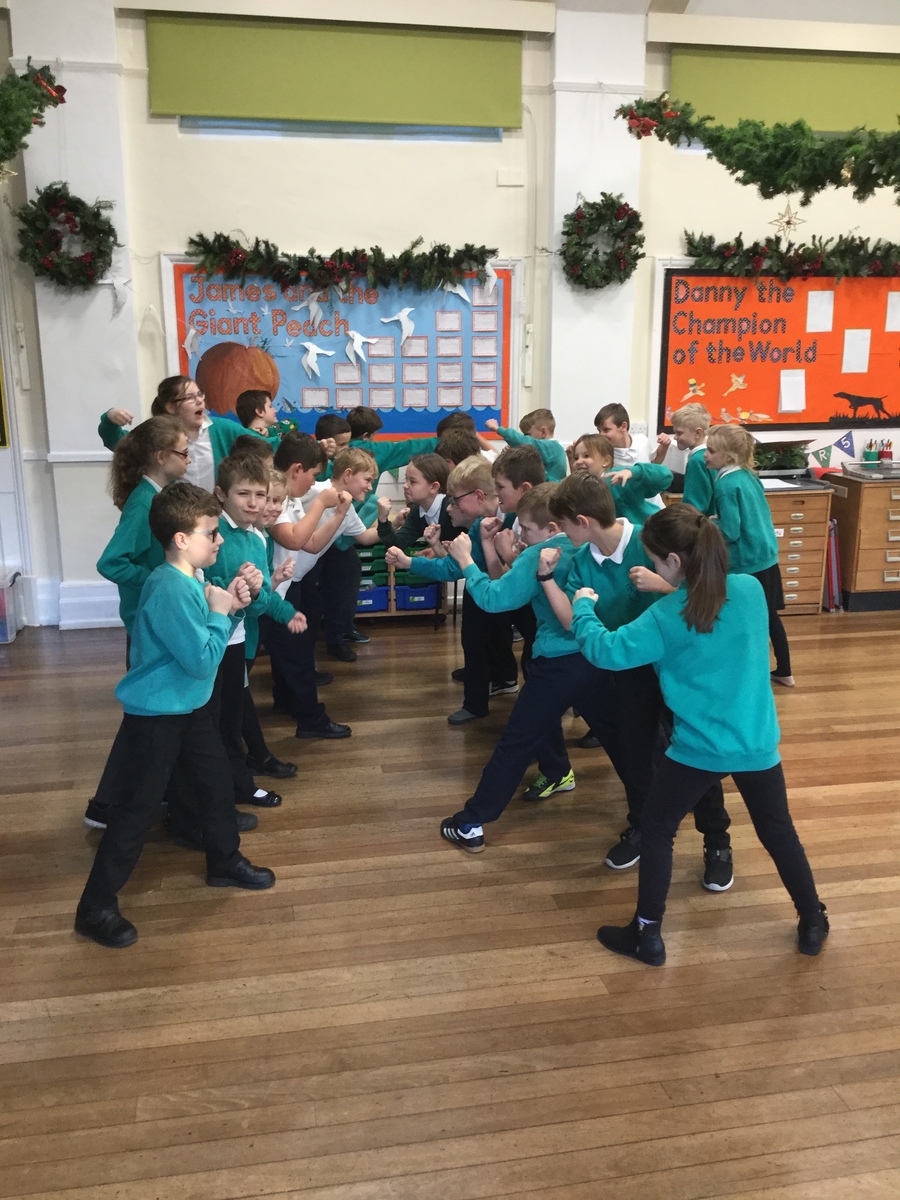 Spooky Setting Descriptions
In 5B, we have been looking at how to write setting descriptions. We have been looking at all of the specific skills needed to write one including: using a variety of past tenses, expanded noun phrases, different adverbials and some fantastic vocabulary choices. On Tuesday, we had to write a setting description about a haunted house. We thought we would make it more interesting by turning all of he lights off, shutting the blinds and putting some eerie music on.
Multiplication Masters
For our homework, we had to complete a 144 multiplication grid. We had to write down the time in which it took us to complete it. The top 3 times would receive a prize. A massive congratulations to Adam who came in 3rd with a score of 7 minutes and 4 seconds, Abigail who came second with a very close time of 7 minutes and 2 seconds and Brodie with winning score of 6 minutes and 17 seconds.
Brocksom vs Woodhead
It is really close on the reward board. Mr Brocksom's class has managed to obtain 148 dojos and Mrs Woodhead's class has managed to receive 145. This puts us within touching distance of each other. With only 4 weeks to go till the winner will be announced, who is gong to take home the prize?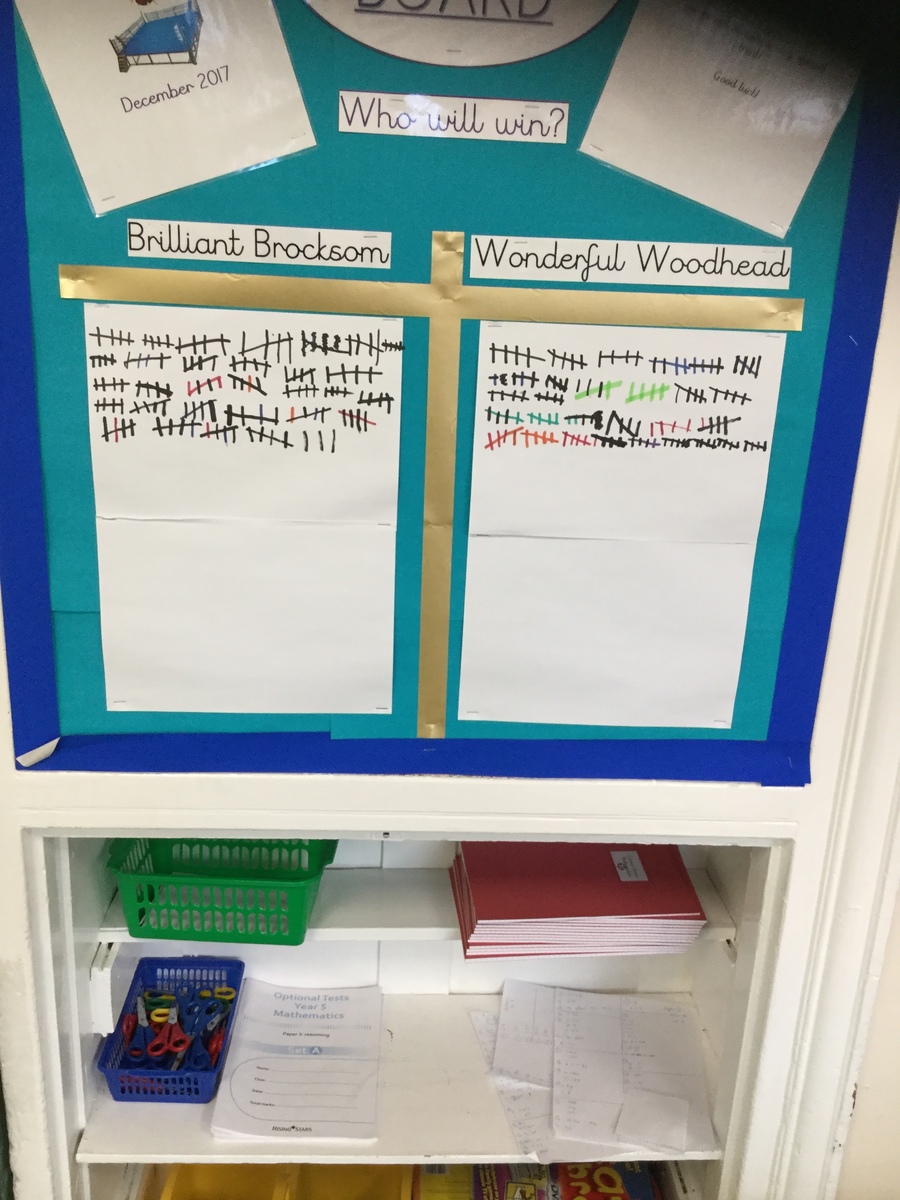 A Special Visitor
Today, 20/11/17, we received a visit from a very special bear. It was PPPUUUUDDDDDDSSSSEEEEEYYYYYY!He came in to receive a check that we were able to generate from donations made on Friday for a total of £230.40. It was an amazing surprise and all of the children were really excited.
Children In Need
Today, our class came to school in non-uniform. It wasn't just any clothes though, we had to come in in something: spotty, 80s or Pudsey related. Hopefully, you think we look as amazing as we feel. It was great to do this for such a good cause. We all brought in £1 to donate to children in need.
Tests, Tests, Tests
This week, we have been completing a range of maths and English tests. Most of them have been quite difficult but almost everybody gave it 100%. We have learned a lot about taking tests and we also know the areas that we need to improve in. In maths, we completed 3 papers. To achieve expected, we needed to obtain 57 marks and to achieve GDS, we needed to obtain 95 out of 110. We have all given ourselves a target of what we want to achieve next time. We know that the tests may get harder and ask us questions that were not on the previous tests but we are looking forward to showing just how good we are!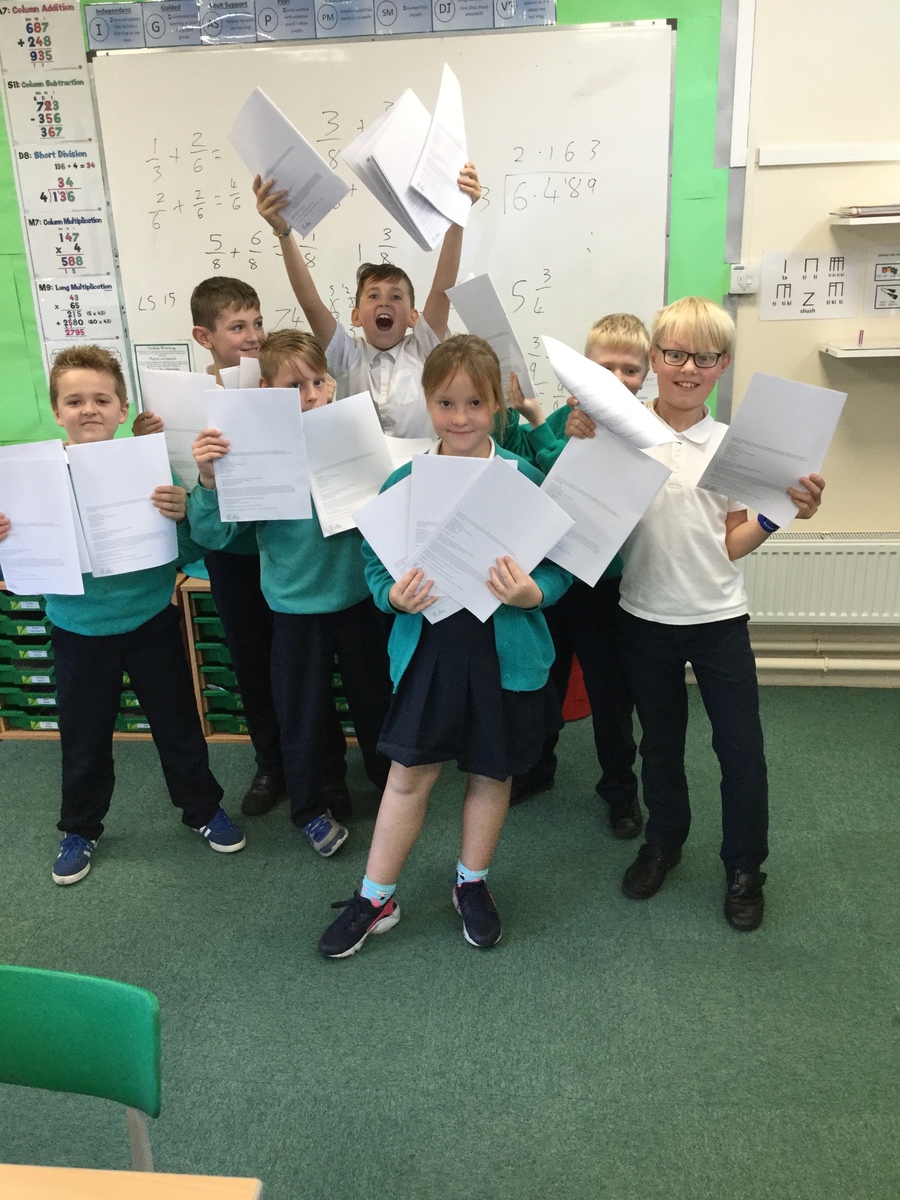 Star Writer of the Moment
This young man has been given the award of Star Writer of the Moment due to his fantastic piece of writing within a balanced argument about poaching. The content was superb and Mrs Woodhead was extremely proud of the effort that he had put in. Well done! Keep it up!
Attendance Awards
This year, there will be weekly attendance awards given for the class with the highest overall attendance percentage. The class do not just receive an award but will also receive a £5 contribution to an end of year treat. This can be cashed in at any point throughout the year EG a Christmas treat in December or an end of year extravaganza. So far, out of 4 weeks, we have already won 2 awards and gained £10.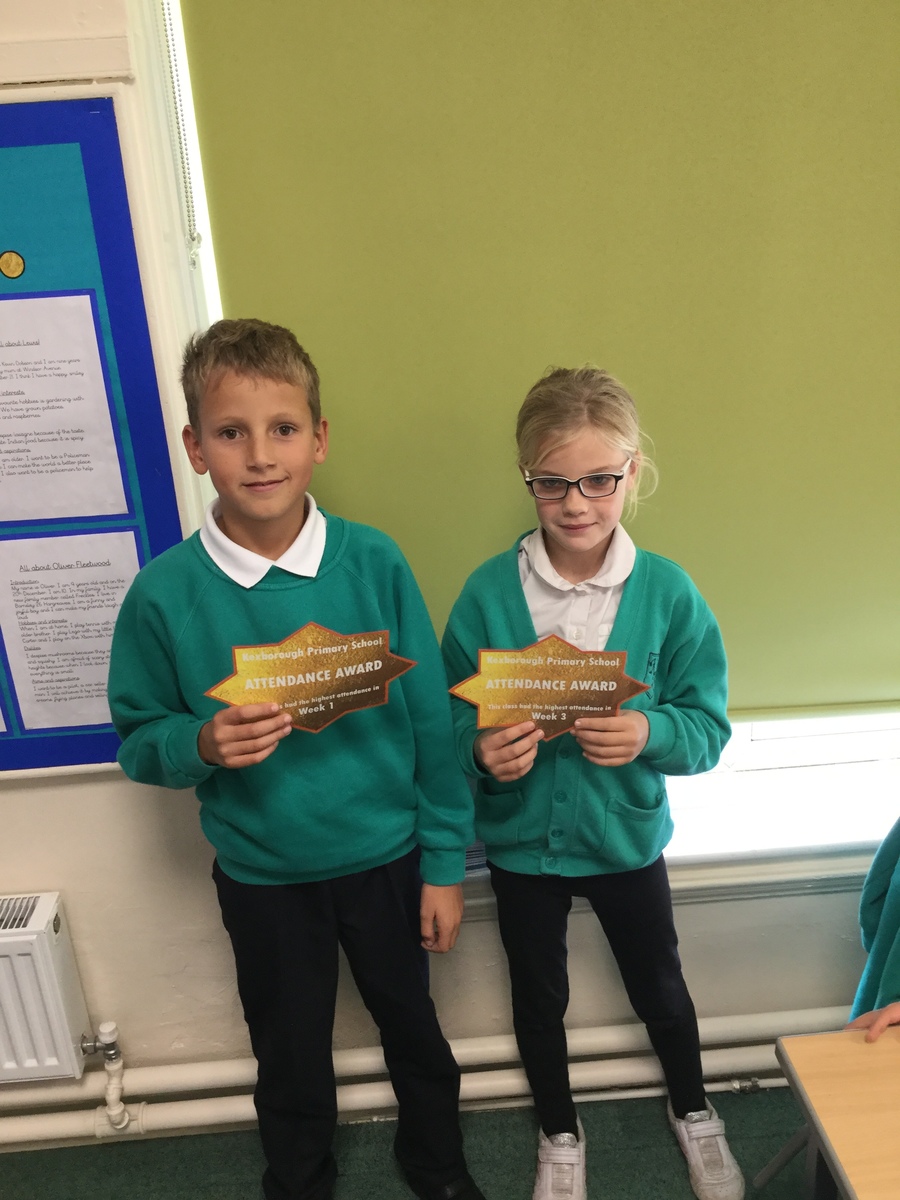 Should Kexborough Primary School ban uniform?
For our homework, Mr Brocksom and Mrs Woodhead asked us to think of reasons for and reasons against keeping school uniform at Kexborough. This will link in to a balanced argument that we are currently writing as part of our English work. The class is split with 12 people thinking we should keep uniforms and 13 people thinking that we should banish them (there were 5 people off when we asked this question, looks like we are not winning the attendance award this week)
Liala says, "If children were able to wear their own clothes, other children would be able to complement and praise them for their choice in outfits."
Evie says, "If children wear their own clothes, other children may get jealous as they are unable to wear such fashionable clothes."
Aaron says, "If we are on school trips, people will know who we are and where we come from. It creates a school identity."
Oliver says, "If you keep wearing different clothes every day, this will significantly increase the amount of washing that parents have to complete at home."
Reward Board
As we currently have 2 Year 5 classes we thought it would be interesting to have a competition. Both classes are able to achieve GEMs and Dojo points for going the extra mile or producing a fantastic piece of work. We have a reward board that counts up the points and at Christmas the class with the most points will receive an extra special prize. Currently, 15th September 14:52, Mrs Woodhead's class is leading 24 points to 18. Well Done!!!
YEAR 5
2016 - 2017
MRS woodhead
Wednesday 21st June
On Monday we had a great sports day - the sun shone and all children who participated should of their achievements.
Specials mention to Jadyn who won girls obstacle, 50 m and bean bag relay - Oliver who won boys egg and spoon, bean bag relay and javelin - Danny who won boys egg and spoon, 50 m sprint and finally Ellie who won the egg and spoon and discus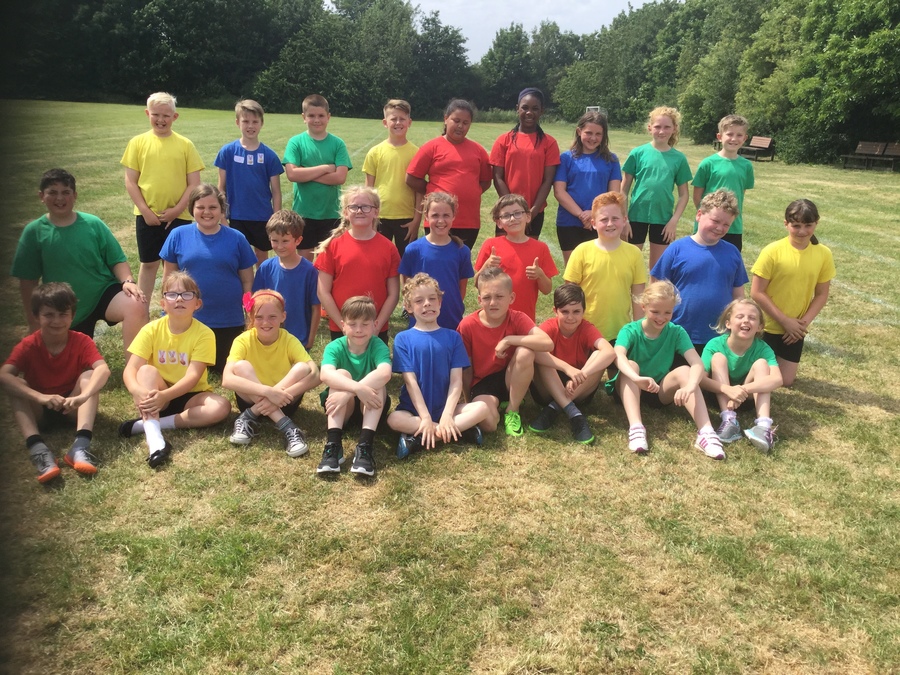 Wednesday 24th May
Following on from writing our poems, we used Audacity in ICT to record our haikus, please click below to listen to children performing their poem accompanied by a dragon! Here are some examples - tune in as more are added.
Friday 12th May
During literacy we have just completed a poetry unit based around dragons, in English we have written haikus, cinquains , kennings and used figurative language to write some free verse. Mrs Woodhead has challenged us to present our poems in interesting ways..
Friday 5th May 2017
Gangsta Granny
Year 5 enjoyed a visit to the Leeds Grand theatre today, watching a play based on the book, Gangsta Granny written by David Walliams. It was a brilliant production with outstanding acting, clever props and scenery - the children loved it!
All the children were a credit to the school and behaviour was exemplary.
Next week we are re-visiting fractions, getting to grips with the Anglo-Saxons and recording poetry written this week - so watch this space.
Friday 31st March
Is it the end of The Wizard of Oz?
Today we finished reading our class novel - The Wizard of Oz written by L. Frank Baum
Year 5 have really enjoyed this classic novel and loved the characters - Dorothy, the Cowardly Lion, Scarecrow and the Tin Man. They travelled to Oz because they all wanted something from the wizard, little knowing that they already had it! Ask your child about the story.
Here are some quotes from the children about the book, it is evident that it was a success!
"I loved the Wizard of Oz because of the detail, the characters and I wished I lived in the wonderful land of Oz." - Tobias
"I have enjoyed reading the Wizard of Oz because it has been an inspiration for me and I hope I can read it again." - Mckenzie
"I really liked the Wizard of Oz because the scarecrow actually said he needed brains but he acted like he had them" - Emily
"I have enjoyed the Wizard of Oz because it is a very adventurous book and I didn't think I would like it as much as I did." - Ellie
" I really enjoyed the Wizard of Oz as the language is much different and the vocabulary is that good, we can visualise it in our heads." - Freya
Bye from Mr Ledgeway
I would like to say a huge thank you to all of the children, staff, parents and carers here at Kexborough. It has been an amazing eight weeks and I have met some fantastic and inspirational people and I wish every one of you the very best in the future.
Thank you very much,
Mr Ledgeway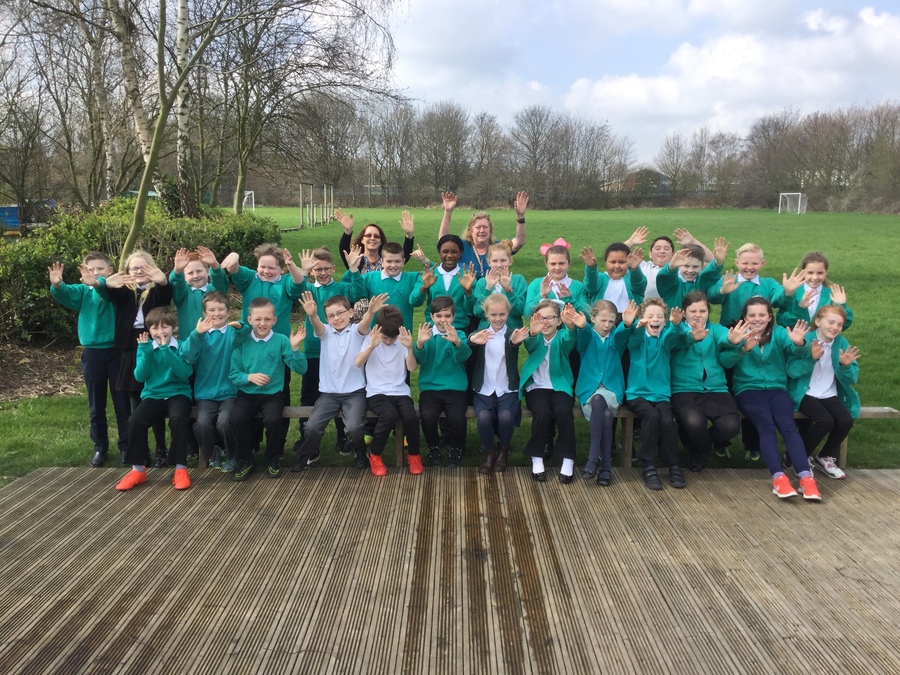 Who's that trip trapping over my bridge?
Whilst the rest of the year 4's and 5's were off adventuring (at peak venture) myself and the remaining children had an excellent time finding out what happened to the troll in Julia Donaldsons wonderful book 'The Troll'.
Fortunately he managed to escape the pirates but found himself stranded on a desert island!
The children spent time building shelters and bridges; writing letters and recipies.
Perhaps you could ask your young engineers how many types of bridges they can remember...
It was a fantastic week and here are some images of our structures that we built.
WORLD BOOK DAY
Friday 3rd March 2017
Thursday was a very important day this week; especially for Mrs Woodhead! I am certain that the children will have told you all about it at home. That's right, it was World Book Day. In Year 5 we based all of our learning off of a picture book called 'How to live Forever' by Colin Thompson.
As a class we took part in a carousel to fit the most into our day. At each station the children took part in a different activity: perspective drawing with Mrs Hodgeson; editing writing using a thesaurus with Mrs Woodhead (the work was... HORRIBLE); building foundations for book towers with myself and as an independent task creating bookmarks from one of the amazing illustrations from the book. I'm sure everyone had a superb day!
The most important part of the whole day was a visit to our newly re-opened library... It was book-tastic!
Here are some pictures from our day...
A 'Space' Celebration
I would like to personally thank all parents and carers who took time out of their busy schedules to come and attend our Space Race assembly. I think you will all agree with me that the wonderful year 5's did a magnificent job at presenting their work!
I would also like to remind and welcome all children to bring a fiction novel on the first Monday back as we will be completing silent, sustained reading for 30 minutes at the start of each day that week.
I look forward to seeing the children after the half term!
Many thanks,
Mr Ledgeway
YEAR 5 ASSEMBLY
Myself, Mrs Woodhead, Mrs Hodgson and the year 5's would like to invite all parents and carers to attend our class assembly. It will be held in the KS2 hall and will start at 2:50 on Thursday 16th February.
Over the past 3 weeks children have been working hard researching, planning and writing short presentations about the Space Race to present to everyone.
I look forward to seeing you there,
Mr Ledgeway
Friday 3rd February 2017
In year 5 over the last week we have been looking at mass in maths.
On Thursday the children were tasked with planning Mr Ledgeway's suitcase for his trip in the summer. The children were working with their partners; they calculated that it was going to cost Mr Ledgeway a lot of money due to him been far too selective when packing!
Here are some pictures from the activity:
Friday 27th January
Thanks to the children and parents - Mrs Stephens, Mrs Kirk and Mr Howard Coles - for braving a cold January evening to gaze at a cloudy sky! Just as well we used an IPad app that told what we would see if there was no cloud cover. Thanks too to Mrs Richardson for staying to help.
Monday 23rd January 2017
Today we welcome Mr Ledgeway, a trainee teacher from Sheffield Hallam, the children and I are looking forward to working with him for the next eight weeks.
PS Don't forget our Star Night this Thursday at 5 pm, any parent who wishes to come along are very welcome.
Welcome to Year 5
In Year 5, the teacher is Mrs Woodhead, who is supported by Mrs Hodgson, we both aim to provide an exciting environment where children will thrive and want to learn.
Please note that indoor PE takes place on a Thursday and outdoor PE on Wednesday.
Homework and Home reading books will be given on Friday and are expected to be returned the following Wednesday.