World Book Day
Last week was World Book Day. The children were set a school challenge to create a book character model using a wooden spoon. The children have firstly designed their character using a plan and have then gathered the materials that they need to make their creations. This is the children busy, making their characters.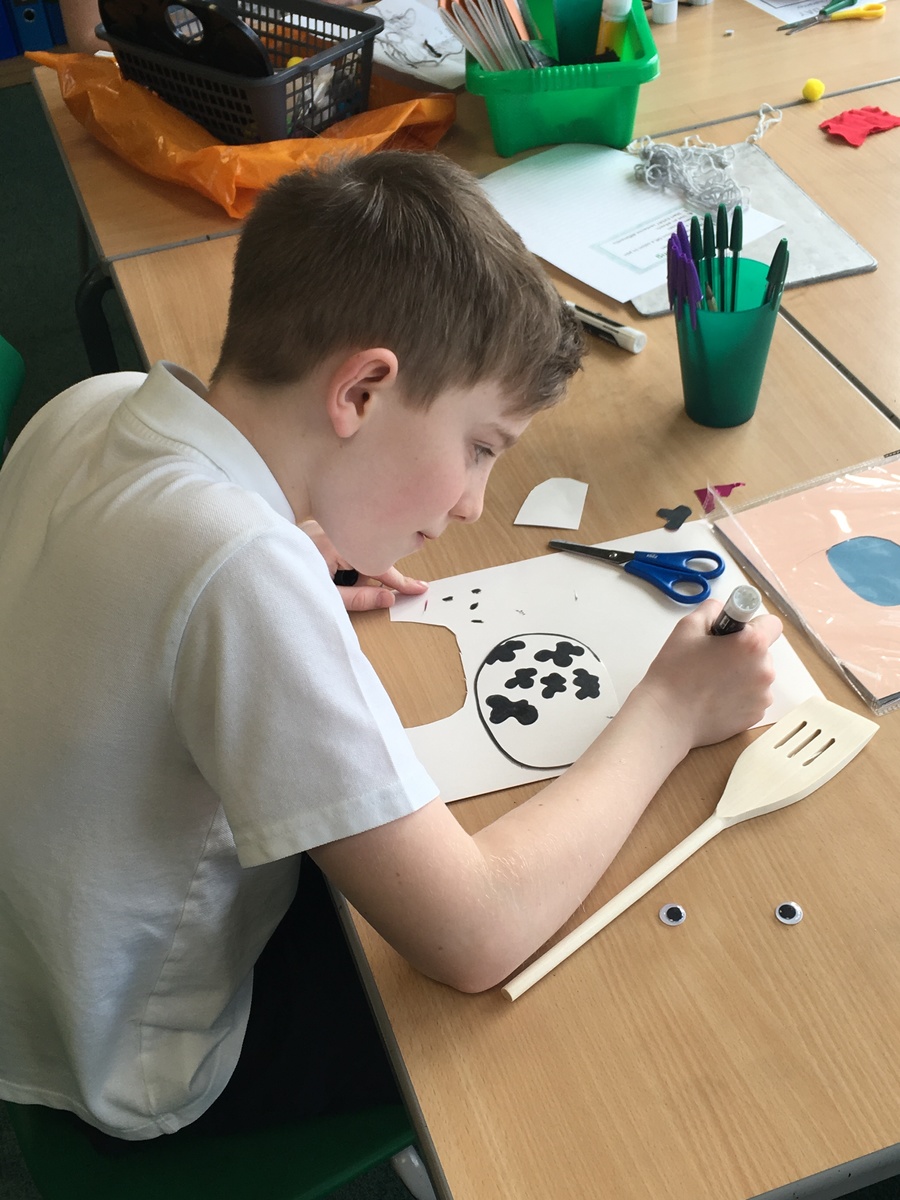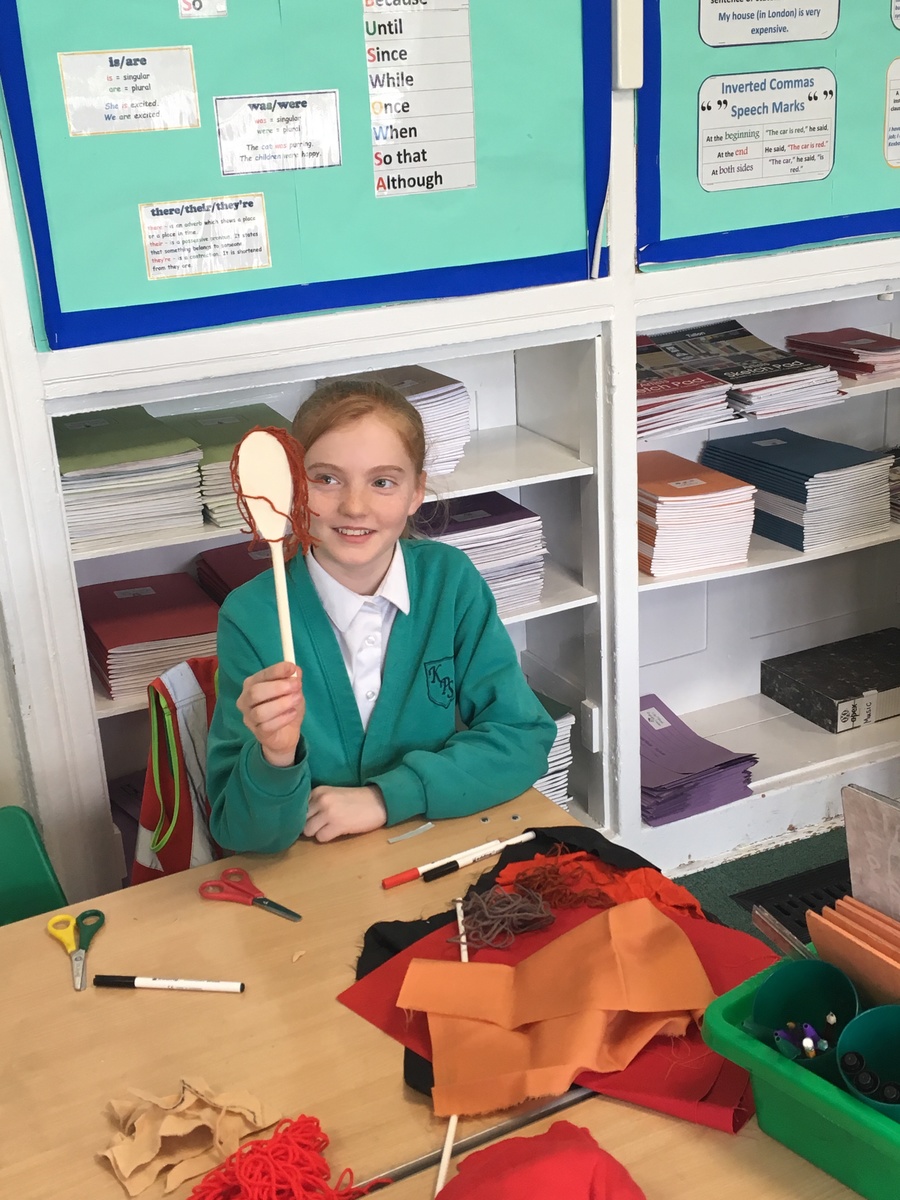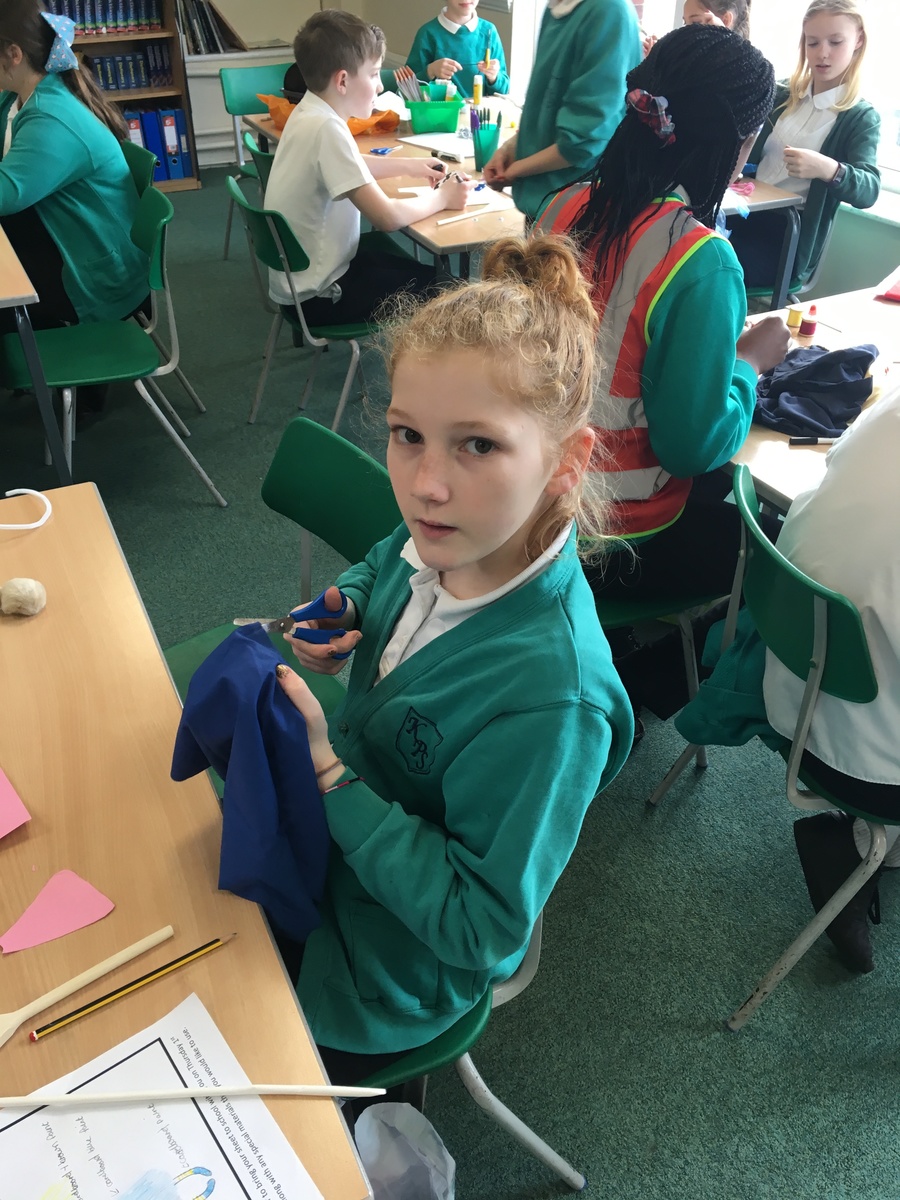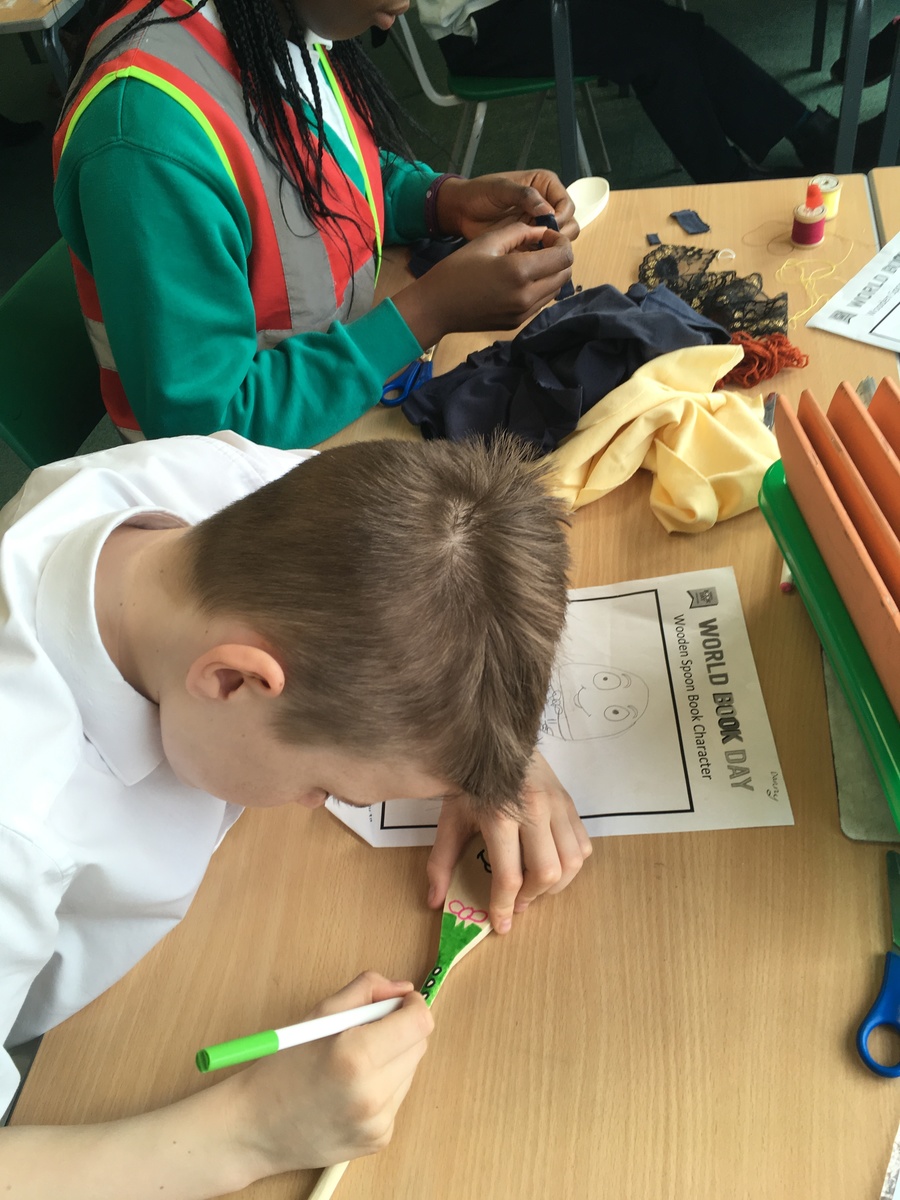 There's SNOW Stopping Us!
As you know, last week was a snowy one. On Thursday, Year 6 decided to do some baking and chose to make marble muffins. They had to follow a recipe closely and use scales to accurately weigh their ingredients. They also learned new skills such as how to cream butter and sugar and about the importance of following the recipe in chronological order. Their buns tasted delicious!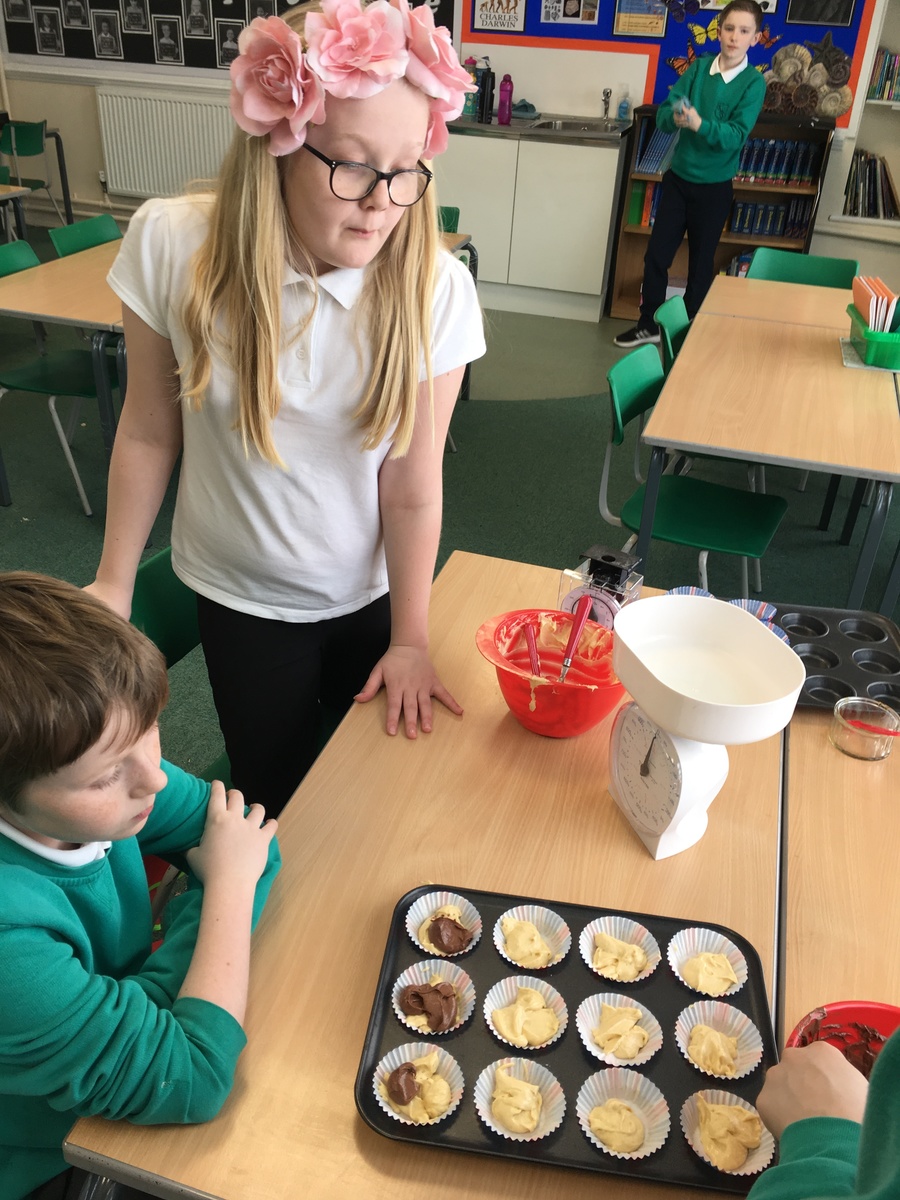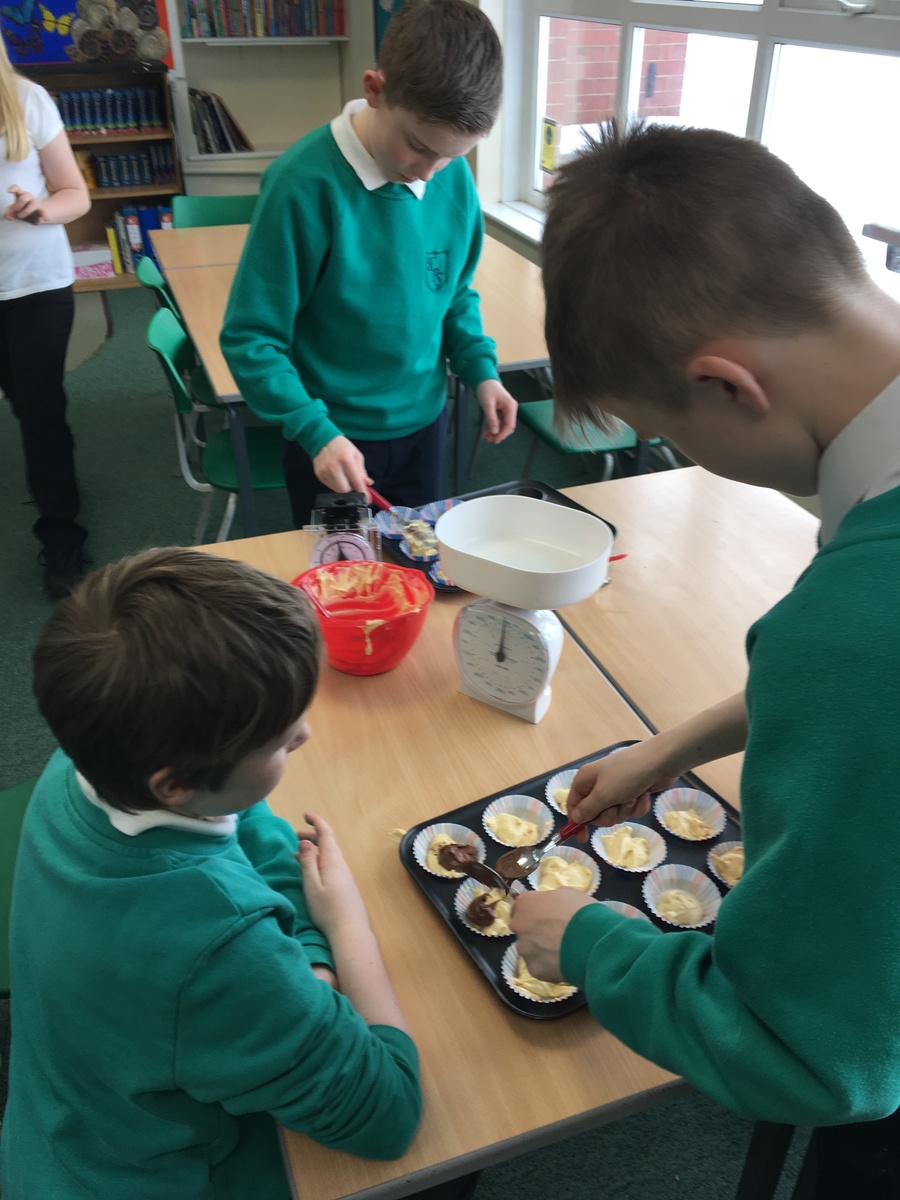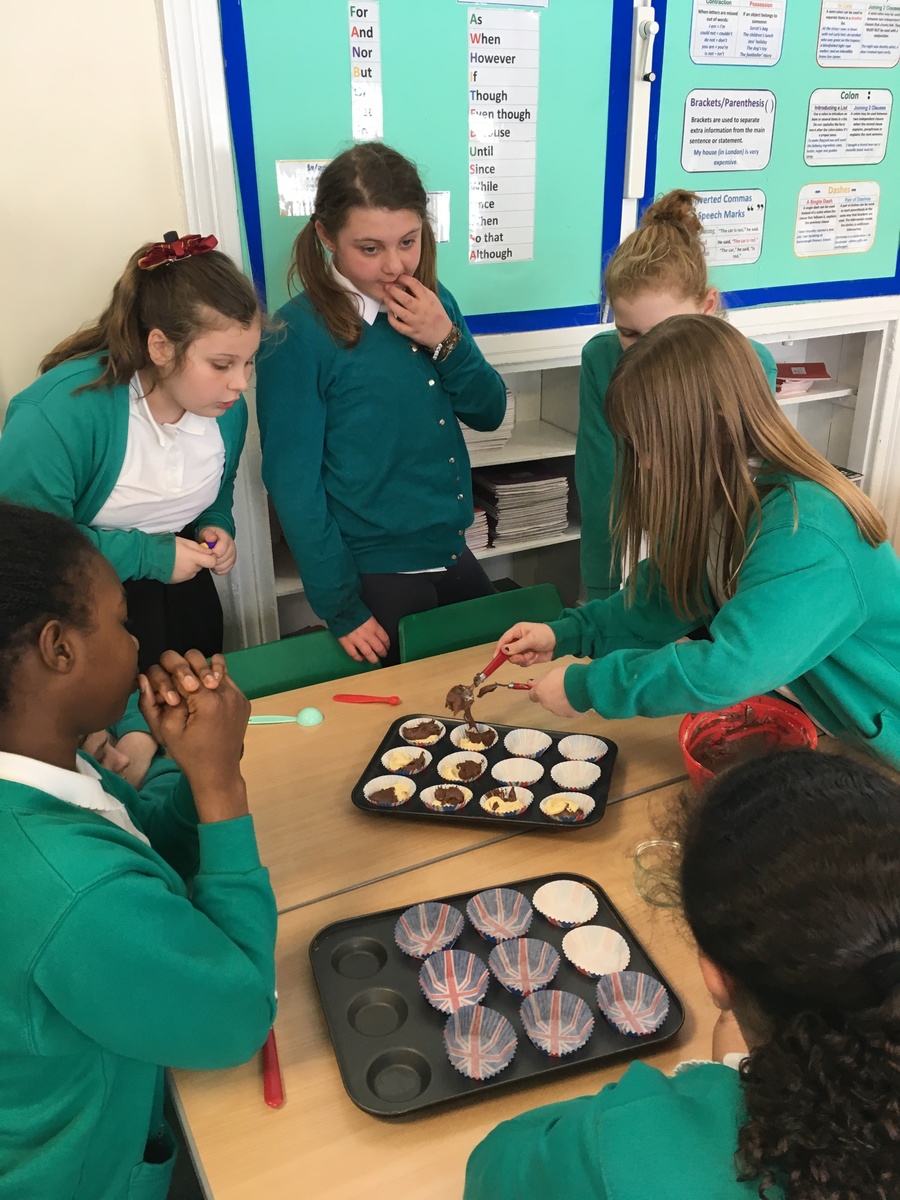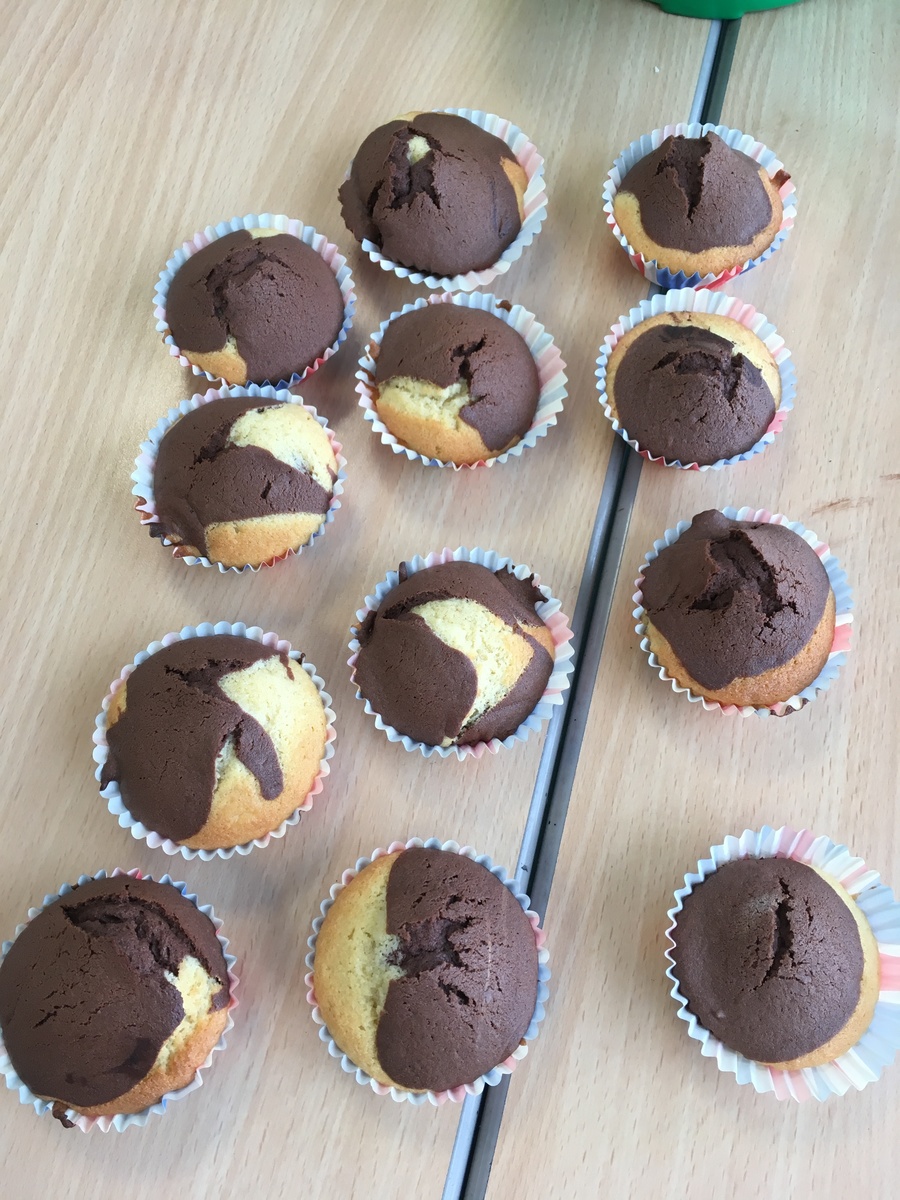 Perfect Treats for Pets!
This week, Year 6 have been writing instructions and recipes. To make this work more purposeful, the children baked homemade dog biscuits using just 4 ingredients. Once baked, the children have written up the recipe to share with other dog owners so that more people can enjoy making these, healthy, inexpensive dog treats.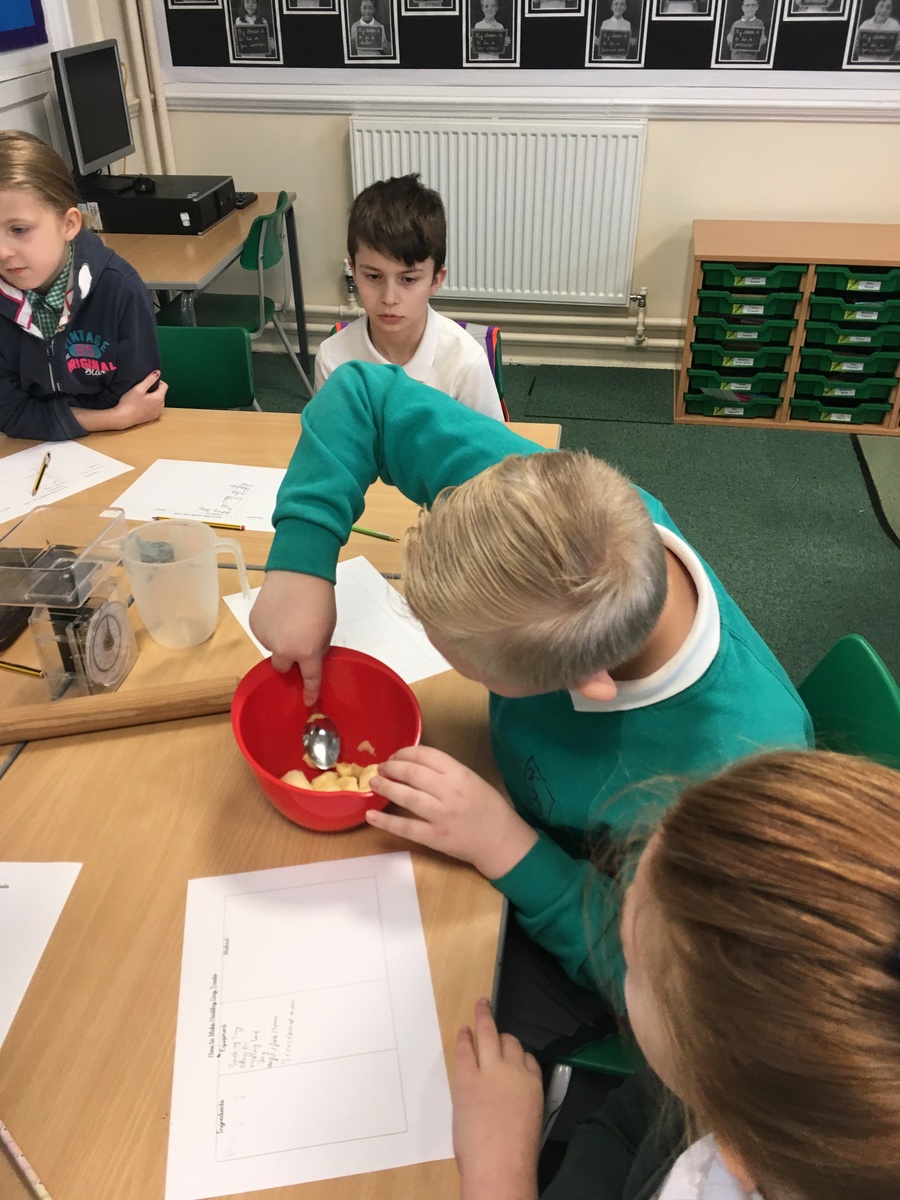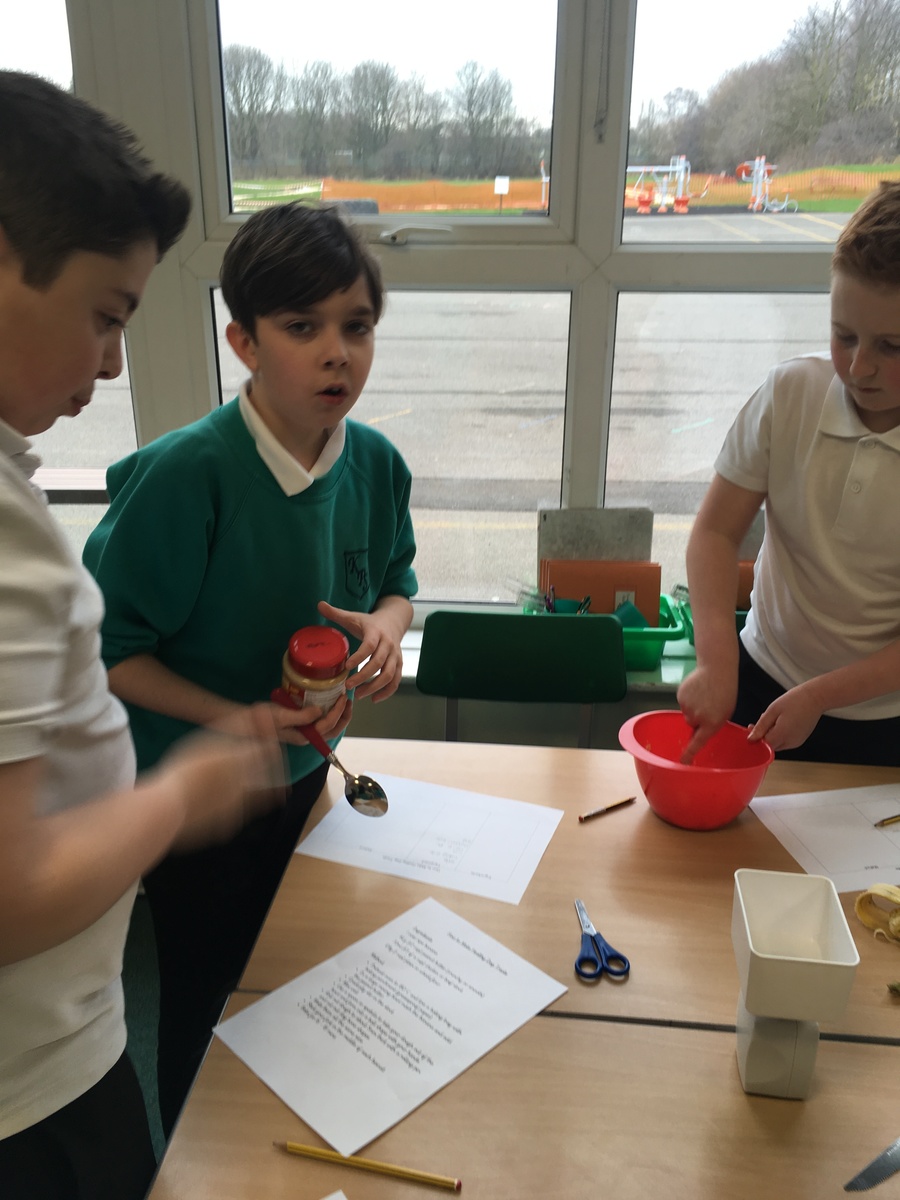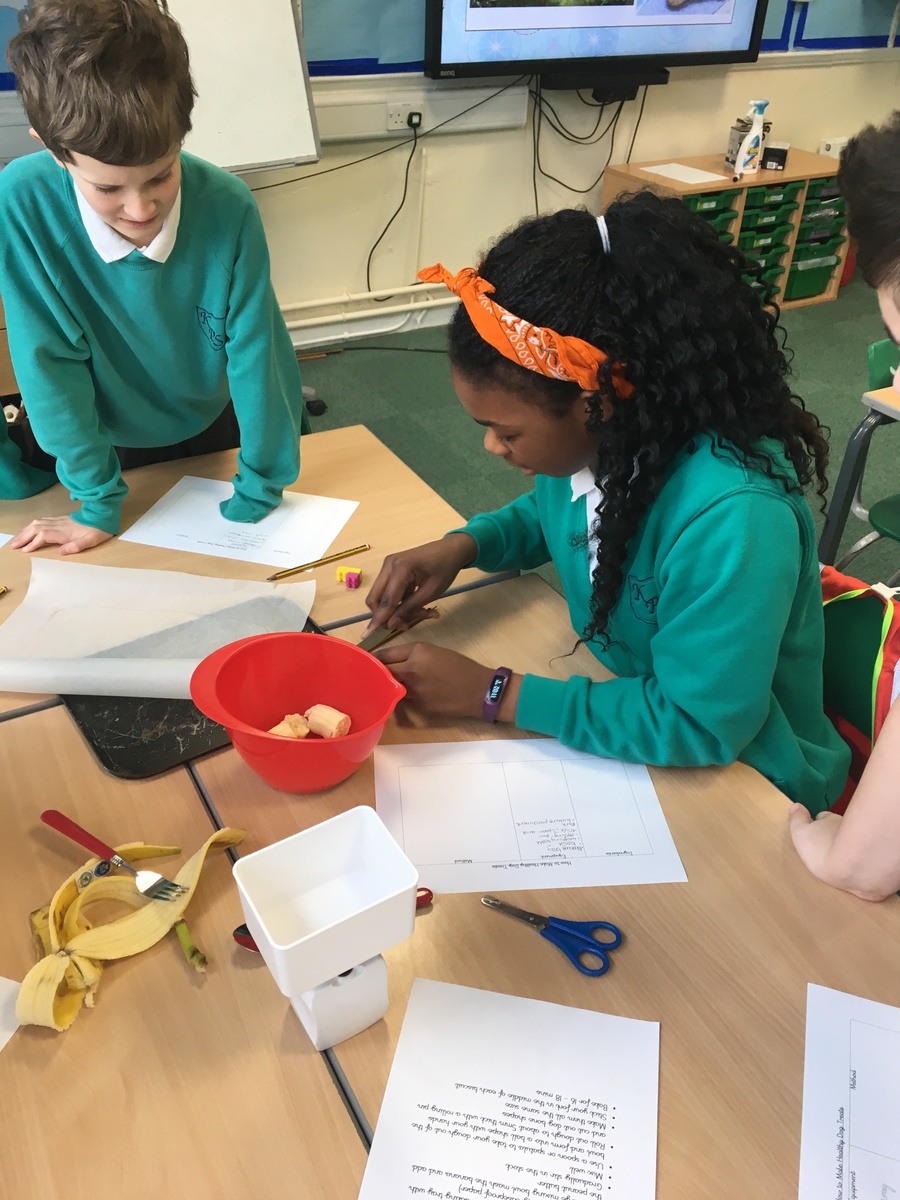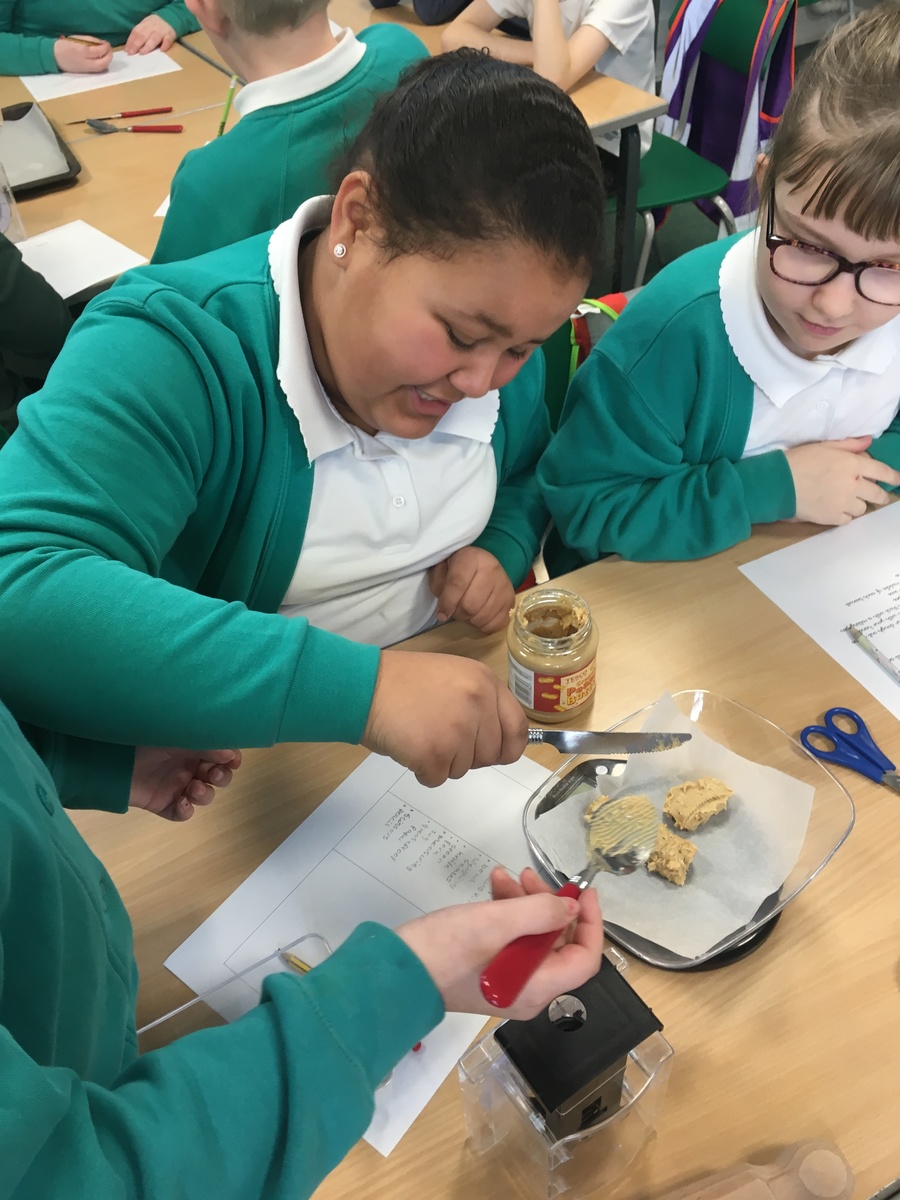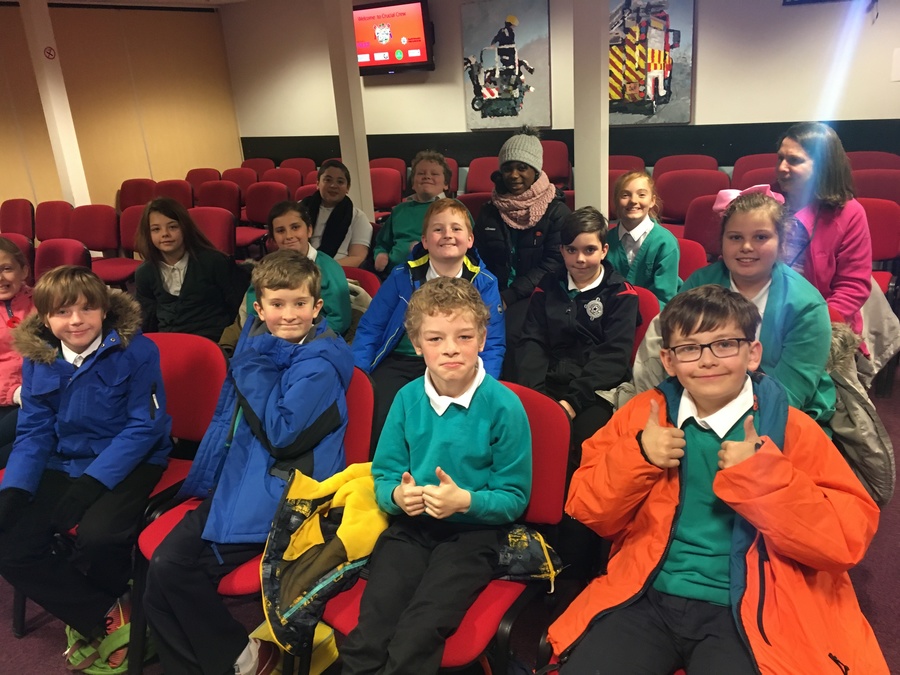 Crucial Crew
On Tuesday, Year 6 went on a visit to The Lifewise Centre in Rotherham to take part in an activity-filled day called Crucial Crew. The children were greeted, at the centre, by police officers, fire fighters and paramedics who conducted a series of scenarios that the children became involved in. These scenarios are based around safety and allowed the children to learn how they can keep safe in every day life. Such scenarios included: stranger danger (The Park), cyber bullying (The Internet Cafe), road safety (The Bus), fire safety (The Bedsit), first aid (The Hospital) and a courtroom scene. It was an amazing day for all and the children were ALL incredibly well-behaved. They represented KPS brilliantly.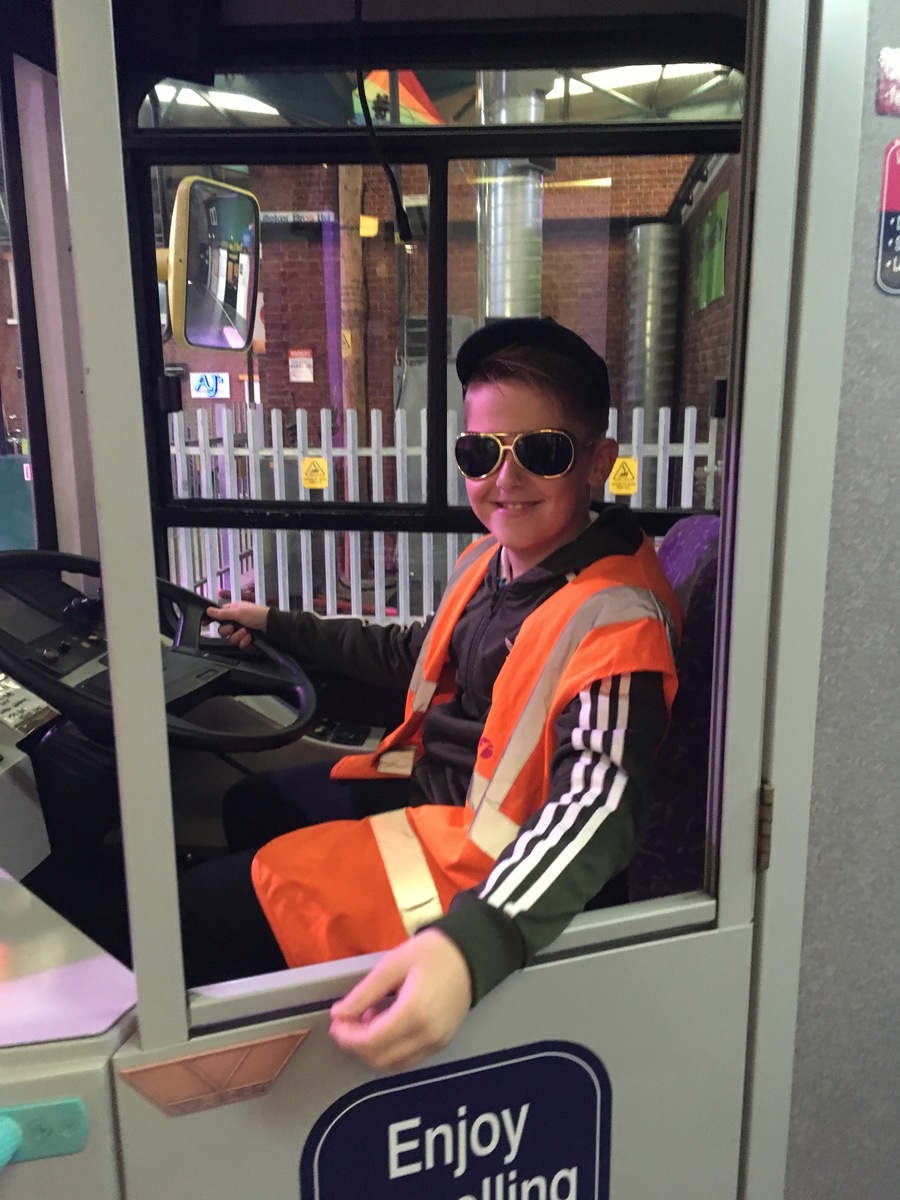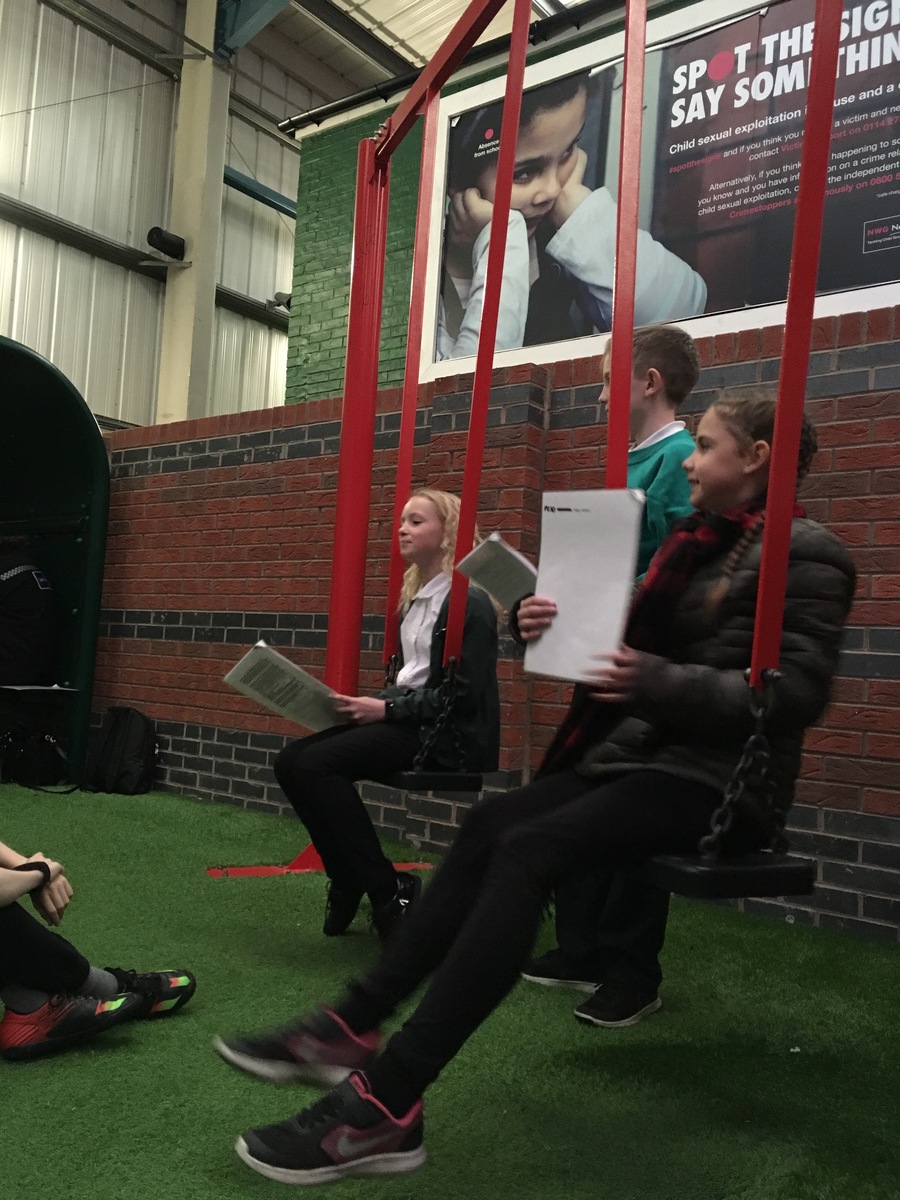 Extreme Weather!
In Year 6, our topic is Extreme Weather. Within this geography based theme, the children have studied different types of natural disasters that have occurred and caused destruction to the the World. One of the natural occurrences that we have looked into, in detail, is volcanoes. To fully understand these great and powerful mountains, we have researched them, drawn them and presented labelled diagrams. Here are some photographs of us at work.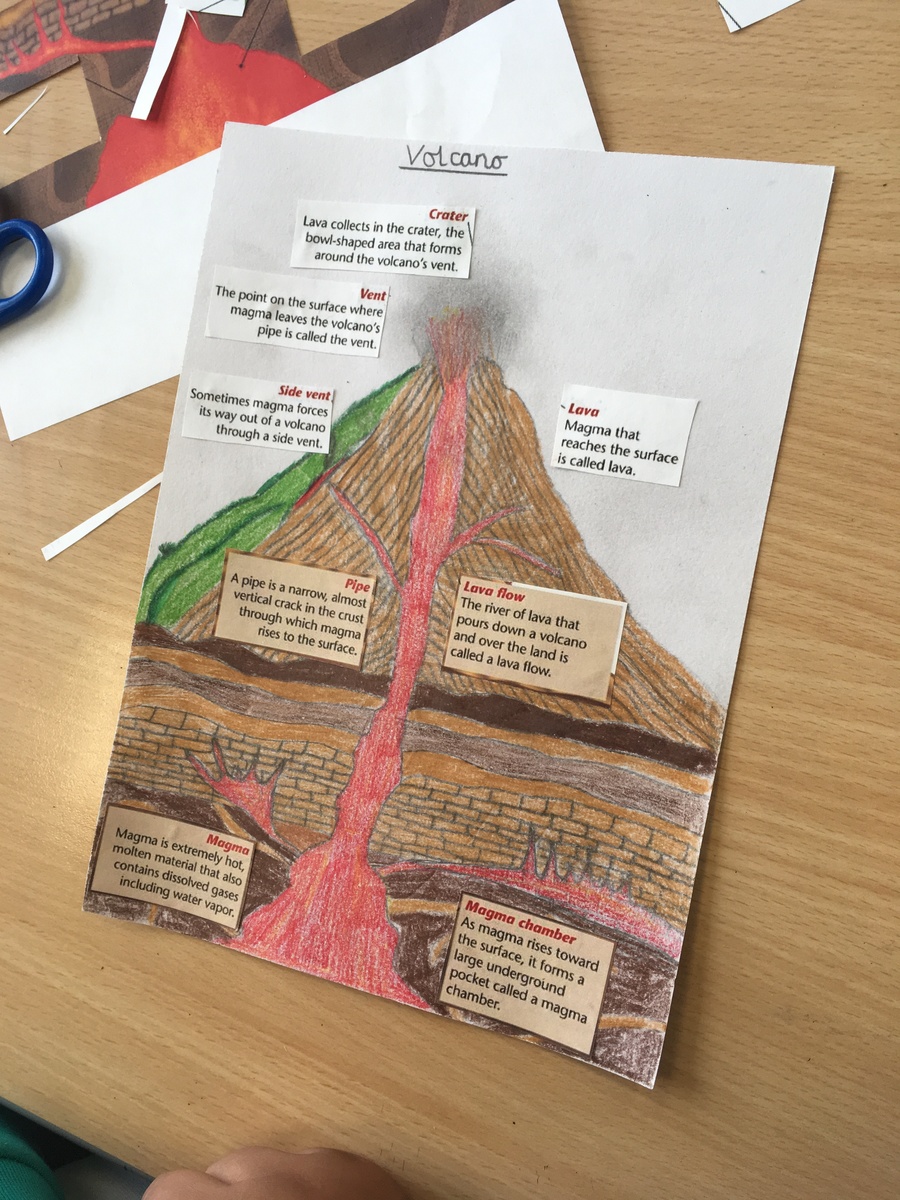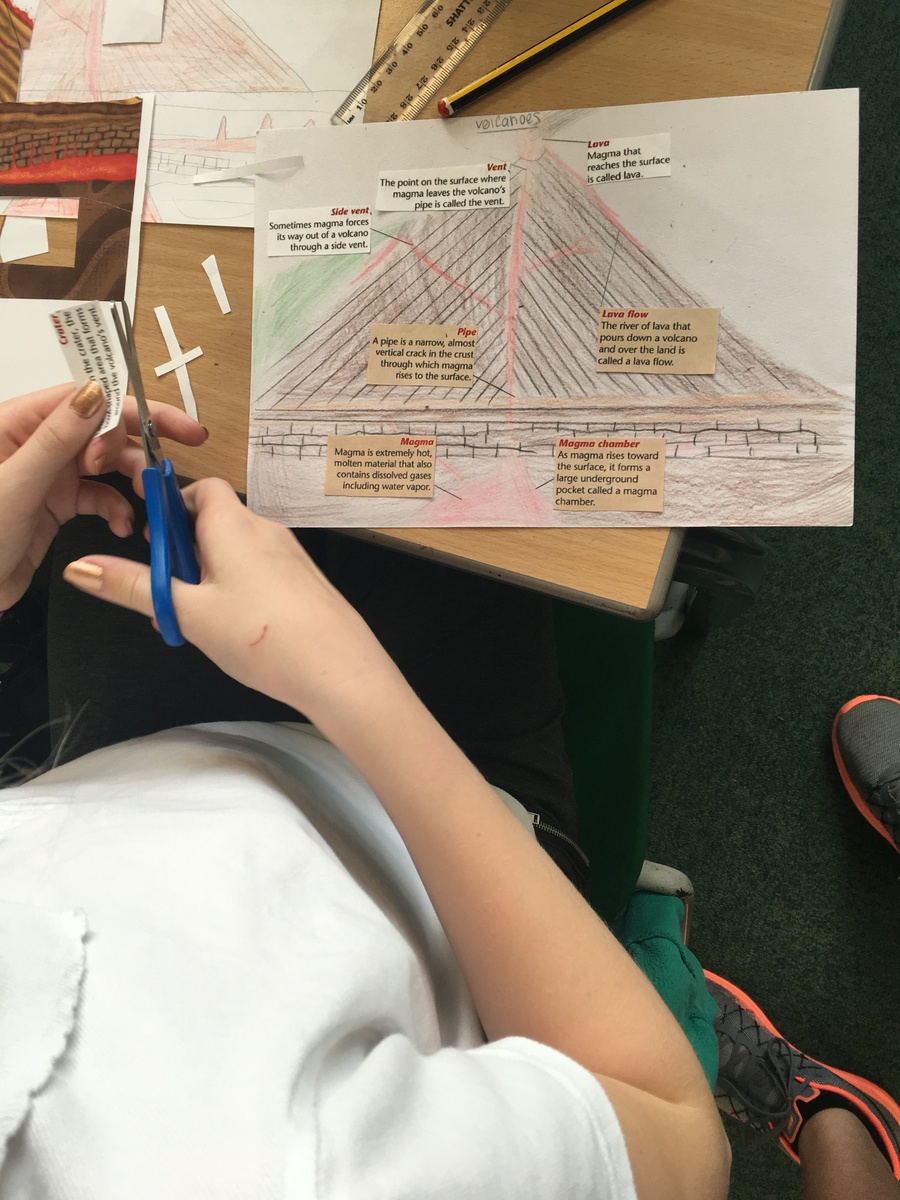 Chaperon Rouge Art Work
Because Year 6's creative writing 'Chaperon Rouge' was so impressive, we have decided to display the work in the corridors in school so that everyone can enjoy it. To add to the writing, Year 6 have worked on illustrating the narrative using the 'Red Riding Hood' theme. They have used art pencils to create their masterpieces.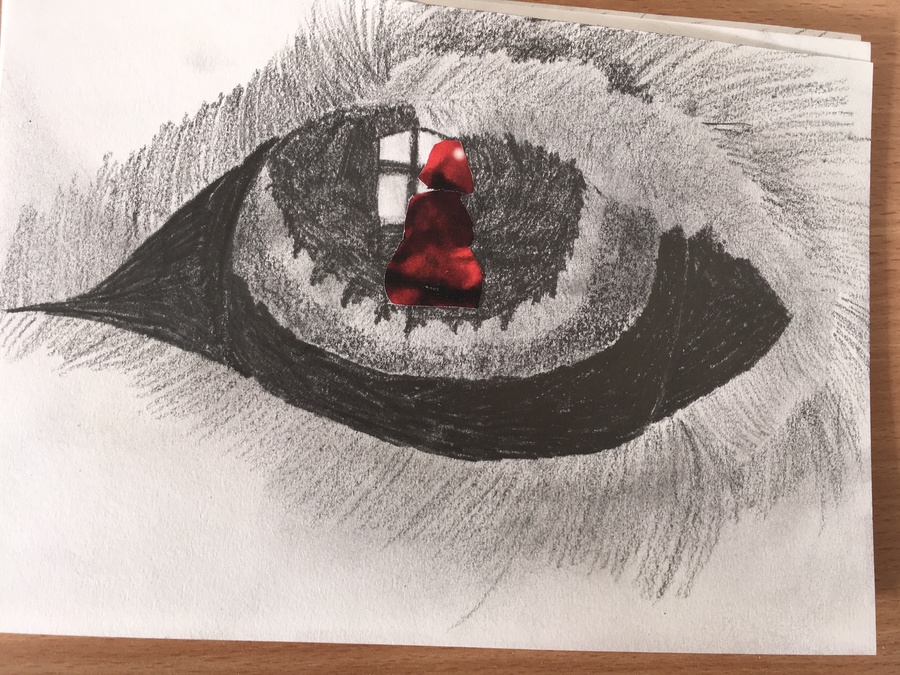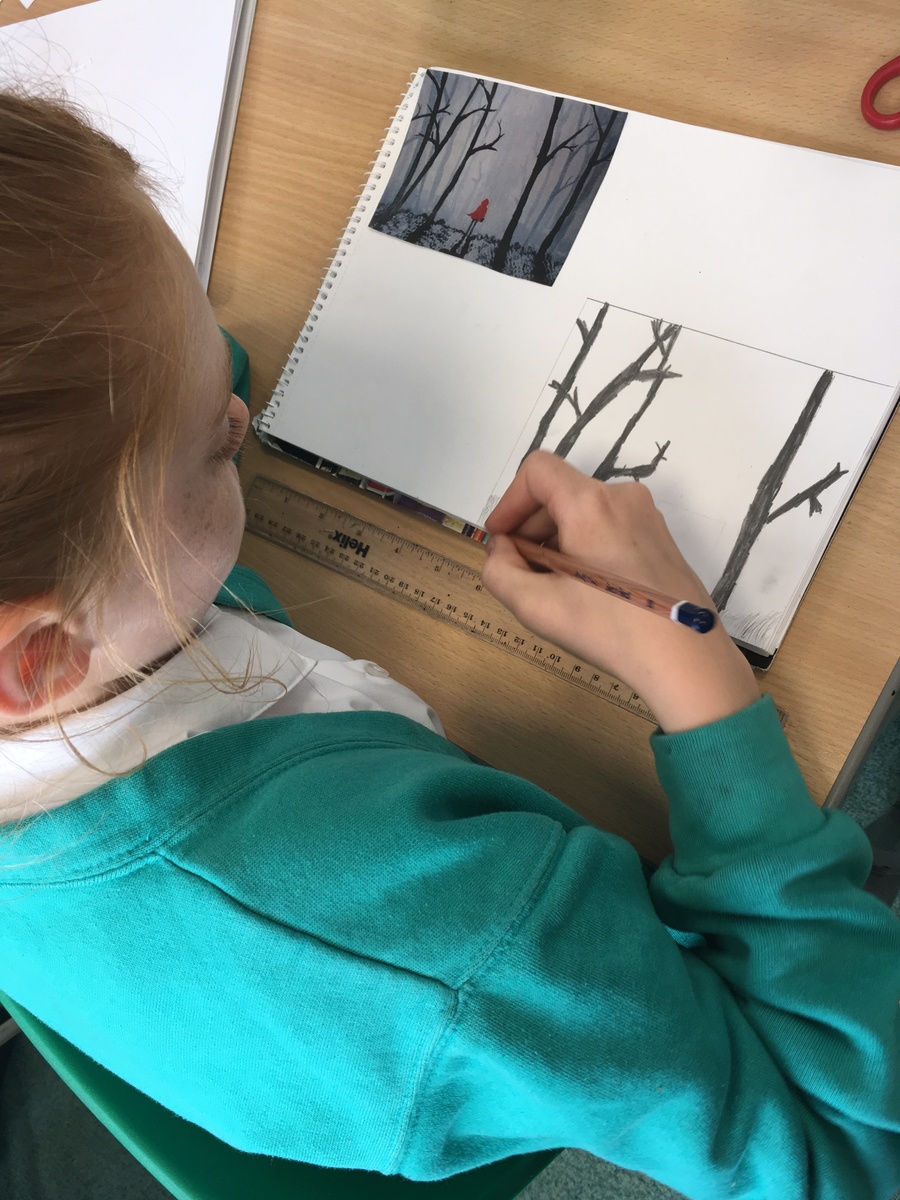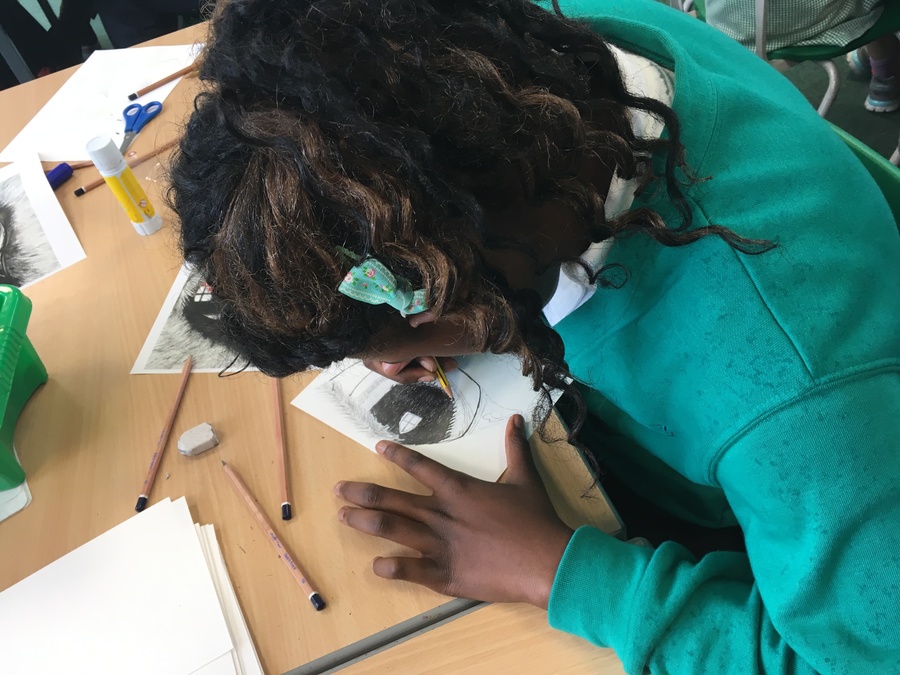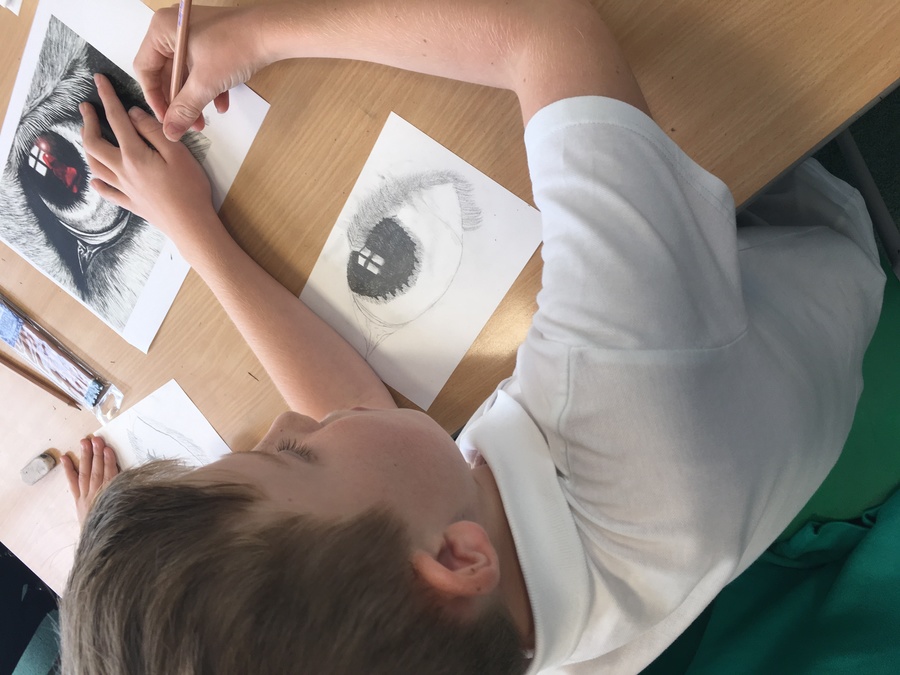 Creative Writing in Year 6
This week, Year 6 have used film clips to spark their imagination in order to write creatively. Using the film 'Chaperon Rouge' the children have written narratives using the skills they have learned so far this year. These skills include: expanding noun phrases, improving verb chains by adding adverbials, using well-chosen vocabulary and creating atmosphere. Their narratives have been amazing!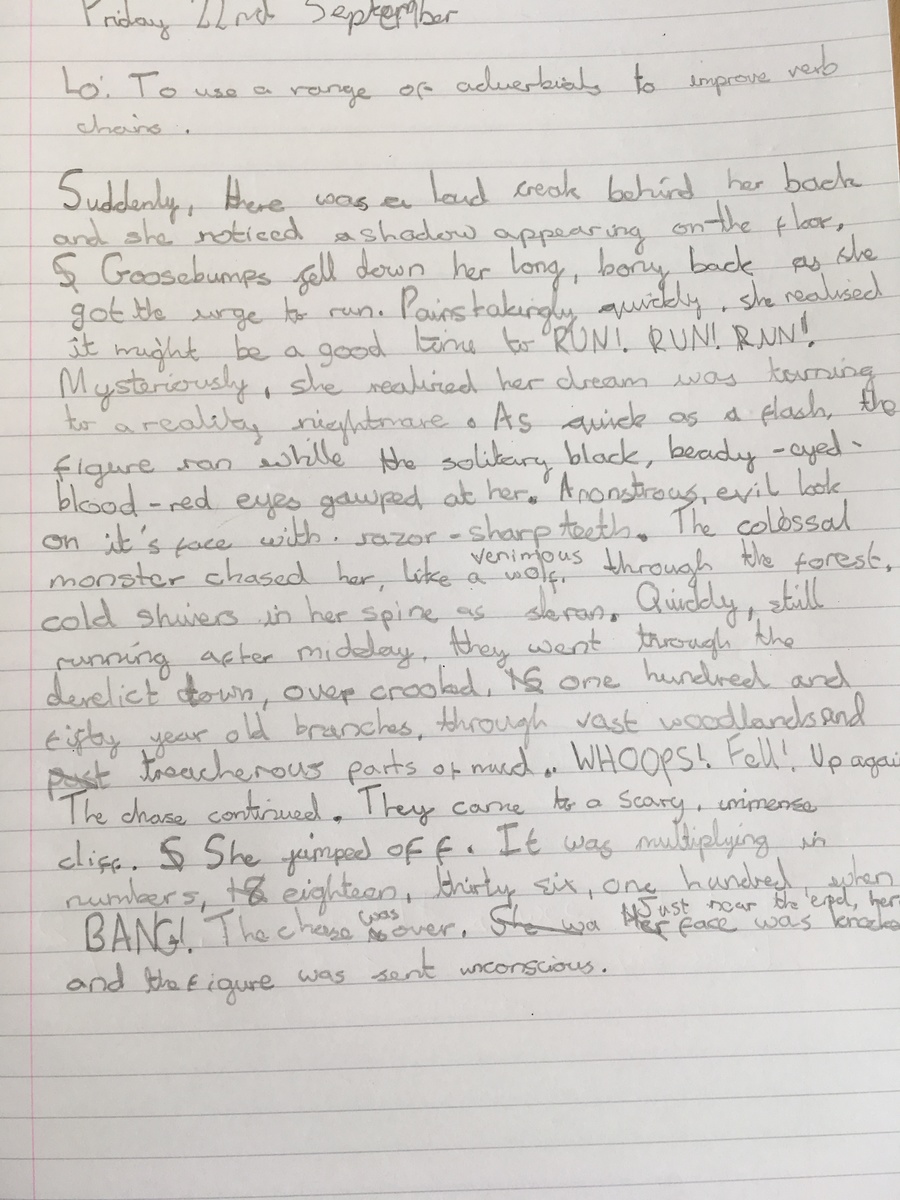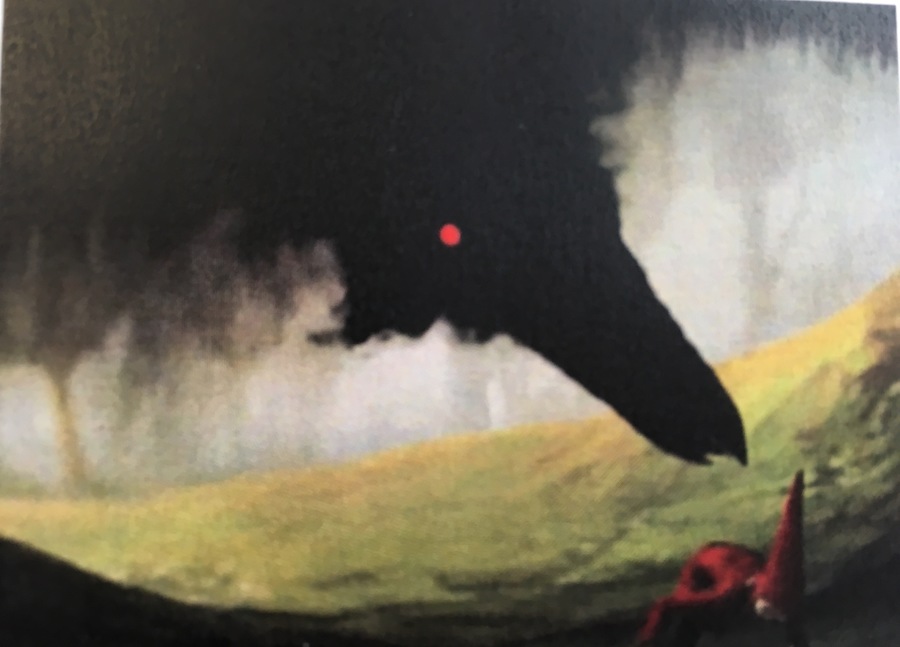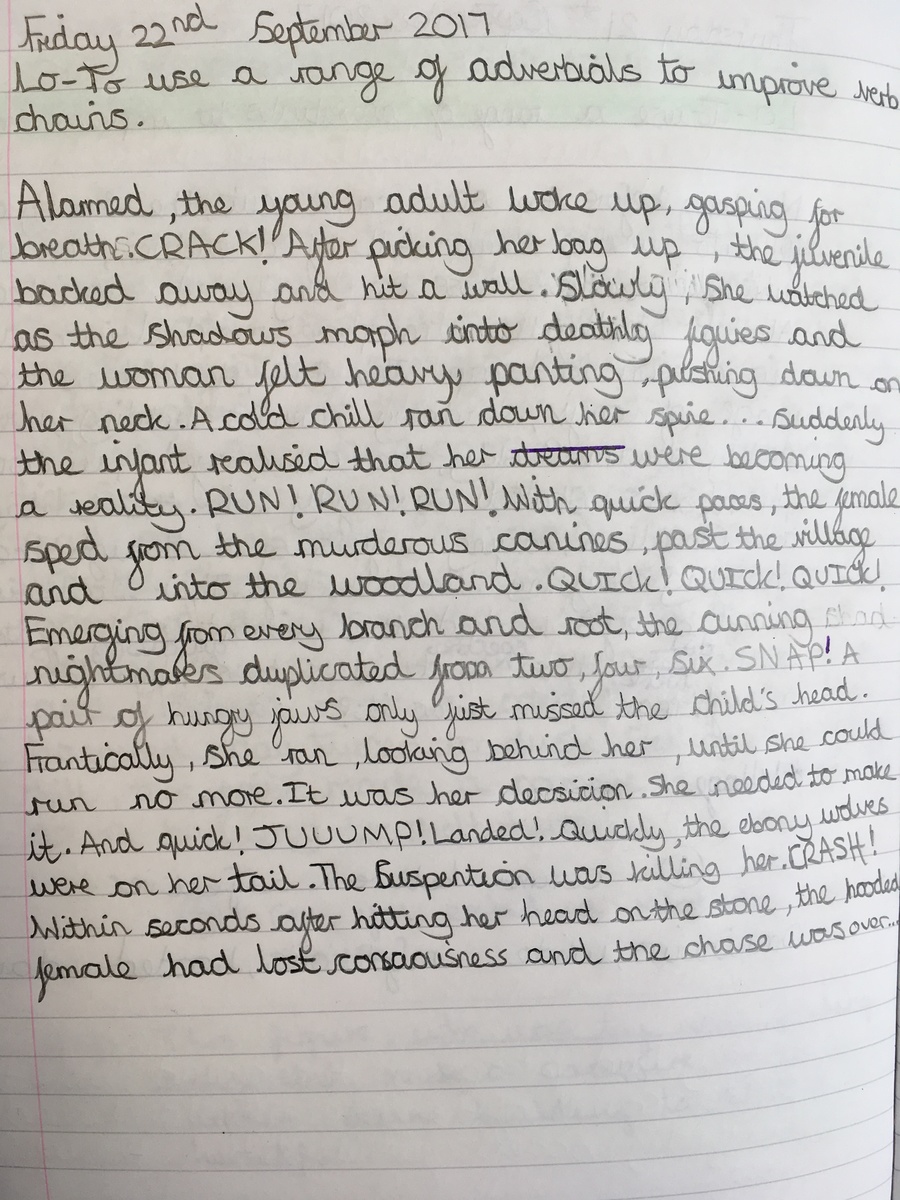 YEAR 6
2017 - 2018
Miss smith
YEAR 6
2016 - 2017
MR honeyman
Fun Afternoon reward
As a final treat in their last week at Kexborough Primary School, the Year 6 class were rewarded to an afternoon of fun and games. The main request made was to have a bouncy castle - which the children thoroughly enjoyed - although I think they forgot how tiring they were! To begin the afternoon, the children had a dinner of either sausage, chicken chunks, fish fingers or cod stick with chips courtesy of the Ypas Fish & Chip shop. Following that, we had a carousel activity including the bouncy castle, iPad free time and different activities on the playground. After break, the children had a water fight which resulted in many children being as wet as ever - The Barnsley Chronicle even turned up for photographs!
Hopefully, the children had an enjoyable day and it will be a memory that they will cherish for a while to come.
impeccable behaviour reward - pizza and brownies
As a reward for children who have not been sanctioned for in-class or playground behaviour at all during the course of the school year, they were given the task of preparing, cooking and finally eating their own two-course meal. The 12 children that took part were thoroughly engaged with the experience and demonstrated really mature and advanced cooking skills which were extremely impressive. The children followed hygiene procedures, handled knives to prepare food, worked with hobs cooking on a heat as well as washing up equipment and work surfaces used.
It was clear to see that the children enjoyed preparing and cooking the food just as much as eating their end results and it truly was a pleasure to be a part of this experience with these 12 children. A special mention does have to be made for the homemade brownies as they were probably the best anyone had ever tasted! It is safe to say - that at the end of the day - there definitely were some happy children, chocolate-covered faces and full stomachs. There were even some extra portions of brownie for a little goody bag for home.
I wonder if any of that will make it home or be shared with anyone else?
20 years of harry potter magic
To celebrate the 20th birthday of Harry Potter (Monday 26th June), we have decided as a class to enter a competition hosted by Bloomsbury. The company have launched a magical schools competition where one lucky school will win a library makeover in the Hogwarts house colours, plus a trunk of all the Harry Potter books from Bloomsbury! Twenty lucky runners-up will also win copies of the paperback House Editions and themed goody bags.
All the children have to do is create and invent their own magical library. In order to do this, we first read Chapter 12 from Harry Potter and the Philosopher's Stone where Harry visits the library at Hogwarts for the first time. Following on from this, in groups, children began to gather some ideas for what they might find within a magical library. There were some weird and wonderful suggestions such as: hands that grab books from the shelves, late fee fairies and magical creatures that maintain the books.
Hopefully, one child may be successful in winning this wonderful prize; however, please take time to look at a selection that have been put onto the blog for you to enjoy!
Summer Fayre
In order to raise money to fund amazing school trips such as the David Walliams Theatre visit, the PTA organised another Summer Fayre to help raise money towards these fantastic experiences. Luckily, the weather was perfect for the day and a selection of stalls were erected across the playground and in the KS2 hall. As always, Kexborough is renowned for its ability to pull together with staff, parents and children all coming forward to lend their support - none more so than a group of 16 Year 6 children.
These 16 children helped to set up, organise and run several stalls across the Summer Fayre during their own time. Without these children, the Summer Fayre would have been near-on impossible to manage so staff were immensely grateful for the help they gave. In conclusion, it was an extremely enjoyable afternoon/evening and the children - who worked tirelessly throughout the day - thoroughly enjoyed it too.
Apologies if any children are missing off of the photograph who helped. We had several children absent on the day we took the photo.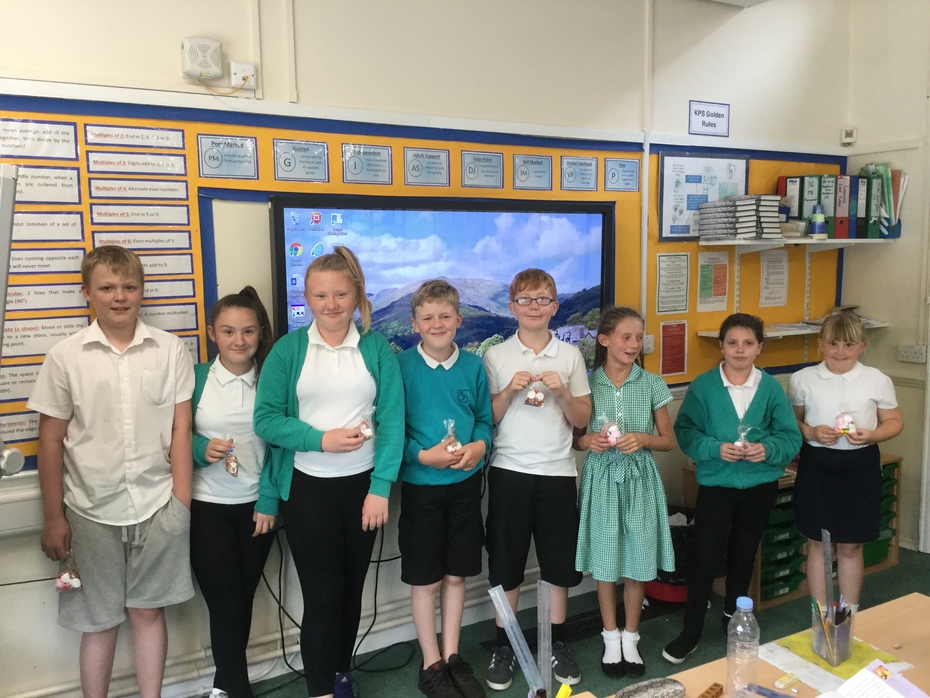 Joe Wicks (the body coach) live schools hiit session
With summer just around the corner and a big emphasis being placed on keeping fit and healthy, as well as learning about the benefits of an effective, healthy diet alongside regular exercise in science, we decided as a class to be one of the schools to take part in Joe Wicks' live school HIIT workout session. Joe Wicks is a fitness coach, TV presenter and author specialising in cooking and fitness books - he has now turned his focus to ensuring children across the UK and the World are exercising and staying healthy.
The workout began at 10:00am with a few children reluctant at first; however, the fun and energising routine soon got everyone into the rhythm and before long there were more and more red-faced children appearing across the hall. The 20 minute HIIT session also included a warm-up and cool-down which helped prepare the children for exercise and prevent injury. It was definitely a break away from the classroom but afterwards the children said they thoroughly enjoyed it - particularly when baby Oscar was joining in with the squats and press-ups! Hopefully, some children will continue to exercise like this because they enjoyed it so much.
The mysterious tizzie-wizzie
Continuing on from our arrival back from an extremely successful trip to Ambleside and Lake Windermere, we discovered more fascinating myths and legends belonging to the Lake District. Now, the curious discovery of a creature known as the 'Tizzie-Wizzie' has been called into question following our return. Allegedly, a boatman from Bowness has witness this creature hovering over Lake Windermere in the direction of Belle Isle - which is a small island located in the middle of the lake - stating that he could not believe his eyes.
Following these reports, Year 6 are now investigating this discovery and reporting back to communities in the Lake District by creating their own newspaper articles to inform the people of this proposed 'remarkable' discovery. Currently, children are researching and gathering evidence to compile their article; however, they cannot wait to get writing to make people aware of these fascinating events!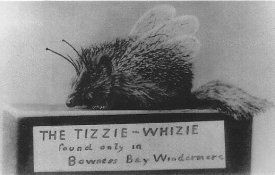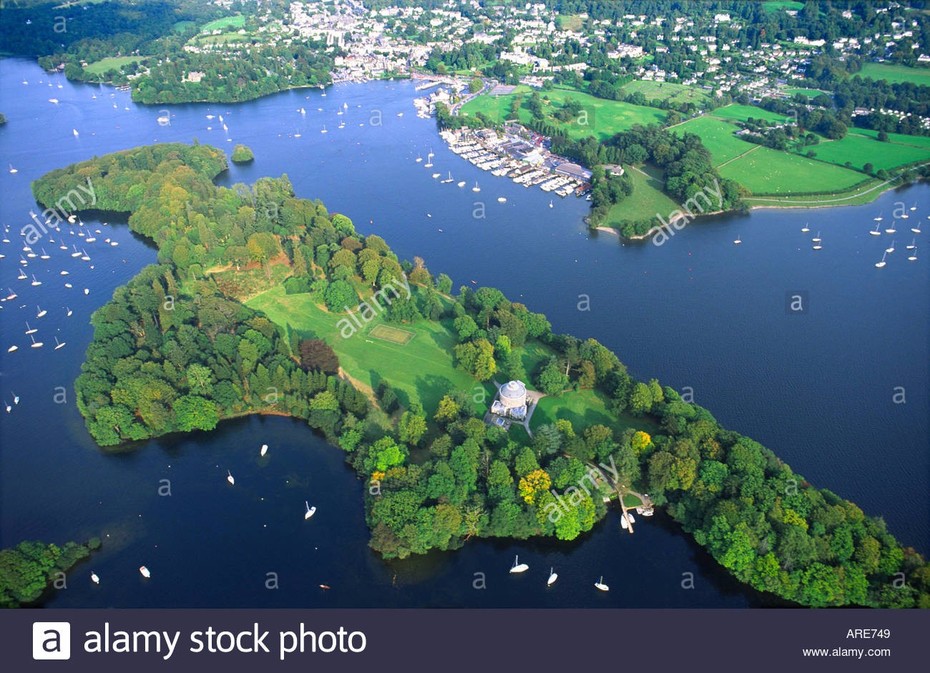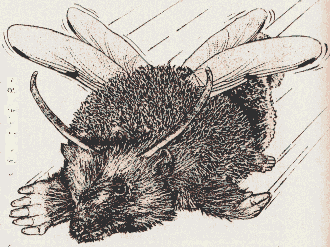 Year 6 Residential - Arrival and climbing wall
Even though hopes of June-like weather looked unlikely, the eager and high spirits of the Kexborough Year 6s would not be dampened. As we were all packed and ready, (some with more success than others after Monday's bag check) the day began smoothly with everyone embarking onto the coach and preparing for the long journey ahead. Children enjoyed the views from the coach after taking the scenic route and many children needed to be reminded that we were definitely 'not nearly there yet' after travelling for 45 minutes. The weather didn't improve upon arrival; however, children were left awe-inspired by the views on Lake Windermere!
A packed lunch was enjoyed alongside the view before children walked to Ambleside climbing wall and tackled some bouldering and climbing activities. A special mention for the girls is needed here as they showed the boys how to climb the rock face - they outscored the boys 7-2 for reaching the summit. All in all, a successful first day with some tidy rooms which is definitely a welcome and pleasant surprise. Keep posted on the blog and school Facebook page for more updates on our residential.
Lake Windermere Legends - The Crier of Claife
As part of our ever-growing topic, in English we have had quite a prolonged unit (due to the implications of SATs) focusing on Tales and Legends from Lake Windermere. Now, just the mere mention of the words 'ghost story' is enough to get any Year 6 child on the edge of their seat - these Year 6 were no exception.
Set with the challenging of recreating their own version of 'The Crier of Claife' the children relished the chance to showcase some of their writing skills to see if we can give other children in the class a white-knuckle ride of twists, turns and scares. In order to do this, we focused specifically on certain writing/grammatical techniques including:
Short sentences to build up tension.
Interweaving action alongside dialogue.
Using detailed description to show emotion rather than tell the reader.
Using figurative language for impact.
Adding embedded clauses to add extra information and concise details.
Below are only a small selection of the writing we have produced, it must be said that the children were 'horrified' to see the end of this unit of work and this was definitely reflected in the quality of writing produced!
Topic Enquiry - Residential Hook
As part of the introduction to our topic, the children began researching and exploring the classroom to begin to answer our main topic question 'Why do people visit the Lake District?'. Children are aware that they are going on a residential to Ambleside after the Spring Bank Holidays; therefore, we need to understand why it is such a popular destination to travel to.
Children began by creating their own definitions for what 'tourism' is by comparing several definitions found in different georgraphy-related books. Then - using those definitions - they had to re-structure their own definitions by utilising the ideas from the ones given. By understanding what tourism is, children could explain why so many people visit the Lake District National Park on a regular basis and they created their thought showers to present the research they conducted collaboratively.
Day at the theatre - Gangsta granny
On Thursday this week, Year 6 took some welcome relief from all the preparation for SATs to have a day at Leeds Grand Theatre with the Year 3 children. With money provided by our PTA, (which children were very much appreciative of) we have had this trip booked for several months following a very successful David Walliams class novel study across school.
Furthermore, many of our children had not previously visited a theatre performance before (as well as some members of staff) so it was a very exciting day for all involved. The weather was glorious and spirits were high amongst everyone as the performance was eagerly anticipated - luckily for us, the coach ride was clear and we arrived well in time for the beginning of the performance.
We must say that children were mesmerised by the sights within Leeds Grand Theatre as it was absolutely awe-inspiring to look at and the show didn't let its surroundings down either! The performance was spectacular and thoroughly enjoyed by all - it even drew a few tears at the end due to the sad ending of the book/play (no spoilers!). However, overall the children had a fantastic day and could not express how much they had enjoyed it into words - a few of them even surprised themselves a little too!
All in all, it definitely was a pleasant break from SATs practice and hopefully everyone is prepared for hard work and to try their best next week!
Why do people visit the lake district?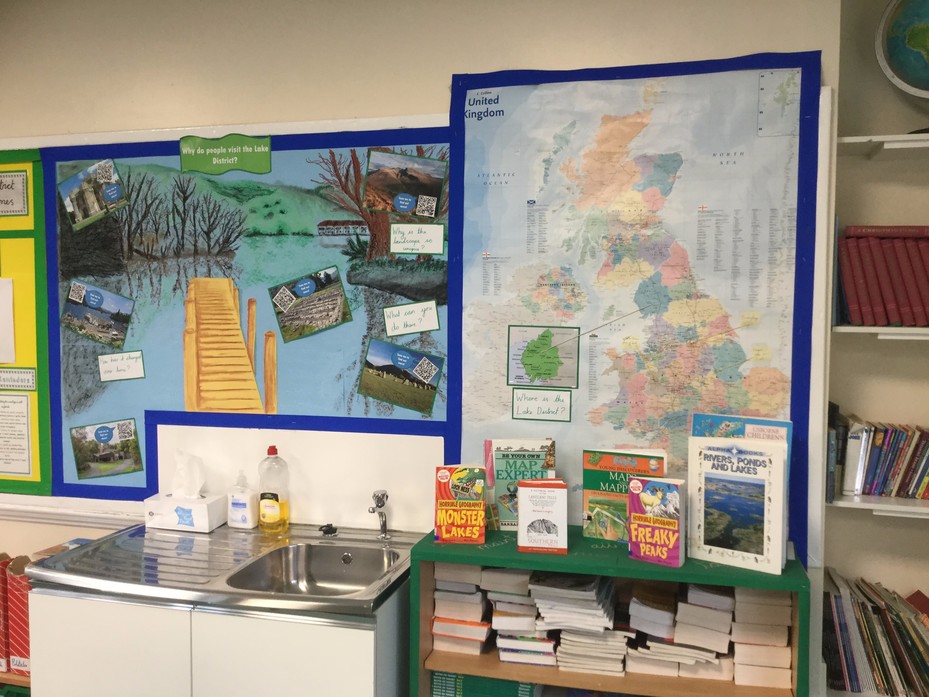 Following the Easter break, our new topic in Year 6 is 'Why do people visit the Lake District?'. The essence of this topic is to get children immersed and inquisitive about the area in preparation for our much anticipated residential to Ambleside at the beginning of June. Already, children are inspired and amazed by the views and sights of the area - it is breathtaking to behold.
During the course of the topic, we will be focusing on mapping skills as well as the impact of human and environmental geography specifically focusing on the impact of tourism within the Lake District. We will be posing and research questions such as:
Where is the Lake District?
What activities can you do when you visit the Lake District?
How has the Lake District changed over time?
Why is the landscape there so unique?
As you can see, the display has got the children buzzing and talking about the topic. There are some landmarks placed on the board with QR codes that children have been scanning to find out further information - stay focused on the blog to find out more about the work children are doing around the Lake District in the coming weeks.
If I were given
In our English poetry unit, we have been focusing on values that we are entitled to as children and respected members of a community. Therefore, in order to understand this, we looked at the poem 'Children learn what the live' by Dorothy Law Nolte. We looked at a key aspect of our values in terms of what ensures we develop into valuable members of a community from a young age - it is important to understand what we should not and should receive as a valued child. This tied in links to the British Values of: individual liberty and mutual respect and tolerance for others.
Furthermore, this provided an interesting topic for debate between children as we enhanced our vocabulary with abstract nouns that could be given to children. It was fascinating to see them discuss if a noun should be placed within a positive or negative attribute for a child as each individual - which they are entitled to as we discussed - had a different opinion on the matter.
In conclusion, we produced some fantastic poems from the first person point of view that showcase our understanding of what children should be given in order to thrive in the world today. We hope you enjoy them!
Trekking to Yorkshire Sculpture Park
As part of our Evolution topic and continually building on our sketchbooks, this week we visited Yorkshire Sculpture Park in order to further our knowledge and apply our skills in this area. In addition to this, with the Ambleside residential just around the corner, we decided to walk there from school as the weather was pleasant and the children needed to fit in some practice in preparation for the 6-mile walk on the residential.
Although there were a few moans and groans about the distance, we had a positive and enjoyable journey to and from the sculpture park as the welcome April weather shone down on us. Once we were there, we met an artist who would be our guide for the day. Upon meeting them and instructing us on the park etiquette, we observed and sketched several animal-based sculptures from around the park. Most notably, children enjoyed sketching the totem pole sculpture as they had to colour it in with natural materials found around the park.
After lunch, the children were placed into small groups and had to create their own sculptures based on an animal and a trait that animals can do that is also a human feature too e.g collecting food, watching and building. For most, this was the enjoyable part of the trip with some literal as well as interpretive takes on the task! All in all, it was a fun day for all involved (apart from having to tidy up the sculptures afterwards) and we would like to thank Yorkshire Sculpture Park for having us.
The beginning of s.q.u.i.r.t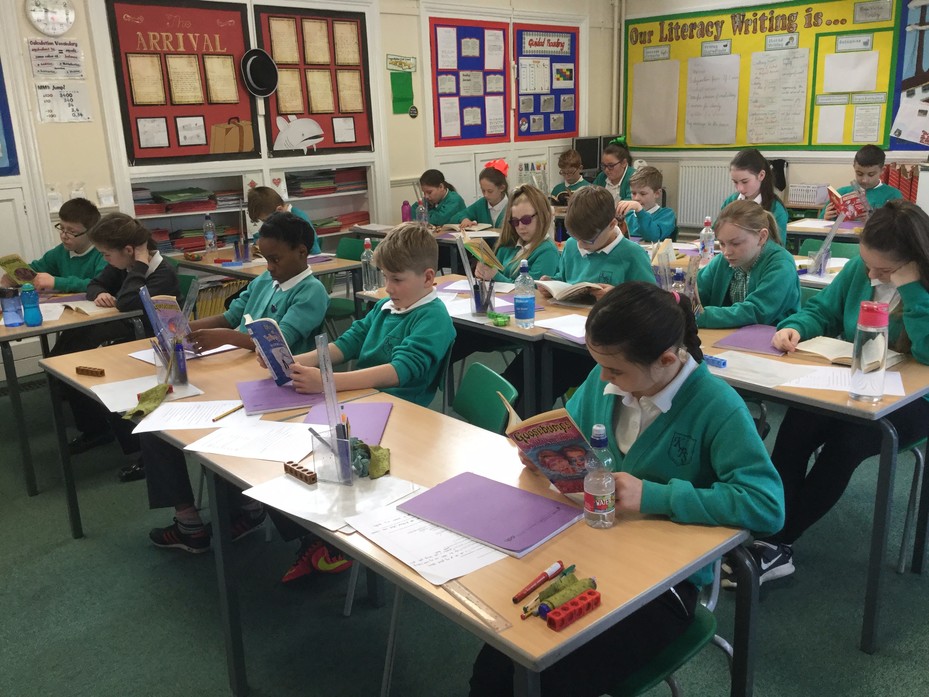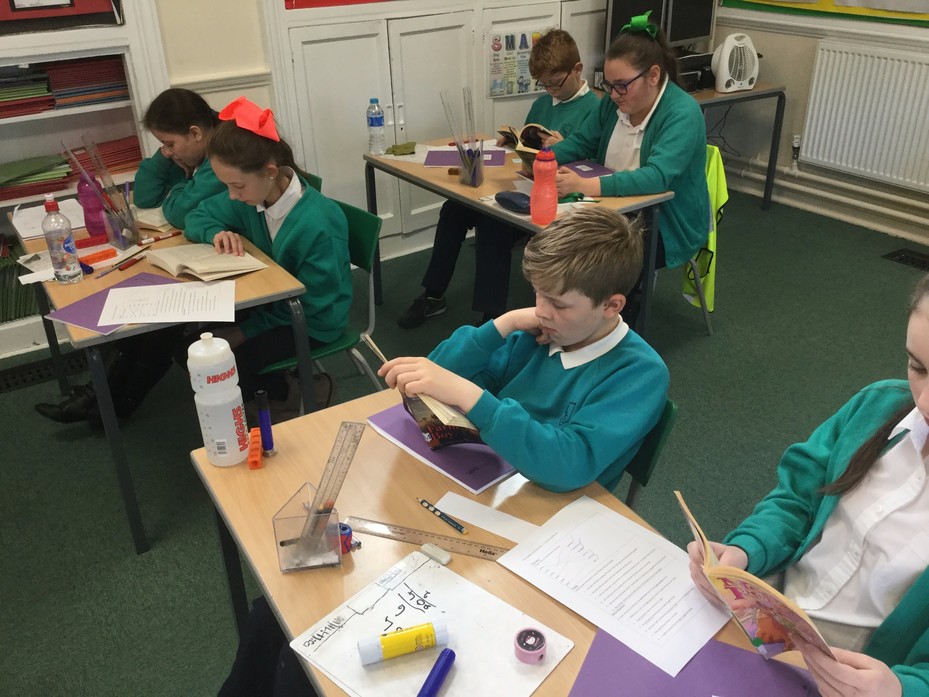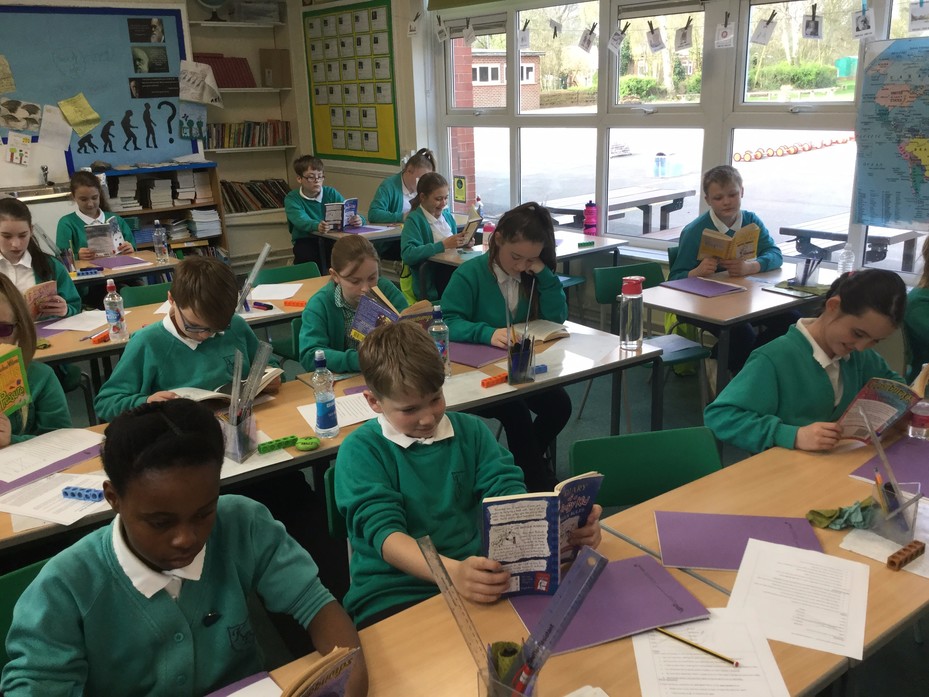 In Year 6 this week, we have introduced an allocated time for Sustained, Quiet, Uninterrupted, Reading Time (S.Q.U.I.R.T). The purpose of this is to give the children the choice of their own materials for sustained silent reading - which lasts for an uninterrupted 30 minutes - so children can pick books of interest. When they are given the freedom to choose, the children discover stories that appeal to them and together we have developed a positive attitude towards reading. There are no tests or questions to answer so the pressure is off. They are reading for the pure joy of reading.
Popular books during these sessions in Year 6 include:
A Series of Unfortunate Events - Lemony Snicket
Diary of a Wimpy Kid - Jeff Kinney
Harry Potter series - J.K. Rowling
Goosebumps Series - R.L. Stine
Since a trial run in World Book Day week, the children have reacted extremely positively to this time and even the teacher has to join in and read a book of my choice. With SATs looming ever closer around the corner, S.Q.U.I.R.T provides a peaceful and relaxing time where children (and teachers) can immerse themselves in a story of their choosing and the whole experience is a joy to behold.
Peer Critique with a red nose twist!
Although our usual sea of green across the classroom turned into a comical shade of red, in Year 6 I'm afraid that the hard work stops for no situation! Therefore, children were utilising this time in order to effectively peer critique their character descriptions for our focus book 'Skellig'. Now, so that an effective peer critique can be done, it is important that the children follow three simple steps:
1) Be specific - Tell their friends exactly what they mean and how they can improve their work.
2) Be helpful - Give helpful suggestions that help our friends create great work using the success criteria they are given.
3) Be kind - Use kind words to give suggestions remembering how they would like it to be said to themselves. Suggestions need to be about the work in front of them, not about the person.
As you can see from these excellent images, children are really enthused and involved with making each other's work better. This is a key process in our classroom as it is vital to appreciate the contributions that we can all make - particularly towards another individual for the better! Children then used the suggestions to review and edit their character descriptions as well as thanking each other for some amazing feedback.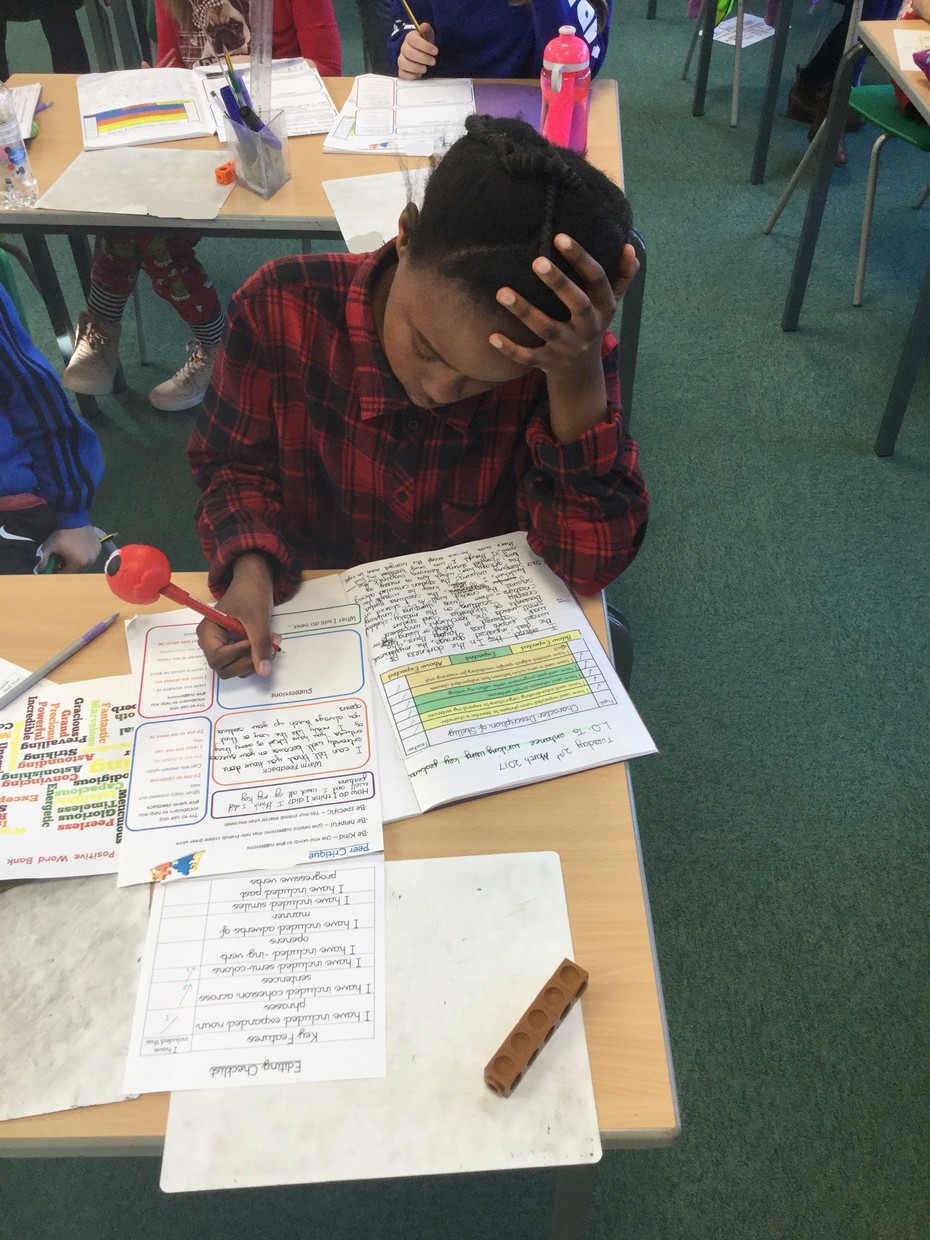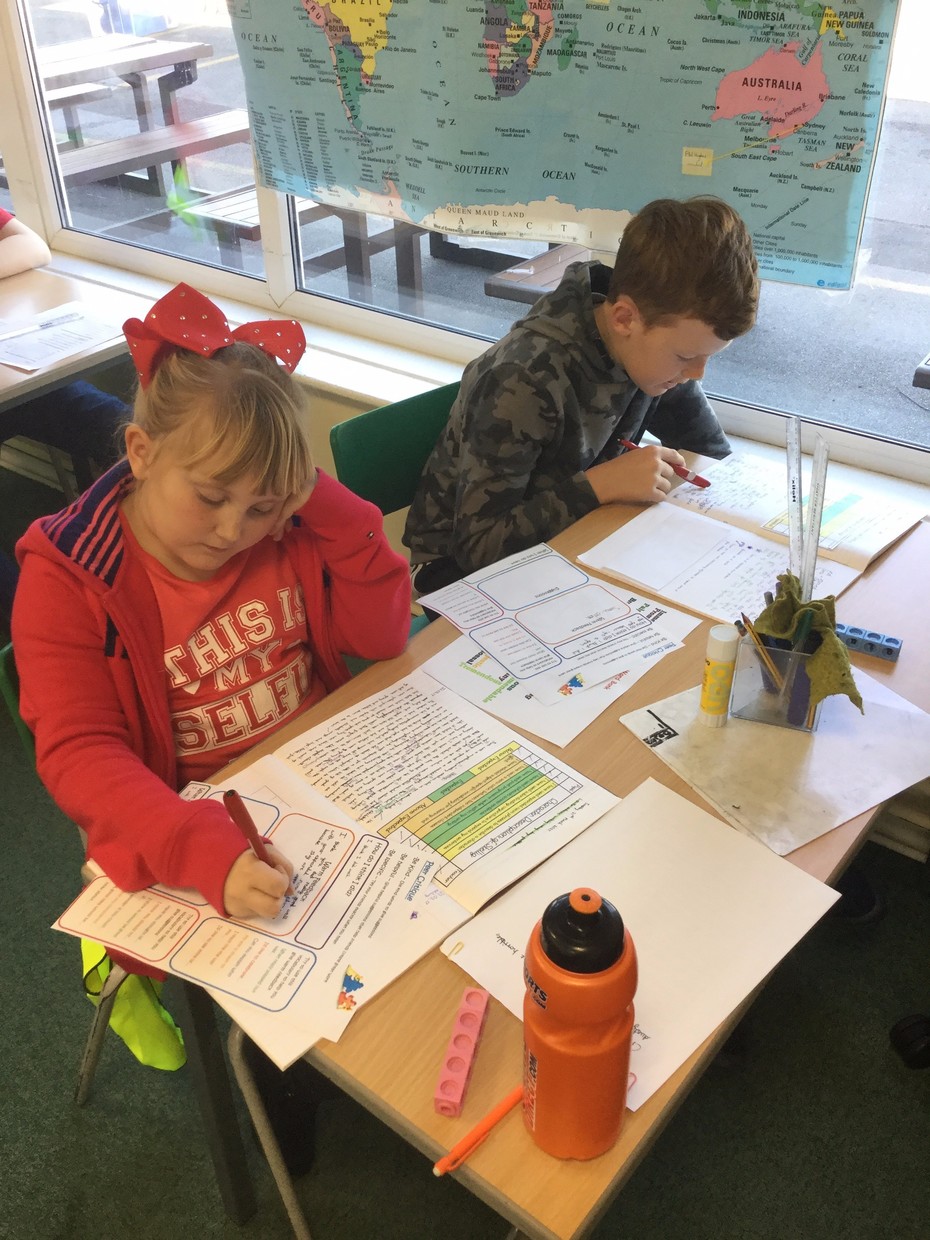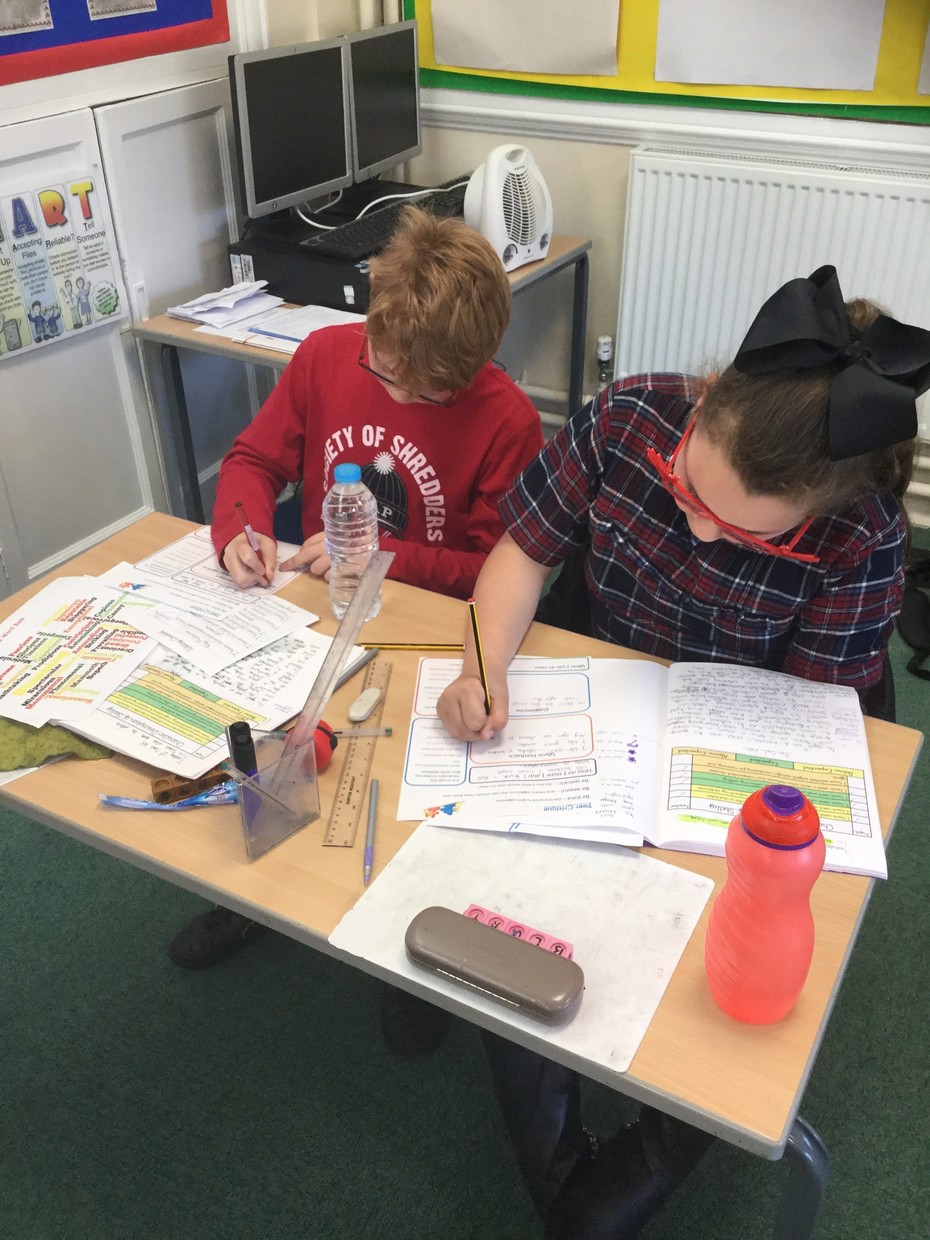 Articulating Area with Triangles
In Year 6 this week, the children have been focusing on area with triangles and parallelograms. This followed on from their previous maths topic of algebra as they utilised equations to calculate different formulas for area with different shapes. Although initially challenging, the children really embraced this approach and soon found themselves applying their fluency in the area with more complex reasoning problems.
In addition to this, children also began to experiment with the formula in order to use it as an inverse operation to calculate and explain missing lengths for the sides of the triangles. Soon enough, the class were experts with area of triangles. All children were able to explain the process and analyse the formula in terms of its relationship to finding the area of simple quadrilaterals such as squares and rectangles.
Below are a few examples of their outstanding work!
Dancing Darwin's Evolution Theory
In PE, children were focusing on their dance unit of work. Children were exploring, improvising and combining movement ideas fluently and effectively in order to communicate the theory of evolution presented by Charles Darwin. With quite a modern spin on this theory, the children utilised the Fatboy Slim track 'Right here, right now' as the video created by the artist is based around evolution. However, we challenged the children to demonstrate the ability to translate this idea into symbolic movements in a more contemporary style.
The sequence of events follows the story of the tree of life, tracing our steps back to simple marine animals up to the evolution of man. From these videos, you can see the humble beginnings of our dance journey but I'm sure the finished piece will be a modern masterpiece!
World Book day - memoirs of a neurotic zombie
In Year 6 this week, we celebrated World Book Day 2017 by having an entire day focused on the fiction text 'Memoirs of a Neurotic Zombie'. For people not familiar with the story, the style is very similar to Diary of a Wimpy Kid and focuses on the thoughts and feelings of Adam Meltzer - a twelve-year-old boy who unfortunately suffered a tragic accident and came back to life as a zombie!
The children thoroughly enjoyed the introduction to this story - which is what they really picked apart - looking at his arrival back home from beyond the grave along with the shock of his parents seeing him for the first time! The children hot-seated and acted out several scenarios that could have happened if they put themselves in Adam's shoes. Following on from this, children group planned sections of the recount and then wrote their own as if they were Adam himself - only a little less zombified.
This quirky and hilarious book really caught the imagination of the children and promoted a real thirst for reading. It was definitely a positive experience for all the children involved.
Classifying with Databases
In Year 6, we have been using the computing curriculum in order to make more sense of our science/topic work. We have been looking at ways to classify a group of animals and the different categories (fields) we could create in order to sort them into different groups or criteria. As a result, we have constructed and planned our own databases from scratch using the software 2investgate. This meant that we had to create fields with different data entry styles including: ABC, number and drop down menus of select answers.
Following on from this session, we are going to evaluate the effectiveness of our databases and peer critique them to see just how successful each of our databases are. This will allow us to answer set questions efficiently using the search and sort criteria functions.
Humans aren't the only species on Earth - Sometimes we just act like it!
In Year 6, we have been celebrating and exploring the vast array of life that inhabits our wonderful planet. We have focused specifically on supporting and protecting critically endangered animals that live in our world but may not for much longer. As a result, in English, we have monitored and tracked the aid and conservation of animals that the World Wildlife Fund for Nature (WWF) actively do in order to ensure the preservation of vulnerable species of animals.
Therefore, we have produced our own persuasive voiceover script based on examples from the WWF themselves. We analysed the key features of one and focused our own English skills on:
utilising modal verbs in order to persuade and emphasis importance
developing detailed expanded noun phrases to portray concise and specific meaning
choosing subject specific vocabulary to clarify the purpose of the text
self and peer assessing work in order to improve the final outcome
performing their own compositions with increasingly accurate use of voice for effect
The children have thoroughly embraced the task and have produced some outstanding examples of script writing for persuasion. Furthermore, they have really taken on board the importance of their own actions as well as encouraging others to engage with this issue which impacts on our world today. Below are a few examples that hopefully you can enjoy!
Bamboozled By the Beagle
In Year 6, children spent their mathematics lesson travelling over 185 years into the past, recreating the moments when Charles Darwin and Captain Robert FitzRoy planned their mammoth voyage around the world - leading Charles Darwin to writing his theory for the Origin of Species. With travel not being as simple as hopping on a plane like today, children had to decide which route would be the shortest in order to visit all the locations required on the journey.
Once the children remembered that the world was 'spherical' and not 'flat' like the sheets of paper in front of them, they really enjoyed the challenge of planning the route and investing time into their voyages. Children were able to summarise and explain the routes chosen for their voyage in a mature manner; it was essential that they'd tried more than one route and noticed the patterns involved.
All in all, it was a very successful lesson. If only we had a fine, 19th Century vessel to try these routes out!
Amazing Animal Art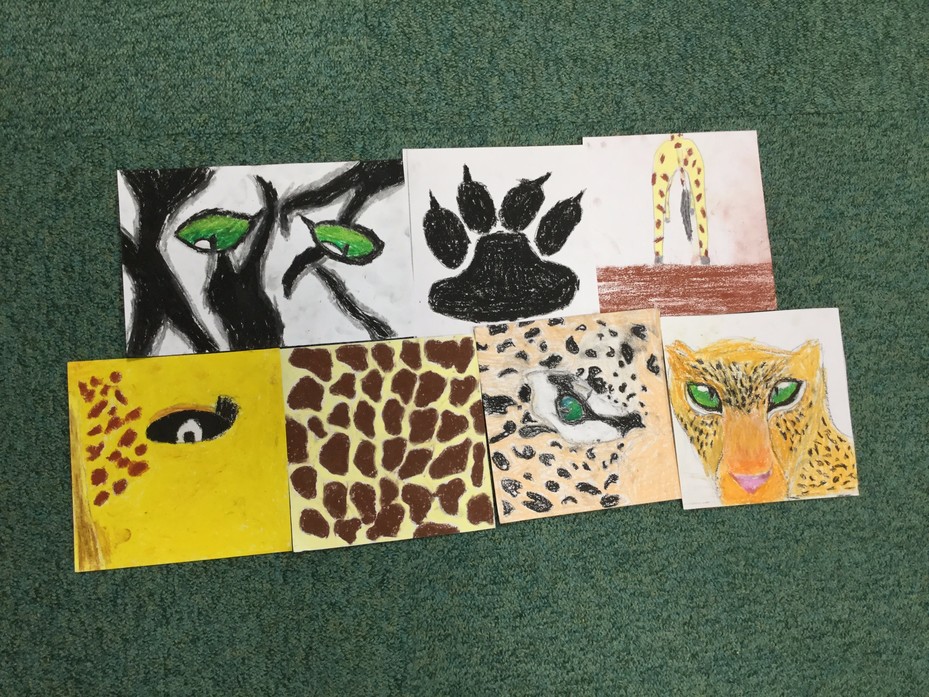 In Year 6, we have been refining our art skills to analyse the different patterns that we can find on the wonderful variety of animals we have on this fantastic planet! Children really enjoyed focusing on small aspects of the whole animal and applying their sketch books skills to produce small examples of separate pieces; these will be constructed together to make a magnificent finished product.
Unfortunately, the big reveal is a secret for now so all we have is this small sample of what is to come. However, be sure that from this artistic class that the end product will be something to behold!
Just So Stories
In Year 6, we have spent our 3 week English writing block focusing on 'Just So Stories' written by Rudyard Kipling (who was famous for writing The Jungle Book). It was definitely fun being able to focus on a more creative and imaginative side to evolution and discussing potential ways animals could have been given their interesting features.
Take a look at the slideshow below to see just a few examples such as:
'How the jellyfish got its sting'
'How the wolf got its howl'
'How the giraffe got its long neck'
Curious Charles and His Theories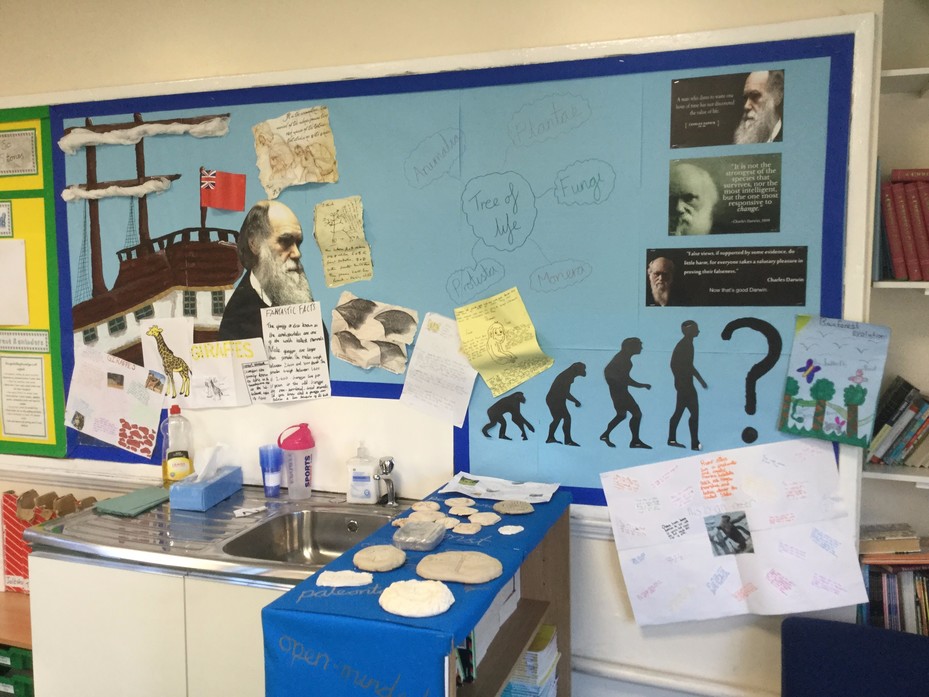 In Year 6, children are really engaging with our Evolution and Inheritance topic focused around the theories of Charles Darwin. The children's natural curiosity was hooked in by the visit to Yorkshire Wildlife Park and their interest keeps mounting with vivacious enthusiasm.
As you can see, this display shows a collection of some thorough and fantastic homework done by some of the children at home! There are posters and booklets describing how animals have adapted to their environment as well as a fantastic variety of 'fossils' showing animals from the past that may share common ancestors with present day animals: therefore, proving the theory of common descent.
To the far right of the display, children have also enjoyed unpicking and analysing some of Charles Darwin's famous quotes about life and evolution.
Pain-Staking
palaeontology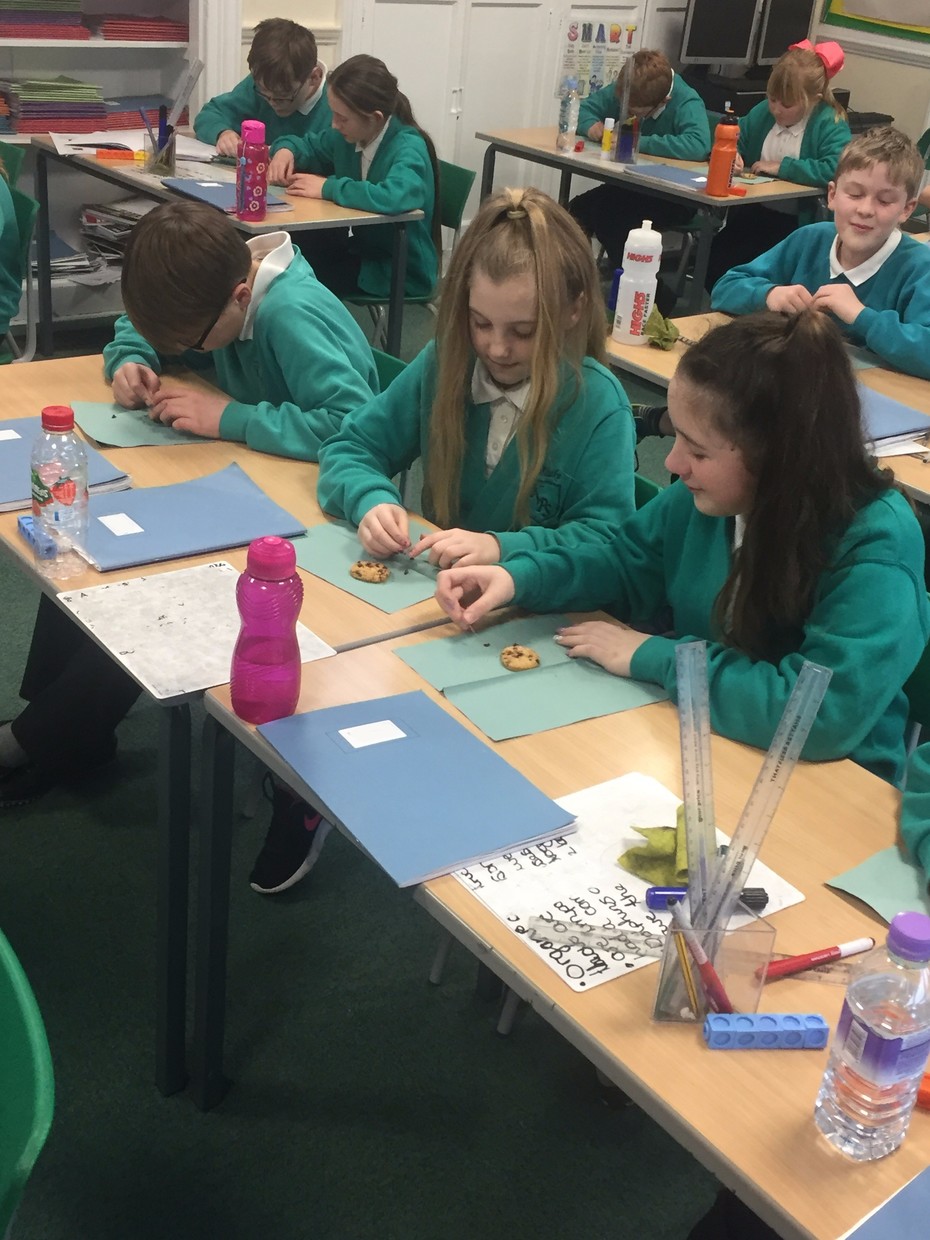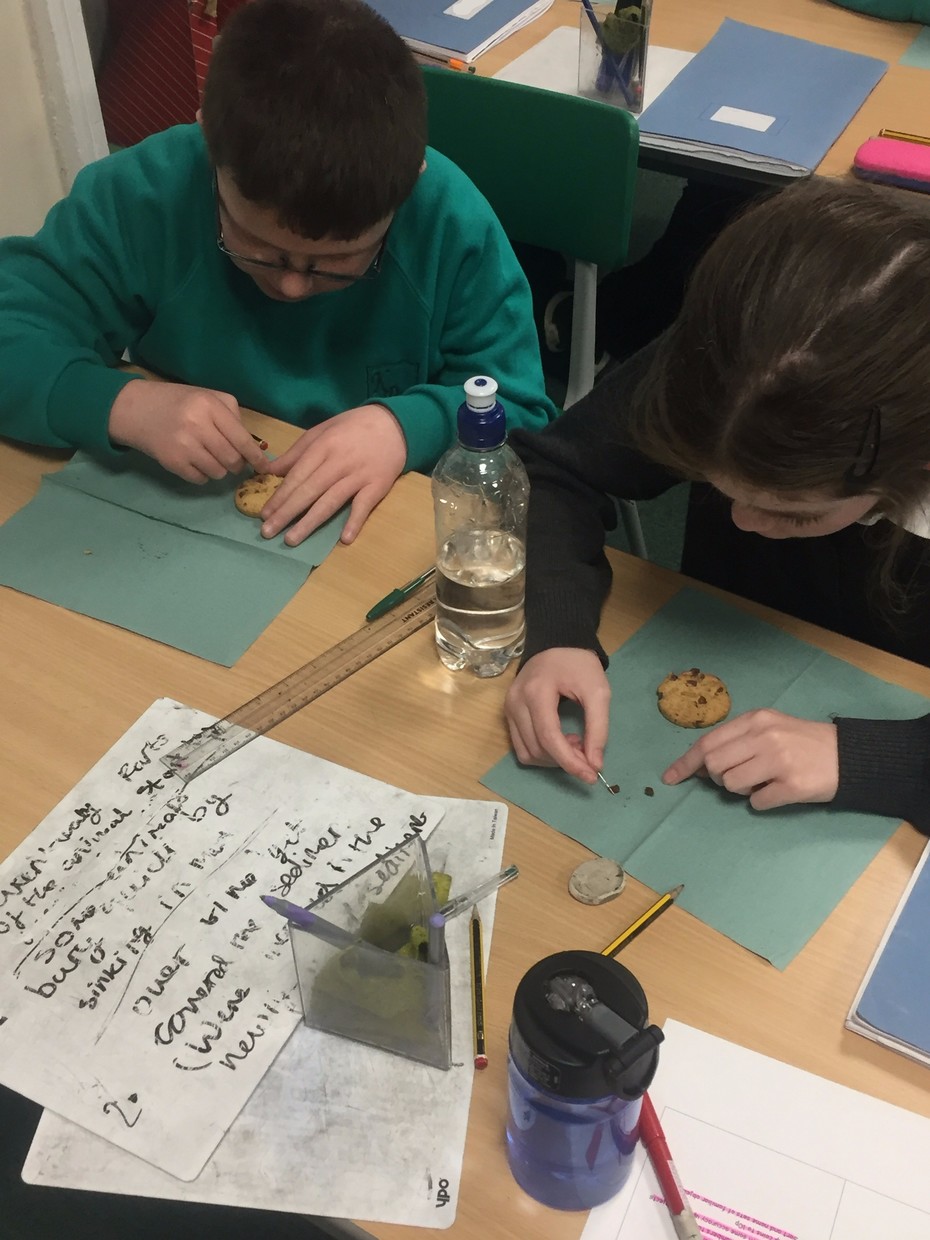 In Year 6, we were discovering the value of fossils in proving the theory of evolution proposed by Charles Darwin. However, in order to understand their use, we first used our note-taking skills to explain how a fossil is made based on a documentary clip. Most children were fascinated to see that fossils are actually constructed mainly of rock not the bones of the animals!
Following on from this, as a class we discussed the value of fossils and how delicate they are. We discussed how rock around it is hard and robust yet the fossil needs to be kept perfectly intact. To recreate this scenario, children used rocks (cookies) and fossils (chocolate chips) with a small pin to excavate the valuable fossils from the cookie. It wasn't long before children understood the pain-staking and tedious process of excavating fossils; however, the promise of the reward by proving evolution theories (eating the chocolate chips and cookie) helped motivate them along the way!
Braving the weather at YWP
Today, Year 6 braved the adverse weather conditions to go on an educational visit to Yorkshire Wildlife Park in order to further their knowledge of Evolution & Inheritance. The day started off as expected, all children were present; however, only eyes could be seen through hoods, scarfs and hats in preparation for the day ahead!
As expected, the day was full of magnificent creatures and spectacular animal so much so, you almost forgot about the weather. Although it was especially cold and most animals were tucked away in their cosy habitats, children were treated to some awe-inspiring displays from the 4 polar bears at the park. In addition to this, the workshop was particularly interesting and hands-on. Children were experimenting with different tongs (birds beaks) to find the one best suited to different food groups as well as seeing a variety of fossils and artefacts.
All in all, children had a brilliant day and even the weather couldn't damage the enthusiasm of teachers and children alike!